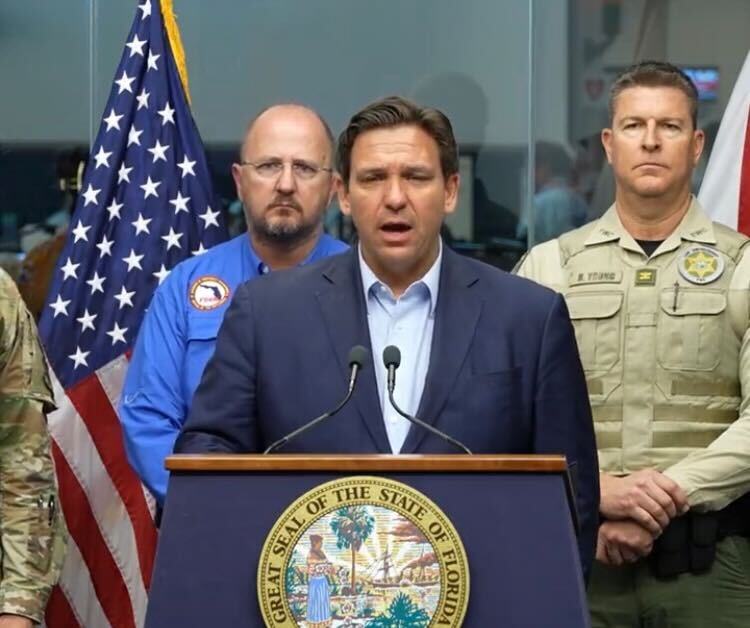 The order comes at the recommendation of Secretary of State Cord Byrd.
Gov. Ron DeSantis is issuing an executive order waiving some election laws in three counties hit hard by Hurricane Ian to ensure ballot access for voters.
The order, issued Thursday, applies to Charlotte, Lee and Sarasota counties and comes two weeks after Southwest Florida was hammered by Hurricane Ian, a devastating Category 4 storm. Among the changes, DeSantis is allowing early voting to run from Oct. 24 up to Election Day and creating flexibility for establishing "super sites."
The order comes at the recommendation of Secretary of State Cord Byrd, who has been working with local Supervisors of Elections since before Ian made landfall to accommodate their needs for the General Election. Election Day is on Nov. 8, less than four weeks away.
The order also allows voters to, by phone, request that mail-in ballots be sent to an address other than their address on record. It adds poll workers trained for the 2020 election to the pool of eligible poll workers and allows Supervisors of Elections to relocate drop boxes, an act that is usually prohibited within 30 days of an election.
"Those are, I think, reasonable accommodations that ensures that everybody has an opportunity to participate in this November's election," DeSantis said Thursday, answering questions from reporters in Cape Coral.
Byrd assembled the recommendations after weeks of meeting with Supervisors from more than two dozen counties impacted by Hurricane Ian.
The order comes two days after Byrd met with Bay County Supervisor of Elections Mark Andersen, whose county took a direct hit from Hurricane Michael in October 2018, just 27 days before Election Day.
Then-Gov. Rick Scott allowed election officials in eight counties to loosen voting laws, extend early voting and consolidate polling places. Anderson allowed voters to cast their ballots by email and fax, a controversial move that drew litigation from Democratic U.S. Sen. Bill Nelson, who ultimately lost his re-election bid. Scott, who defeated Nelson, did not grant the email and fax provision.
Republican Party of Florida Chair of Chairs Evan Power issued an update to members on the new Executive Order, noting similarities to the 2018 allowances.
"Keep in mind these are similar to the measures implemented in 2018 and while total votes were down in those impacted counties, we increased our Republican margins in Bay and Okaloosa counties," Power wrote.
Speaking Thursday, DeSantis referenced the lessons learned from Michael.
"We're modeling it very similar off what was done in Bay County after Hurricane Michael," he said.
Counties hit the hardest by Hurricane Michael saw turnout fall around 7 percentage points, a significant increase. Some fear Southwest Florida, which is similarly Republican-leaning but more densely populated, could see a similar hit to turnout.
Last week, DeSantis told reporters he expected to make accommodations for Charlotte and Lee counties, the hardest hit by Hurricane Ian.
Lee County Supervisor of Elections Tommy Doyle told Florida Politics that every polling location sustained some damage in Hurricane Ian. Of the 97 polling sites in Lee County, about half are considered inoperable. Some, like those on barrier islands, were completely swept away.
As such, Lee County will close all usual polling sites and instead use the 12 early voting locations as voting centers, which DeSantis' order made possible.
"You can't have a hybrid system," Doyle said.
Doyle, whose county sustained some of the worst damage from Ian, previously outlined his plan for keeping the election on schedule for the Nov. 8 Election Day.
Scaling back to 12 polling sites would reduce Doyle's required personnel from 1,400 poll workers to about 150. As for worker training, the biggest gap to fill will likely be in transporting ballots.
Per state law, the early voting period for the General Election is at a minimum between Oct. 29 and Nov. 5. Supervisors of Elections have the option to add additional days for early voting from Oct. 24 to 28 and on Nov. 6. In effect, DeSantis' order adds Nov. 7 to the possible list of dates, part of an effort to allow local officials to establish more voting sites.
Charlotte and Sarasota counties already allow early voting from Oct. 24 to Nov. 6. Lee County allows early voting through Nov. 5.
Tuesday marked the deadline to register to vote in time for the 2022 election.