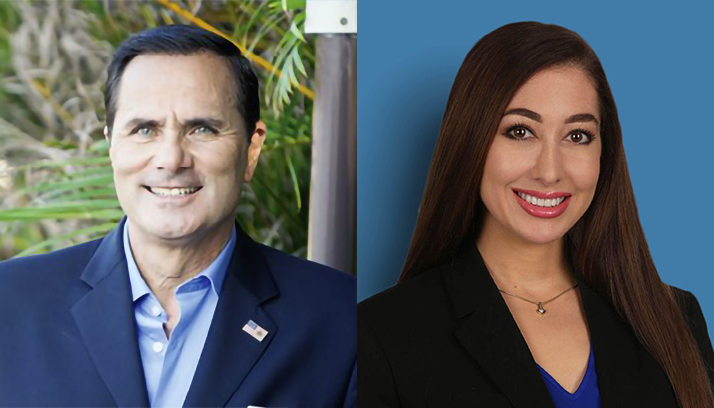 Caruso had faced a challenge from his Right in the Primary and from his Left in the General.
Republican Rep. Mike Caruso cruised to victory against a lawyer on a hunt for her first election to win a third term.
This time, however, he'll be representing House District 87, in coastal Palm Beach County, just north of the district that first elected him in 2018.
He defeated Democrat Sienna Osta, winning 60% to the 40% she earned, unofficial results show with all the precincts reporting.
Caruso faced Osta, who criticized him for voting with Gov. Ron DeSantis after beating back a challenge from his Right in the Primary. Election data shows voters in this district in 2020 supported President Donald Trump by the slimmest of margins: by less than 0.4 percentage points, according to Matt Isbell of MCI Maps.
The newly drawn district stretches from Juno Beach to Lake Worth Beach.
Caruso bills himself as a "commonsense Republican" but his opponent takes issue with his voting record that supported DeSantis' "culture war" agenda, particularly the 15-week ban on abortion (HB 5) without exceptions for rape and incest and the Parental Rights in Education Law (HB 1557) that more closely regulates schoolhouse discussions of LGBTQ issues.
Caruso had Osta lapped several times over in the money race for the seat
She raised $6,755 total as of Nov. 3 and lent her campaign $1,852. Caruso, however, drew $261,375 in donations, including $58,000 worth of in-kind help in the form of staff and polling support from the Republican Party of Florida.
In addition to endorsements from Chief Financial Officer Jimmy Patronis and a host of other groups — such as the Palm Beach Log Cabin Republicans, Palm Beach County Medical Society, and the Florida State Hispanic Chamber of Commerce — The Palm Beach Post endorsed Caruso.
Osta, meanwhile, received endorsements from the Sun-Sentinel and Democratic Sens. Lori Berman and Tina Polsky. She also received the nod of the Democratic Environmental Caucus of Florida, The Democratic Women's Caucus of Florida and the Democratic Veterans Caucus of Florida.