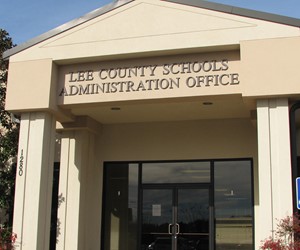 A referendum passed even as voters re-elected a School Board member opposed to the change.
Lee County voters have decided to start electing its Superintendent of schools.
A referendum placed on the ballot by the Legislature that changes how the school chief is selected ultimately passed with more than 62% of the vote. The Lee County legislative delegation voted unanimously more than a year ago for a local bill putting the issue to vote.
The first election for a Lee County Superintendent in the wake of the referendum's passage will now take place in 2024.
Rep. Spencer Roach, a North Fort Myers Republican, said the passage of the measure was good for Lee County.
"We should trust the voters to make this decision," Roach said.
He noted the measure passed despite such academic leaders as Florida Gulf Coast University President Mike Martin and a number of retired Superintendents campaigning against it.
Hurricane Ian also disrupted political activity significantly in Lee County. And the measure passed even as School Board Chair Debbie Jordan, who earlier this year penned a letter of opposition to the referendum, won re-election with about 56% of the vote.
The referendum, though, passed by a margin greater than the victory of any School Board member. And while it only took a majority vote to pass the ballot question, the margin exceeded the threshold normally required for an amendment to the Florida Constitution.
Critics of the measure said passage would move Lee County in the opposite direction of national trends, and open the door for politicians to win election instead of professional educators and administrators.
Madelon Stewart, a co-founder of the Quality Schools for the Future campaign, said the interjection of more politics into education will not be helpful. She stressed that an elected Superintendent, unlike School Board elected in nonpartisan races per Florida's Constitution, would be a partisan official.
"I don't think a partisan person — man, or woman, Democrat or Republican — will be able to provide the best education to students," she said.
She also said the way Superintendents are hired now, just as with major positions like City Managers and Police Chiefs, an exhaustive national search seeks out professionals for the role.
But it's hardly unprecedented for school districts to elect Superintendents, though only Florida and Alabama put such positions to a vote.
A majority of Florida counties elect Superintendents, though Lee County will be one of a small number of large counties to do so.
Rep. Jenna Persons-Mulicka, a Fort Myers Republican whose father was elected to the School Board this year, argued it's best for voters to have a say, instead of the elected Board, on who leads schools. She penned the local bill that put the matter to a vote. Voters last weighed in on the issue in 1974, when a referendum switched Lee County from an elected Superintendent to an appointed one.