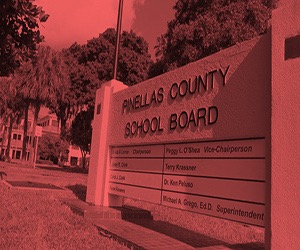 The Tampa Bay area experienced a historic red wave Tuesday night.
The Pinellas County School Board will welcome two new, Ron DeSantis-aligned members after Tuesday night's election — Stephanie Meyer and Dawn Peters.
Peters took the District 3 seat with 52.06% of the vote. She faced Keesha Benson for the seat. Benson received 48% of the vote.
"Thank you Pinellas county! Tonight parents said they want change and they have it! Huge win for our children, teachers parents and our country! I can't thank enough people. My volunteers!!! You are all amazing and this victory belongs to you," Peters wrote in a Facebook post.
Meyer won the District 6 seat, taking 53% of the vote to her opponent, Brian Martin's 47%.
"With deep gratitude for the parents and grandparents that sent me in, I am very excited to join the Pinellas County School Board. I have profound respect for the teachers and employees, and the rich history of Pinellas County Schools dating all the way back to when my Mom taught for Pinellas County," Meyer said in a statement to Florida Politics. "I'm looking forward to working on improving the performance benchmarks for our schools, listening from and responding to community stakeholders, and most of all being a strong voice for our kids, parents, grandparents, teachers, and residents."
The pair's victory comes at a time when School Board races have grown immensely more partisan — and as the Tampa Bay area experienced a historic red wave.
Both candidates were endorsed by hyper-conservative "parental rights" group Moms for Liberty, the Pinellas Chapter. The controversial, national nonprofit was founded in Brevard County to support "parental rights" in public schools, focusing on culture war issues and spearheading book bans.
Although Pinellas County School Board races are nonpartisan, Peters touted endorsements from local Republican Party chapters, including the Pinellas Suncoast Black Republican Club and the Pinellas Republican Liberty Caucus. Meyer boasted endorsements from the Sun Coast Police Benevolent Association and the Florida Fraternal Order of Police, District 3.
"There's only one conservative, pro- parent, pro-freedom choice for District 6 — and that is me. I have never waivered (wavered) from my support of Governor DeSantis and my pro-parent platform," Meyer wrote in one Facebook post.
"I have spent the last five years fighting against those who seek to use schools to promote political and social agendas, and I will continue to stand and fight for you as your school board member."
Peters and Meyer both earned endorsements from the 1776 Project PAC, which asks individuals to report local cases of critical race theory in schools. While Florida schools don't teach critical race theory, Florida's Republican leadership has been vetting curriculum for any traces of "woke" content.
Peters came under fire back in October after the Tampa Bay Times found social media posts in which Peters is pictured taking the QAnon oath, referring to the 2020 Presidential Election as "Trump 2Q2Q" and posting tweets insisting that the moon landings, the 9/11 terror attacks and the coronavirus pandemic were "hoaxes." Peters told the Times that the posts are "obviously real," but that she did not recall what she was thinking when she shared them about two years ago.
Peters will go on to replace Nicole Carr in District 3. Carr dropped a re-election bid in 2021 following her first term. Meyer will succeed Bill Dudley, who did not seek re-election.
Florida Politics reached out to Peters, but did not receive a response by the time of publication.