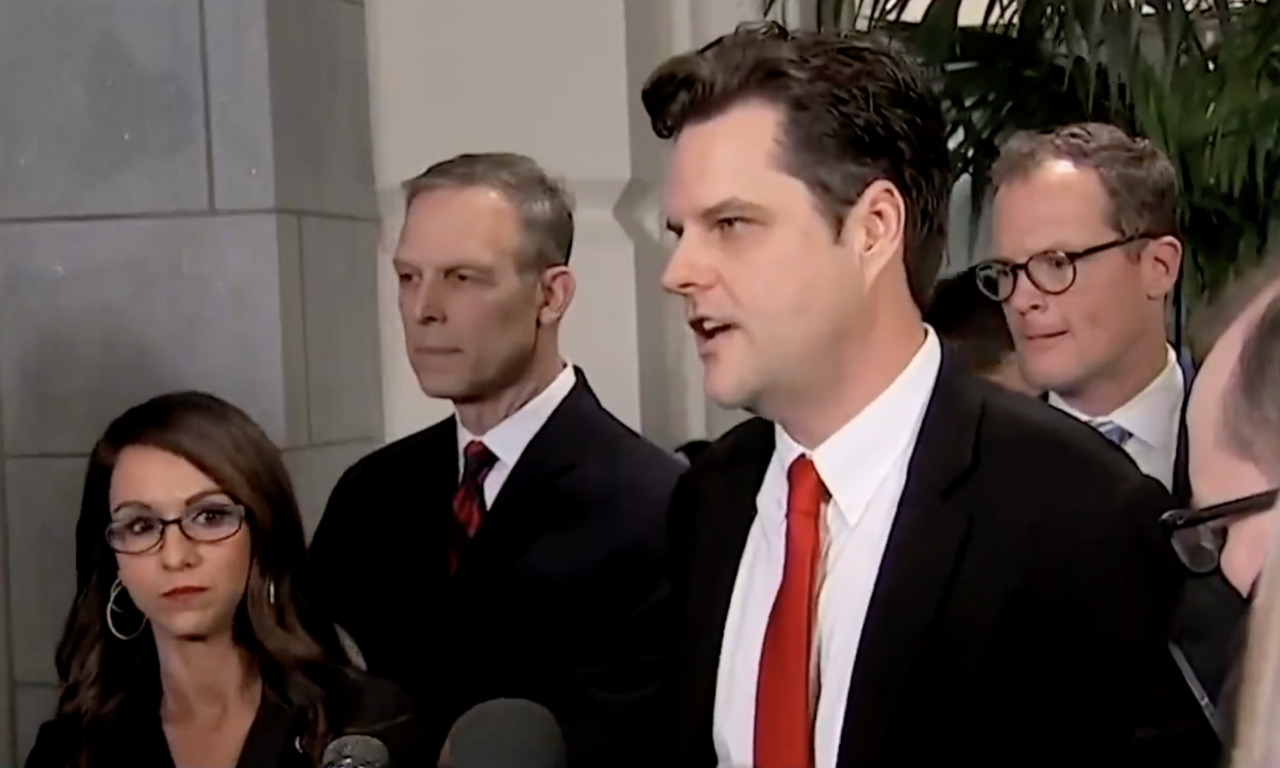 The Republican leader accused Gaetz and others and putting control of the chamber at risk.
Is U.S. Rep. Matt Gaetz willing to throw the Speaker of the House job to a Democrat?
U.S. Rep. Kevin McCarthy told reporters minutes before a new Congress was set to convene that the Panhandle Republican said just that. But Gaetz said that's a lie.
McCarthy, who led the Republican minority in the House the last four years, has been whipping votes to become Speaker in the new House majority in the 118th Congress. In the days leading up to the vote for Speaker, scheduled for Jan. 3 at noon, that has included negotiations between the California Republican with Freedom Caucus members and other representatives in his party who have so far withheld support.
Gaetz was among those members to vote against McCarthy as Speaker when the GOP caucus met in November. But at a contentious GOP Conference meeting ahead of the gaveling in of a new Congress, McCarthy conceded he lacks the votes to secure the Speakership on a first ballot. Part of that he pinned squarely on Gaetz.
"We're not empowering certain members over others," McCarthy said. "Last night I was presented the only way to have 218 votes was if I provided certain members with certain positions, certain gavels, to take over certain committees and have certain budgets.
"And they even came to the position where one, Matt Gaetz, said, 'I don't care if we go to plurality and we elect Hakeem Jeffries, and it hurts the new frontline members not to get re-elected.'"
U.S. Rep. Jeffries, a New York Democrat, was elected by the Democratic caucus to succeed U.S. Rep. Nancy Pelosi as Democratic leader. He should be minority leader in the Congress based on Republicans winning 222 seats in the midterm to the Democrats 213.
But Gaetz denied McCarthy's account of their conversation.
"As usual, he's lying," Gaetz told Florida via direct message. He also shared a Mediate article on colleagues of McCarthy previously scolding him for dishonesty.
After the morning conference meeting, Gaetz spoke to the press and said his resolve against McCarthy taking the Speaker's gavel remains strong.
"Everything I heard hardened my resolve that this town desperately needs change, and if it's a few of us who have to stand in the breach to force it, we are willing to do so for as long as it takes," Gaetz said.
He said he personally had his seat on the House Armed Services Committee threatened if he doesn't support McCarthy for Speaker.