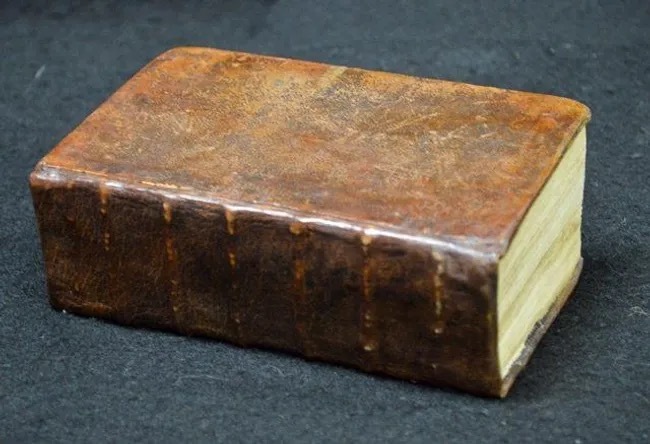 The Blaze website trumpeted the Governor's borrowing of Beck's holy book.
Gov. Ron DeSantis celebrated his inauguration Tuesday in Tallahassee, and a conservative firebrand's holy book was central to the proceedings.
Commentator Glenn Beck trumpeted the "exclusive" on his Blaze website, noting that the so-called "Bible of the Revolution," borrowed from Beck himself, was central to the ceremony.
"The Aitken Bible, on loan from nationally syndicated radio host and co-founder of Blaze Media Glenn Beck, was the same on which great patriots — without whom there might not be an America today — swore their allegiance in the days of the nation's founding," read the piece from author Joseph MacKinnon.
The Bible dates back to 1782 and is housed in Beck's "American Journey Experience" museum, "a state-of-the-art museum and research library replete with documents and antiquities speaking to America's rise and greatness. Among the collection is Franklin D. Roosevelt's wheelchair, the original script for Orson Welles' 'War of the Worlds,' and original letters written by George Washington."
Beck divulged that DeSantis could have picked an alternate holy book: a Bible owned by former First Lady Mary Todd Lincoln. But he expected the Bible of the Revolution would be the ultimate choice, given the symbolism of "the men who fought for American independence."
"I offered Gov. DeSantis the use of these Bibles for his use at his oath of office ceremony in Florida, as I believe his work in the state has real historic significance. It is the beginning of a renewal of the principles for which our Founders fought," said Beck.
The Governor's Office offered confirmation.
"That is indeed the Bible that the Governor used to swear the oath of office this morning," asserted Press Secretary Bryan Griffin.
Not all reactions were positive. Former Agriculture Commissioner Nikki Fried spotlighted the Governor's decision to borrow Beck's revolutionary-era holy book on Twitter: "If this doesn't tell you EVERYTHING you need to know!"
The inauguration speech, which ran just over 16 minutes long, offered ample justification of how DeSantis' Florida has rebuffed so-called "woke" ideologies in addition to more traditional inaugural speech pleasantries.
DeSantis has had a friendly, and sometimes newsy, relationship with Beck. In 2022, he went on Beck's program to reveal the state's renewed push against corporate ESG governance.