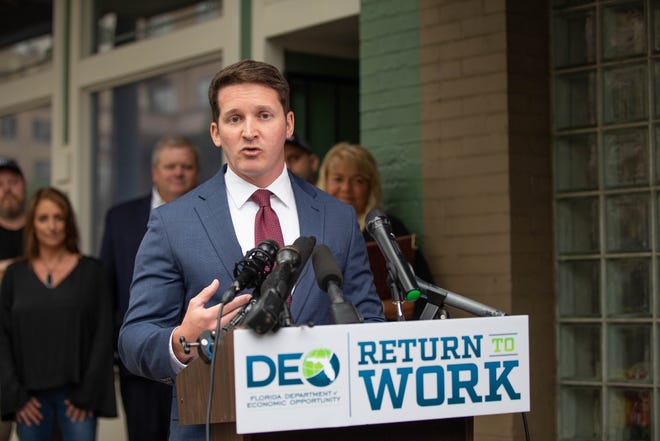 Eagle will bolster the firm's operations in Tallahassee and Southwest Florida.
Former Department of Economic Opportunity Secretary Dane Eagle is joining the team at government affairs firm Ballard Partners.
Eagle spent the past two years leading DEO, which houses programs such as the state's unemployment benefits, workforce training operations, as well as several grant programs aimed at business and infrastructure development.
The Cape Coral Republican previously served four terms in the state House, where he was an advocate for tax cuts and pro-business regulatory reforms. During his tenure, which spanned 2012-20, he also served as the Majority Whip and the Chairman of the Energy and Utilities Subcommittee. In his final term he was Majority Leader.
"Dane's experience as a state legislator and as Governor DeSantis' top economic development official will make him an invaluable member of our firm," said Brian Ballard, the President and founder of Ballard Partners. "We are delighted to have Dane bring his extensive experience to serve the firm's clients in Tallahassee and also open our new office in Fort Myers to serve Southwest Florida."
Eagle added, "I am honored to become a part of the exceptional team of professionals at Ballard Partners. I look forward to establishing a strong presence in Tallahassee and am particularly excited to help the firm expand into the fast-growing Southwest Florida area."
In the private sector, Eagle has two decades of experience in real estate, most recently as a commercial real estate broker providing investment strategy, consulting, and sales and leasing services in the Southwest Florida market.
He is a Southwest Florida native and earned his bachelor's degree in economics with a minor in business administration at the University of Florida.
The addition of Eagle marks Ballard Partners' second major hire of 2023. On Monday, the firm announced that Joe Buscaino, the former President Pro Tempore of the Los Angeles City Council, was brought on to lead the firm's new SoCal office.
Ballard Partners has been one of the largest lobbying firms in the Sunshine State for years and has quickly become one of the largest in Washington since it expanded its operation to the nation's capital nearly six years ago.
Ballard Partners entered the international governmental relations arena two years ago, setting up an office in Israel and, later, Turkey in addition to representing multiple foreign governments in Washington.