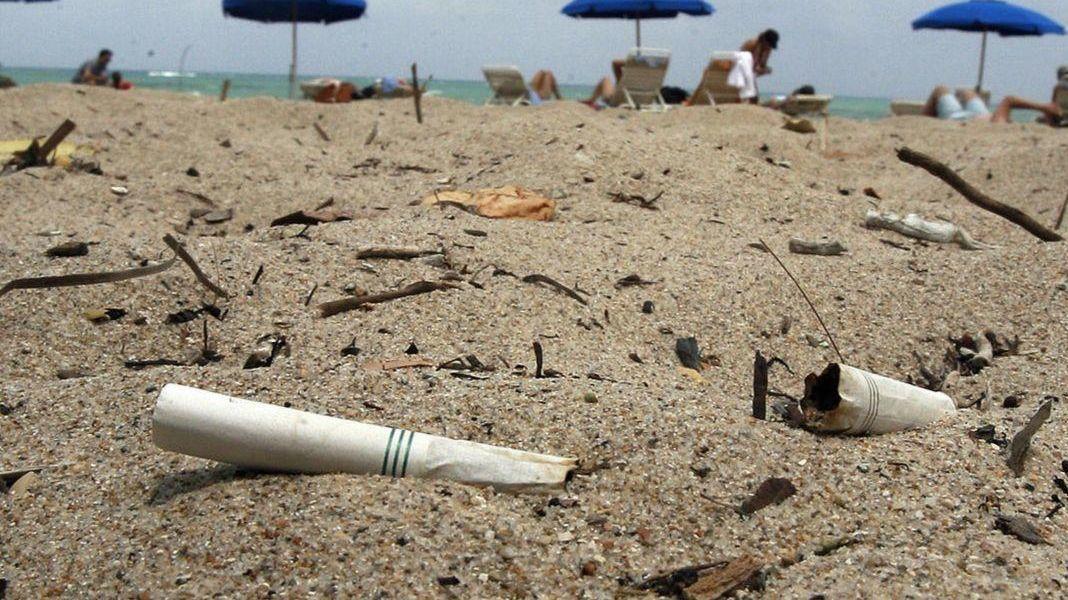 Unfiltered cigars and vaping products are still allowed.
Beach bums and parkgoers in Miami Beach can still show off their cabooses in revealing swimwear, but other butts — the ones attached to cigarettes — are no longer welcome.
A new smoking ban went into effect on New Year's Day on Miami Beach, where residents and visitors may no longer use most tobacco products at public parks and beaches.
"Our beautiful beaches just got a little more pristine," said City Commissioner Alex Fernandez, who sponsored the measure.
"We want our residents and visitors to continue to enjoy our beaches without having to worry about cigarette butts and the microplastics contained within them, which pose a serious threat to seabirds, sea turtles and other marine life."
Miami Beach Commissioners voted 5-1 on Sept. 14 to approve an ordinance banning cigarettes and other tobacco products at parks and beaches. Kristen Rosen Gonzalez, Laura Dominguez, Steven Meiner and David Richardson joined Fernandez in supporting the measure. Ricky Ariola cast the sole "no" vote.
The ban includes cigarettes, filtered cigars, pipe tobacco and "any other lighted tobacco product with the exception of unfiltered cigars." Vaping is still allowed.
First-time violators face a $100 fine. If they are caught smoking in prohibited areas again within a year, the charge is $200. Each violation includes a potential 60-day jail stay.
"This paradise is an important economic engine," said Fernandez, who also serves as Vice Mayor. "Cigarette Butts are not the butts our 18 million visitors want to see. This new law will help keep our paradise clean and beautiful."
In the leadup to the Jan. 1 ban, Miami Beach ran a marketing campaign to spread the word. A news release said the city clocked more than 60,000 impressions on its social media accounts by the end of 2022. The city also included word of the ban twice in its biweekly email newsletter sent to more than 29,000 email addresses.
Additional efforts to publicize the ban are in the works, including an "in-depth article" set to run in the winter issue of the city's official magazine, MB, and educational messaging at bus shelters that will go up this month.
Mayor Dan Gelber said he was "delighted" to see the ban adopted last year.
"I am weary of the blight of cigarette butts and the secondhand smoke that too often invades our public spaces," he said.
Efforts to curb public smoking and the littering of cigarette butts that generally accompany it have gained popularity in recent years. In June, Gov. Ron DeSantis signed HB 105, a bipartisan measure amending the Florida Clean Indoor Air Act to allow local governments to restrict smoking at public beaches and parks.
The law, which includes a carve-out for unfiltered cigars, went into July 1. Sarasota Republican Sen. Joe Gruters, who championed the ban for four years, celebrated the occasion at an event where he removed extra-large, fake cigarette butts from Lido Beach.
"There is nothing more disgusting than when you can put your hand in the sand and you pull it out, and all of the sudden you feel that cigarette butt, especially when your kids are playing in the sand," he said.
Other proponents of the ban point to its environmental impacts. Studies by the nonprofit Ocean Conservancy cite cigarette butts as the most commonly recovered item during three decades of the organization's yearly "Coastal Cleanup" event.
The preponderance of the 5.6 trillion cigarettes manufactured worldwide annually — 95%, according to Longwood University — have filters made of cellulose acetate, a plastic that can take a decade or more to decompose. When it eventually disintegrates, it converts into microplastics consumed by wildlife.
Around two-thirds of them are littered every year, according to Thomas Novotny, a professor of public health at San Diego University and the founder of the Cigarette Butt Pollution Project.
Researchers have found residue in 70% of seabirds and 30% of sea turtles. Other studies confirmed microplastics from cigarette filters have also seeped into soil and public waters.