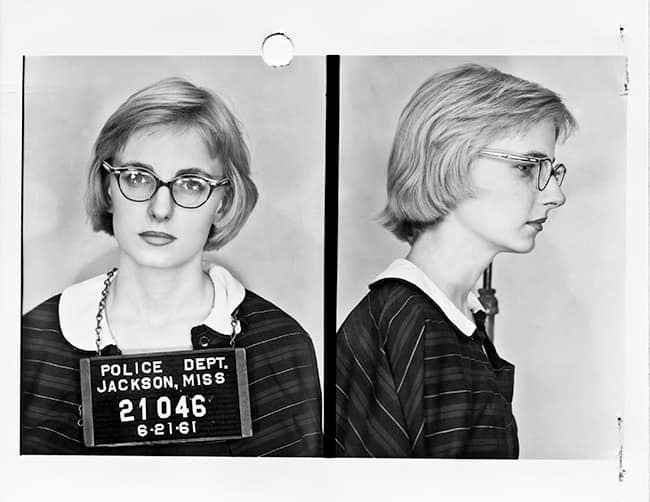 She reported for several Florida newspapers, including the Miami Herald and St. Petersburg Times.
In the journalism world, a "mug shot" refers to a photo of a subject's face and a bit of torso.
But in the case of longtime journalist Margaret Leonard — who died Nov. 14 and was memorialized in a Tallahassee gathering Thursday on what would have been her 81st birthday — she had the real deal, complete with front and side views, the numbered plaque and a helluva story to go along with it.
In 1961, from all appearances, she looked like what she was — a 19-year-old ingénue attending New Orleans' all-girl Sophie Newcomb Memorial College with a smooth, sweet-like-honey Southern accent.
But Leonard was also the daughter of journalists and writers Howard and Margaret Long Leonard. Her mother had a penchant for racial equality, and, according to an obituary written by Dana Peck, was the first White woman in Macon, Georgia, to join the NAACP.
"Through her mother's advocacy in Atlanta, (Margaret) Leonard, as a teenager, met civil-rights legends Dr. Martin Luther King Jr. and John Lewis, who inspired her commitment to racial justice," it read.
During a break from college before a yearlong study abroad at The Sorbonne, Leonard spent two weeks as a Freedom Rider, riding buses with Black and White men and women across the south to challenge segregation laws in Southern states.
In an oral history recorded in 2001 to commemorate the Freedom Riders, Leonard shared that her greatest fear was not being beaten, but rather spending time in jail. That was something that happened more than once, including the time she and other Freedom Riders were arrested in Jackson, Mississippi, and she ultimately spent time in a "White women's cell" Mississippi's Parchman penitentiary.
Leonard told her interviewer she was traumatized by the experience for a while after her release, but it led her to a theme she would return to time and again in her journalistic work. "I wrote a lot about prisons, power stuff," she said. "That was the question that I was interested in my whole life: What do people do when they have power, and what do you do about it if you don't have it?"
She would go on to a career reporting for several Florida newspapers, including the Miami Herald and St. Petersburg Times.
Lawyer Florence Snyder recalls Leonard from when they both worked for the Palm Beach Post in the late '70s. "She was a media lawyer's dream. She was not the kind of reporter who would put up with lawyers who thought it was OK to wait six weeks for an FOI request," Snyder said. "She'd stay up all night with you pouring coffee so you would be in court the next morning when the doors opened."
Leonard moved to Tallahassee with her children, John Cryer and Katy Cryer, to work at the Tallahassee Democrat, ultimately trading in her hard-nosed reporting for the art of editing.
In her oral history, she declared that her now-adult children "came through with the good parts of me and they got better. I wish my children had a movement that I had at the time. I'm not satisfied with how far we got. I'm real discouraged with the world that we have now."