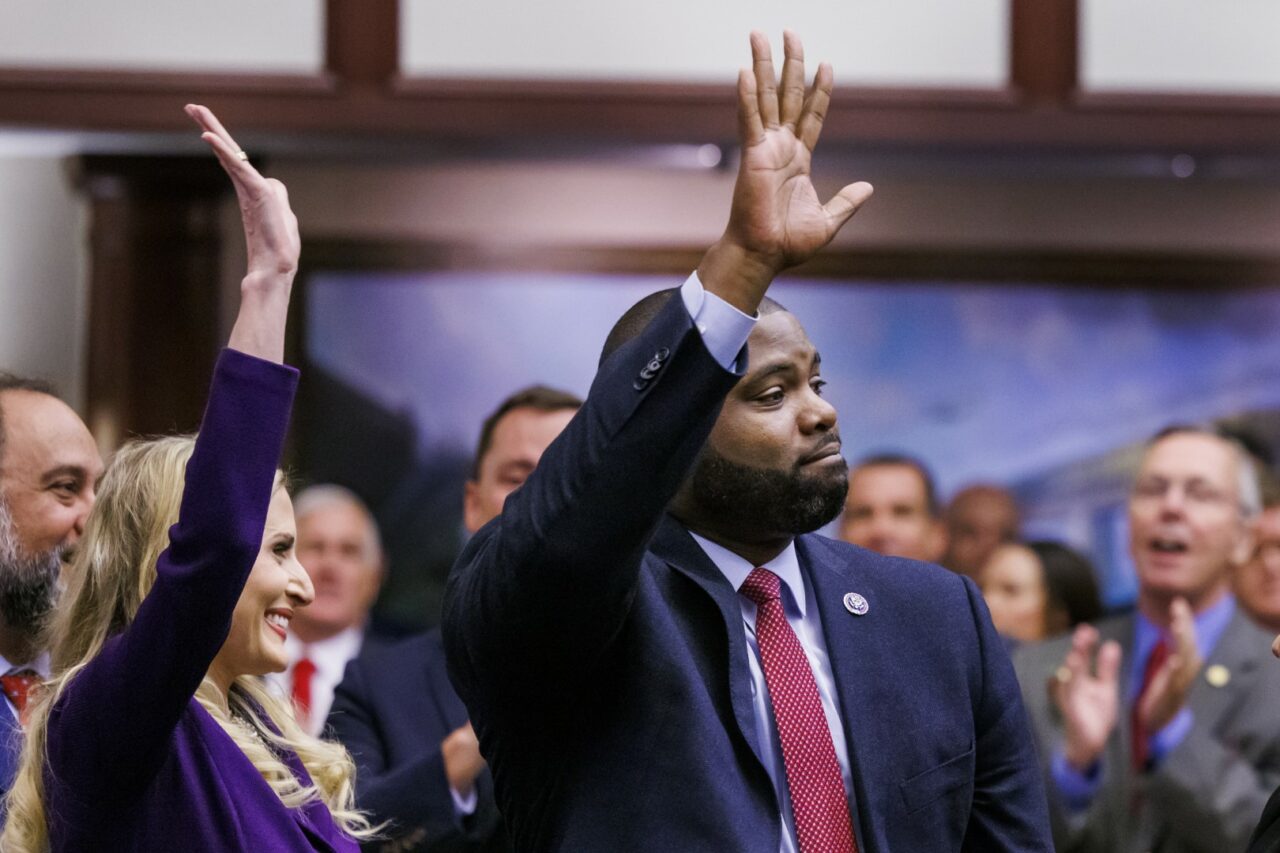 He had previously emerged as a protest nominee in the protracted leadership race.
U.S. Rep.-elect Byron Donalds just voted in favor of making Kevin McCarthy the new Speaker of the House.
(Note: All House members currently bear the title of "Rep.-elect" until a new Speaker is chosen and members are sworn in).
The Naples Republican over the past two days had emerged as a protest nominee for Republicans unhappy with McCarthy's ascension. But Donalds' shift to the outgoing Minority Leader's column signaled negotiated changes in House rules may begin to win enough votes over to break a deadlock that has now forced 13 votes on Speaker.
Applause broke out in the House Chamber, where more than 200 Republican Representatives-elect have remained loyal to McCarthy. The California Republican led his caucus to win a slim majority and flip the House back to GOP control in the 2022 Midterms.
Donalds later told press he believes McCarthy will be elected Speaker. Though no one won majorities on the 12th or 13th ballots, the majority of protest votes the past three days now support the California Republican.
"What has occurred for the first time in probably 100 years, if not more, is a deliberative process, a legitimate deliberative process, about the future of leadership in the people's body," he said.
Donalds notably started in McCarthy's column, supporting him on the first two ballots. But when no one achieved a majority on either vote, Donalds on a third ballot cast a protest vote for U.S. Rep.-elect Jim Jordan, an Ohio Republican. Notably, Jordan has remained a McCarthy stalwart, even nominating the California Republican on a second ballot for Speaker.
Donalds received one vote for Speaker on the first ballot, from U.S. Rep.-elect Chip Roy. The Texas Republican then nominated Donalds on a fourth ballot for Speaker. Then Donalds on the following seven ballots received more votes than any candidate except for McCarthy or U.S. Rep.-elect Hakeem Jeffries, the Democratic nominee for Speaker.
The high-profile position thrust Donalds into negotiations with the McCarthy team, which extended to the morning of the vote. Advisors to Donalds told Florida Politics the Congressman's chief concern was over restoring an option for a "motion to vacate," basically a demand for a vote on firing a Speaker at any point, and allowing a single member to bring such a motion.
McCarthy had released draft rules this weekend allowing such a motion but only if supported by at least five House members. But in a call this morning, McCarthy reportedly told caucus members he would accept the demand that the threshold drop to a single member.
Donalds also wanted a commitment that conservative priorities like term limits would come up for a House vote.
As a 12th vote unfolded for Speaker, a number of former protest votes shifted toward McCarthy. That includes U.S. Rep.-elect Anna Paulina Luna, a St. Petersburg Republican who previously had supported Donalds, as well as Rep.-elect Roy.
Luna said the process shouldn't be seen as divisive as has been characterized.
"All this happening right now, this is a good faith effort on behalf of the people and they deserve this conversation," Luna told reporters. "They deserve this representation and they deserve this space."
But some Republican representative-elects continued to hold out, including Matt Gaetz of Fort Walton Beach. McCarthy won 213 votes and 214 votes on two respective ballots Friday, marking the first two times he received more votes than Jeffries over 13 votes.
If McCarthy can reach 218 votes, he would have a secure majority, but with absences and potentially members choosing not to vote, he could win with a lower threshold. His challenge now is winning over some members of six remaining holdout votes in the conference, including Gaetz.
Donalds said he feels confident he and others who cast votes against McCarthy on prior ballots will not face any retribution. He also said conversations will continue with remaining votes to sway them, perhaps as soon as this evening. The House has adjourned rather than immediately head into a 14th ballot.