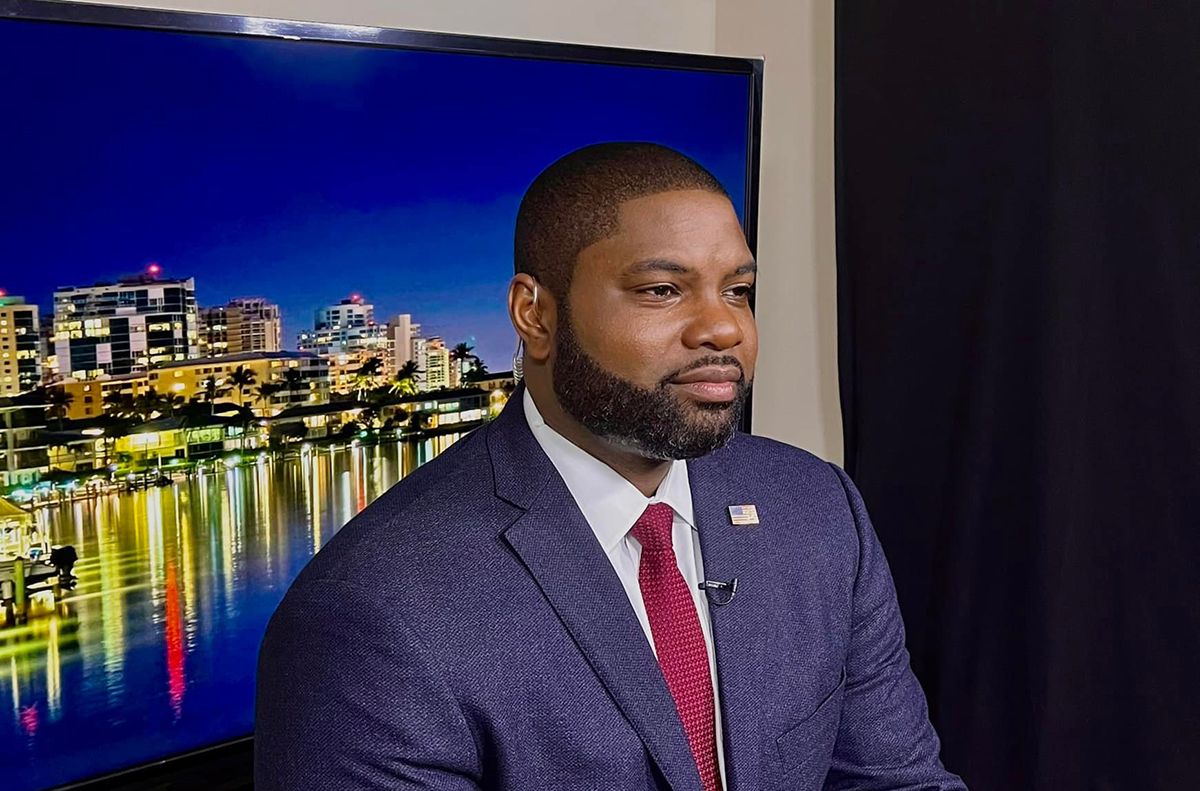 But the bulk of the GOP conference continues to support Kevin McCarthy.
Republicans fighting the selection of former Minority Leader Kevin McCarthy offered U.S. Rep.-elect Byron Donalds as an alternative choice. Over the course of three votes on Speaker Wednesday, the Naples Republican earned 20 votes each time.
(Note: All House members currently bear the title of "Rep.-elect" until a new Speaker is chosen and members are sworn in).
U.S. Rep.-elect Chip Roy, a Texas Republican, nominated Donalds for Speaker ahead of the first vote on Tuesday, one of six votes to date for Speaker of the 118th Congress.
"Byron is a dear friend, a solid conservative, but most importantly, a family man who loves dearly his wife, Erika, and his three children," Roy said. "He has a proven track record as a businessman, public servant in the Florida Legislature, and now as a member of the United States Congress."
Roy also cast a lone vote for Donalds for Speaker on Tuesday during the first ballot for Speaker. Donalds notably supported McCarthy during that vote, as well as during a second ballot held immediately afterward.
But on a third ballot, Donalds changed his vote, the only member of the chamber to shift from supporting McCarthy to opposing him. Donalds on the third ballot supported Ohio Rep.-elect Jim Jordan.
"The reality is Rep. Kevin McCarthy doesn't have the votes," Donalds later tweeted. "I committed my support to him publicly and for two votes on the House Floor. 218 is the number, and currently, no one is there."
On the fourth vote, Donalds voted for himself after being nominated by Roy. That move alone set him apart from Jordan. While the Ohio Republican on the third ballot Tuesday received 20 votes as well, he has cast his own vote for McCarthy on all ballots.
On a fifth vote, Donalds was nominated once again, but by Rep.-elect Lauren Boebert. The Colorado Republican suggested Donalds could bridge divides within the GOP caucus.
"Republicans, including many moderates, have been impressed by Byron Donalds, impressed by his ability to work together," Boebert said. "They respect his leadership. We see him as someone who can communicate what we are all wanting to do in this House."
She also referenced Donalds' "brave" run for GOP Conference Chair. Donalds lost a caucus vote for the No. 3 GOP position in the House, with incumbent Conference Chair Elise Stefanik keeping the job. In that vote, he received 74 votes to Stefanik's 144.
Before a sixth ballot for Speaker, Rep.-elect Scott Perry, Chair of the House Freedom Caucus, noted the historic nature of Donalds' nomination. The Naples Republican would be the first Black Republican to be named Speaker of the House. He's only the second Black person nominated, after Rep.-elect Hakeem Jeffries, the Democratic caucus' nominee for Speaker.
"Now as my colleagues probably know, the first Black members of Congress to serve in this body were Republicans," Perry said. "As a matter of fact, you probably also know that Frederick Douglass, who went and worked with Abraham Lincoln to emancipate the people of color in this country, said he would never be anything but a Republican."
Donalds first won election to the U.S. House in 2020 after a contentious and expensive Primary by just 774 votes out of about 104,000. He served at the time as a member of the Florida House, where he was elected to two terms. He easily won the General Election in 2020 in the deep-red district.
In Florida, there have been rumors Donalds could seek statewide office. He's a close ally of Gov. Ron DeSantis, and was reportedly the Governor's first choice to lead the Republican Party of Florida shortly after the 2018 election. Notably, he could not run for that post after he failed to win a Chair position in the Collier County Republican Party.
But Donalds was re-elected with little problem in 2022, fending off both a Primary challenge and a rematch against Democratic opponent Cindy Banyai.
Donalds through his legislative career has been active on issues involving criminal justice and, perhaps most important to him personally, school choice. Wife Erika is an executive in private charter schools, serving as CEO of OptimaEd.
While Donalds was re-elected comfortably in his deep red district, he notably has detractors locally.
Cindy Banyai, Donalds' Democratic opponent in 2020 and 2022, criticized his elevation as a choice for Speaker.
"Don't forget that not only is Byron Donalds a criminal, but his staff are criminals too and some have a long and violent history," she tweeted, sharing news reports throughout the day about the Congressman and those close to him.
It's little surprise his Democratic opponent has numerous philosophical issues with Donalds. His relationship within the Collier County Republican County also remains strained. His family remains engaged in a lawsuit with Kelly Lichter, wife of newly elected Collier County Republican Party Chair Nick Lichter.
Kelly Lichter has also filed ethics complaints in Florida against Donalds, saying he has lied on documents in the past about past criminal problems including bribery and theft arrests in New York. Those complaints were later dismissed.
But Donalds has also been upfront about his own past, which featured prominently in a video he released launching his U.S. House bid in 2020.