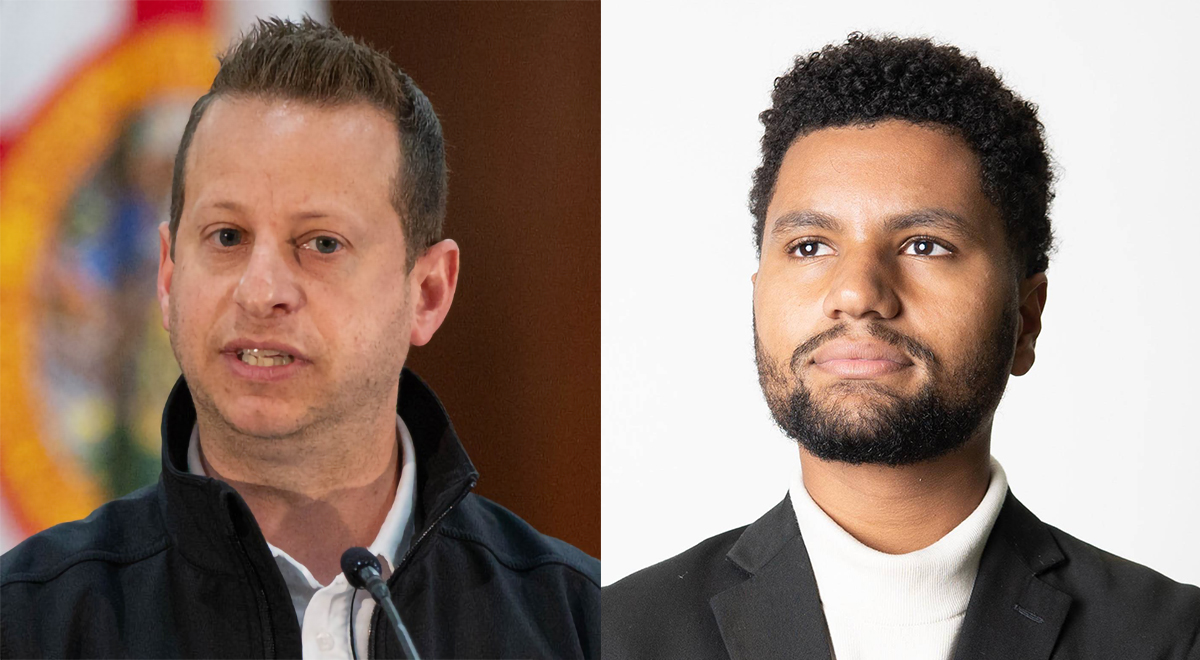 Two freshman Congressmen from Florida, Jared Moskowitz and Maxwell Frost, will join 14 other Vice Chairs on the Gun Violence Prevention Task Force.
Democratic U.S. Rep. Jared Moskowitz of Parkland, whose passionate speech following the Marjory Stoneman Douglas High School shooting in 2018 helped pass Florida's first gun safety law in two decades, will serve as a Vice Chair of the Gun Violence Prevention Task Force in Congress.
On Monday, two days after being sworn into his first U.S. House term, Moskowitz announced he is joining the task force. Fellow Floridian Maxwell Frost, who rose to prominence during the "March for Our Lives" movement to become the first Generation Z candidate elected to Congress, will also serve in a Vice Chair role alongside 14 others.
Moskowitz noted his past success backing gun reform in the Sunshine State, whose GOP-dominated Legislature has otherwise been allergic to such measures, in saying he hopes to bring similar changes at the national level.
He holds an F-minus grade from the National Rifle Association. That distinction, along with other work on the issue, saw him earn a "Gun Sense" candidate label from Moms Demand Action during the 2022 election cycle.
"I brought together Democrats and Republicans to pass gun violence prevention legislation through the Republican-controlled Legislature and Republican Governor and beat the NRA," he said in a statement.
"Now, as Vice Chair of the Gun Violence Prevention Task Force, I look forward to finding common ground."
Frost told Florida Politics he and the other members of the task force "will be working towards ending this senseless epidemic of violence that claims 100 lives a day."
"Americans and Floridians don't have to look too hard to find the devastating effects of gun violence in our own communities. We do not have to live in a country where gun violence threatens the lives of our loved ones on a daily basis," he said in a statement.
"I got involved in the fight to end gun violence at 15 years because I didn't want to get shot in school. My resolve, experience, determination, and dedication to ending gun violence will guide my advocacy and work in Congress."
Shortly after the Feb. 14, 2018, school shooting at Marjory Stoneman Douglas High in Parkland — the worst ever in Florida and among the deadliest in U.S. history — the Legislature raised the minimum age for assault-style rifle purchases from 18 to 21, implemented a three-day waiting period for gun purchases, banned bump stocks and added statutes allowing law enforcement to seize guns from dangerous individuals.
Many have credited Moskowitz's 15-minute testimony on the floor of the Florida House as key to moving his colleagues forward on the issue. In that speech, Moskowitz — a graduate of the school — described what it was like to tour its blood-spattered halls and go to the funerals of teens who had their whole lives ahead of them.
"Jared Moskowitz and I should not know each other, but because of the Parkland shooting, we do," said Fred Guttenberg, a gun violence prevention activist whose daughter, Jaime, was among the 17 people killed at the school. "Following the Parkland shooting, (he) led the effort to pass gun safety measures in Florida. Many are responsible, but Jared is the reason it got done."
The House Gun Violence Prevention Task Force seeks common-sense solutions to reduce gun violence nationwide. Created by then-Democratic Leader Nancy Pelosi in 2012 following the shooting at Sandy Hook Elementary School in Newtown, the group is nonpartisan.
U.S. Rep. Mike Thompson of California, a self-professed "lifelong hunter and gun owner" and the task force's founding and current Chair, said he is "thrilled" to have Moskowitz onboard.
"Gun violence must be a top priority for the next Congress, and essential to this effort is the involvement of new leaders," he said in a statement. "Jared has been a passionate and consistent advocate for gun violence prevention and has consistently worked to pass common-sense gun laws in Florida. He will be a great addition to our Task Force."
Frost, who turns 26 this month, is succeeding U.S. Rep. Val Demings in Washington. He is the former national organizing director for March for Our Lives and ran on a platform focused on gun safety reform. He began working on the issue following the 2012 shooting at Sandy Hook, joining Newtown Action Alliance as a volunteer lobbyist. That work led to efforts with the ACLU and other groups.
He told The Guardian last month that passing more substantive measures to put an end to gun violence is his top priority for his first six months in office.
"I think we have an opportunity, even in a Republican Congress, to pass legislation that can help get money for community violence intervention programs that help end gun violence before it even happens," he said, adding that he intends to keep the pressure on Republicans "who sweep the deaths of children under the rug" and Democrats who haven't acted enough.
"I'd venture to say that gun control is the slowest-moving issue in the federal government that has the most media coverage when something happens."
___
Anne Geggis of Florida Politics contributed to this report.