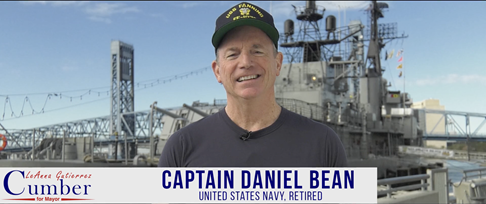 Bean was Gov. DeSantis' commanding officer in the Navy.
A retired Naval captain featured in a Ron DeSantis ad last year has made his choice in the Jacksonville mayoral race.
Daniel Bean, the Governor's former commanding officer, is backing LeAnna Gutierrez Cumber in the Jacksonville mayoral race, as seen in an ad from the Cumber campaign.
The "Putting Country Before Self" spot sees Bean, who was appointed by DeSantis to the Jacksonville Port Authority in 2019, extolling Cumber as an antidote to cronyism in city government and "new leadership in Jacksonville."
"She'll fight back against the insiders and the corrupt special interests," Bean contends.
Bean, who extolled DeSantis' "honor, courage, and commitment" last year, is now doing the same for Cumber. The digital spot comes a day after a Cumber ad was released attacking another major Republican in the field, JAX Chamber CEO Daniel Davis, as a "sell out" who is "out for himself" and looking to privatize city assets.
For his part, Davis continues to release ads slamming "liberal" Cumber, and these spots are often affirmed by friendly blogs.
The Cumber and Davis campaigns are dominating fundraising in the mayoral race to this point.
Cumber's JAX First political committee closed 2022 with nearly $2.5 million on hand, and she had more than $350,000 in her campaign account.
Davis is the cash leader, with roughly $450,000 in hard money at the end of 2022. Davis' Building a Better Economy political committee ended 2022 with over $3.5 million cash on hand, even after spending more than $525,000 in December.
Though the two Republicans lead the money race, they are not the only candidates in the field. Democrats Donna Deegan and Audrey Gibson qualified already, as did Cumber's GOP City Council colleague Al Ferraro. No-party candidate Omega Allen and write-in Brian Griffin are running also.

Other candidates may manifest before the end of qualifying Friday at noon. All qualified candidates will participate in the March 21 "First Election" and the top two finishers will move on to the May 16 General Election.
See the spot below: