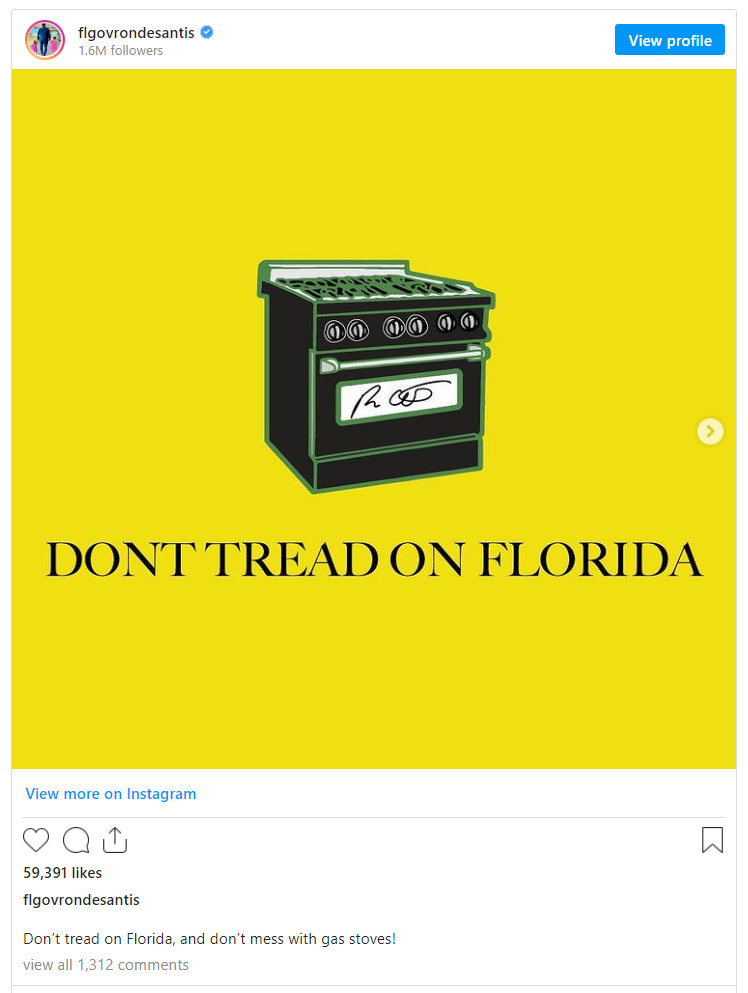 'Don't tread on Florida' aprons are now available for gas stove enthusiasts.
The political operation of Gov. Ron DeSantis continues to turn controversy into cash, with the latest narrative angle being recent controversies over gas stoves.
"California and New York are already banning gas stoves. And make no mistake … the Biden Administration would do the same if they thought they could get away with it. Not happening in the Free State of Florida," asserted the DeSantis War Room, promoting a "Don't Tread on Florida" apron.
The $25 accessory is "proudly made in the USA," the storefront asserts, with shipping time running 12 to 15 days after the order.
Though gas stoves weren't on DeSantis' rhetorical radar until a Commissioner from the federal Consumer Product Safety Commission floated the idea of a federal ban, they are now, with the Governor addressing the matter during multiple press conferences this week.
"When we say don't tread on Florida or let us alone, we mean that, including on your gas stoves! You're not taking our gas stoves away from us. That's your choice! I know many people who cook a lot who do not want to part with their gas stoves," said Gov. Ron DeSantis Thursday at a press conference in the Villages.
"We're going to stand up for that. You know, they float this to try to do, and they want to do it, let's just be honest. And then you start to see the narrative kick into gear. CNN segments saying it's causing asthma in kids, and all this other stuff. And then they start propagating the narrative, but then they got blowback, so they've kind of had to retreat from that," DeSantis added.
"And now the narrative machine is like 'Oh, why are these conservatives talking about gas stoves! They're trying to stoke issues.' No. You were trying to do it and we're fighting back. The bottom line is anything they can get away with, they're going to get away with. And this is just a perfect example of that."
Gov. DeSantis had previously contended gas stoves were essential in the wake of hurricanes like those Florida experienced last fall.
"The (Joe) Biden administration wants to nix gas stoves, are you kidding me? Like we need, I want gas stoves. I mean, imagine how many people, had the hurricane come through, didn't have power right away, but were able to turn on. You cannot go down this road, but that's exactly what they want to do," DeSantis lamented.
The controversy was stirred up following comments from Richard Trumka Jr., a U.S. Consumer Product Safety Commissioner, who floated a ban on sales of new gas stoves, saying "any option is on the table. Products that can't be made safe can be banned."
The Consumer Product Safety Commission has since stated no ban is on the table, framing Trumka's remarks as his own opinion.