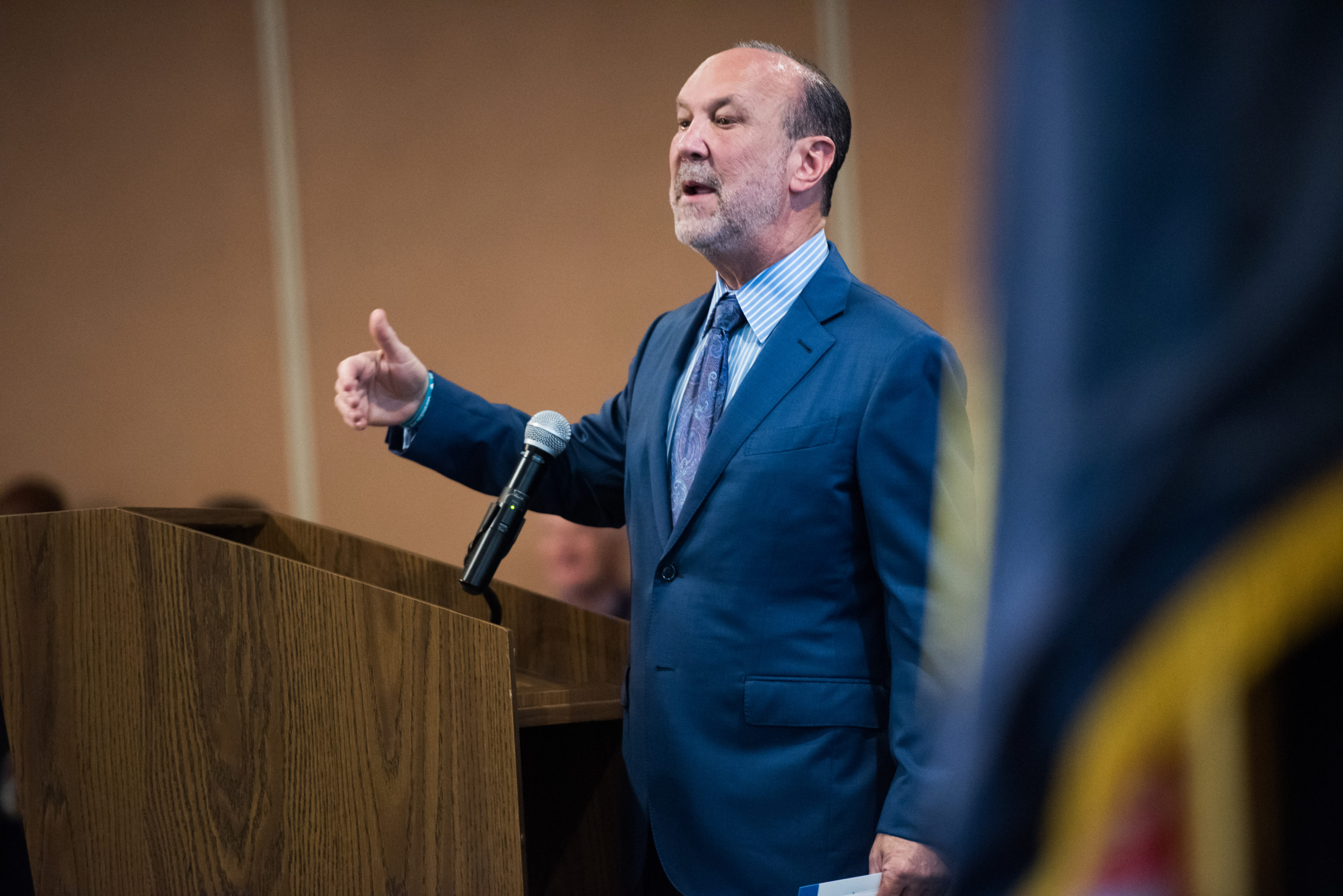 The Florida Bar is recognizing Book for his 35 years of service working with and for Florida's poor and underserved communities.
South Florida lobbyist Ron Book won't stand by as a local government takes steps to criminalize homelessness.
That's how he characterizes an effort in Surfside to pass new legislation that would crack down on homelessness by implementing bans on panhandling, sleeping overnight in public spaces and using soap or shampoo at public showers.
Now, the Florida Bar is recognizing Book for his 35 years of service working with and for Florida's poor and underserved communities, including pro bono contributions to combat homelessness and child abuse. 
The Bar will recognize Book and 20 others for work on behalf of low-income and disadvantaged clients at a Jan. 26 ceremony at the Supreme Court of Florida. 
The Florida Bar President's Pro Bono Service awards were established in 1981 and are meant to encourage lawyers to volunteer free legal service to the poor by honoring those who make public service commitments. The awards also raise public awareness of the substantial volunteer services provided by Florida lawyers to those who cannot afford legal fees. 
Florida Bar President Gary Lesser will present this year's awards.
Book's work has led to millions of dollars in funding and successful lobbying for organizations such as Best Buddies, which provides mentoring for individuals with unique abilities, Casa Familia, an affordable housing opportunity for adults with unique abilities, the Children's Home Society Foundation of Florida, the Alonzo Mourning Family Foundation, and more.
"I've worked with Ron Book for more than 20 years and have seen first-hand the strong personal commitment he has to service," said Kelly Mallette, the senior director of government affairs at Book's law office. "Whether it is assisting individuals experiencing homelessness or protecting children from abuse, he simply does not stop fighting for those in need. Frankly, when it comes to these types of issues, I don't think the word 'no' is in his vocabulary. This award couldn't be more deserving."
Book recently spoke out about Surfside's proposed legislation, calling it "one of the most absurd proposals" he has ever heard that "serves as an effort to somehow put a distance between a homeless individual and others in our community," according to the Miami Herald. 
The measure includes five potential activity bans — obstructing sidewalks and streets; sleeping or camping on the beach or public property; showering with soap, washing clothes; panhandling; and urinating or defecating on public property.
Book told the Miami Herald the measure would "criminalize homelessness in a way that no other community in South Florida has been so regressively involved with trying to do."
He also expressed frustration that the legislation is being contemplated in a city that does not impose a 1% food and beverage tax to help fund a Homeless Trust. 
"Ron Book has been a pillar in our community for decades," said Miami-Dade County Mayor Daniella Levine Cava. "In chairing the Miami-Dade Homeless Trust, Ron has worked tirelessly to ensure all people in our community have the most basic dignity of sleeping with a roof over their head. Through Ron's leadership, Miami-Dade is better equipped to provide not only a safety net for those experiencing homelessness, but the resources and systems needed to end the cycle once and for all. I applaud Ron for receiving The Florida Bar President's Pro Bono Service Award and thank him for his lifelong commitment to combating homelessness in Miami-Dade County and beyond."
Book has long advocated for low-income and homeless communities, as well as for victims of child abuse. 
He chairs the Miami-Dade County Homeless Trust, where he helped develop a community plan to end homelessness that has been praised as a national model. 
His other charitable work includes co-founding Lauren's Kids with his daughter, Sen. Lauren Book, which advocates for children's protection. As chair of the organization, Book provides significant pro bono hours providing legal work. 
He also serves as pro bono counsel to the Florida Council Against Sexual Violence, where he has provided services since 2001. With his daughter, Book has advocated for more than 20 legislative changes to help end childhood abuse. 
"Ron Book couldn't be more deserving of this award because service isn't just something he does – it is at the core of who he is," said NBA Hall of Famer and OYC founder Alonzo Mourning. "For over 20 years, Ron has partnered with us to impact and transform the lives of children and families in our community. He's made it his personal mission to protect and provide for the most vulnerable among us, and, as an active member of our board of directors, we've seen the fruits of that labor first-hand. We are just one of the countless causes to which Ron gives his time, talent, and treasure because he is steadfast in his dedication to fighting for those in need. Congratulations to him on receiving such a distinguished honor."