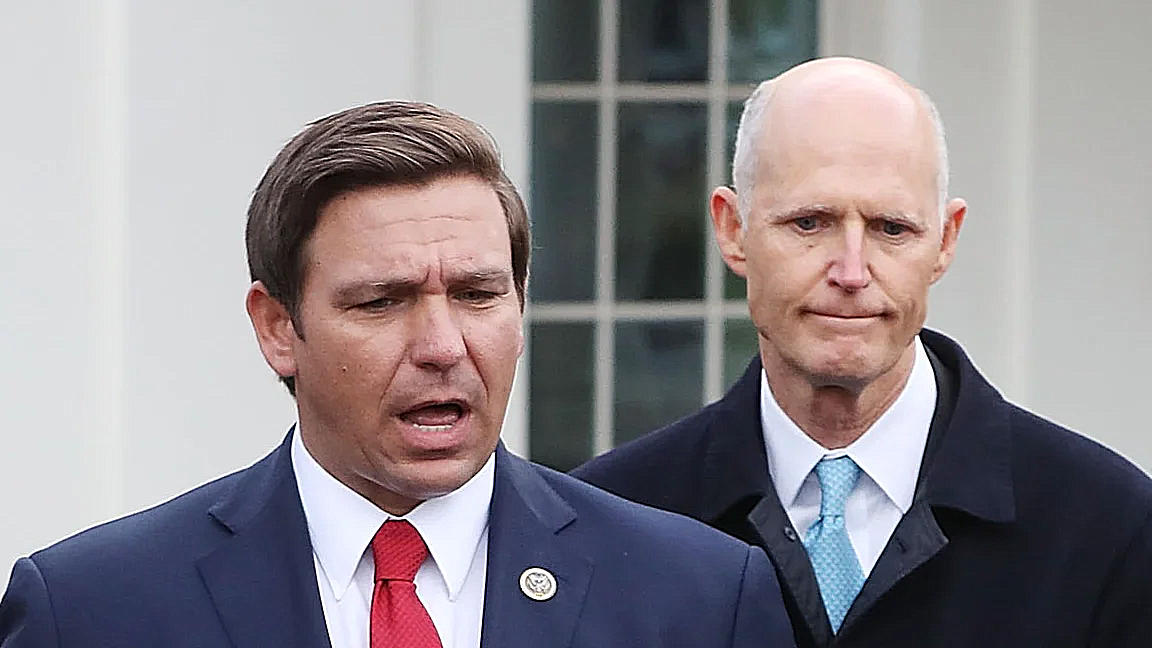 'Rick is always a guy who maintains options because he has a checkbook.'
The relationship between Florida's current Governor and his predecessor has been chilly at best.
From the moment U.S. Sen. Rick Scott left the inauguration of Gov. Ron DeSantis early, evidence has piled up of a dysfunctional working relationship and a personal animus. Now, new reporting suggests the simmering conflict may boil over into a 2024 showdown on a national stage, even as Scott's Senate office told Florida Politics again Friday afternoon Scott is "running for re-election."
A Puck News article entitled "Who's afraid of Rick Scott?" suggests one person with some trepidation might be DeSantis himself.
The current Governor has ridden high for months in polls of a still-hypothetical 2024 Republican Presidential Primary field, and Scott has been a marginal afterthought if polled at all. But the article by veteran journalist Tara Palmeri suggests, as one DeSantis alum puts it, it's "very bad news" if Scott indeed passes on a re-election bid after all and runs for the presidency.
"Scott is still leaving the door open for a presidential run in 2024," the report contends, citing a Scott advisor as saying the Senator "wants to keep his options open."
To that end, Palmeri suggests the Senator has been operating on two tracks. His Chairmanship of the National Republican Senatorial Committee, which started and ended with Democratic control of the Senate, was a way to "build his own donor network across the country."
"Rick is always a guy who maintains options because he has a checkbook," a "former DeSantis staffer" was quoted as saying. "He's very disciplined and he doesn't do things half-assed. He's very analytical and it's a very dangerous proposition for DeSantis if he runs. Rick has the credibility to take the wind out of Ron's sails and he has the money to wear him out."
The attacks could take many forms, reportedly. "Scott views the DeSantis administration, I'm told, as overly focused on culture war piñatas rather than fiscal issues," Palmeri writes, before suggesting that double-Ivy DeSantis' student loan debt may be a campaign trail albatross, useful to "frame DeSantis as a taxpayer-mooching grifter who is worth $300,000 while still carrying student loans."
Whether DeSantis' middle class level of personal wealth can inspire outrage against Scott, the richest man in the plutocratic U.S. Senate, remains to be seen. When running for office, DeSantis distanced himself from Scott amid controversy about the Senator's blind trust for his assets as Governor.
"I basically made decisions to serve in uniform, as a prosecutor, and in Congress to my financial detriment," DeSantis said in October 2018. "I'm not complaining about that, but I'm not entering (office) with a big trust fund or anything like that, so I'm not going to be entering office with those issues."
"Rick Scott's team is vicious," the former DeSantis aide said. "It's very bad news for Ron if Rick gets in the race because he has the resources to zero in on him. He can go around and say that Ron DeSantis is standing on his shoulders with credibility."
Those who have followed the first four years of DeSantis' administration will recall a number of volleys one man lobbed at the other. Perhaps the most vivid was in 2020, when the state's creaky unemployment website couldn't handle the surge of applicants for reemployment assistance.
The Governor likened it to a "jalopy in the Daytona 500" and Scott urged him to "quit blaming others" for the website his administration inherited.
The chill between the former and current Governors didn't abate in time for 2022's hurricane season, when Scott said DeSantis didn't talk to him after the fearsome Hurricane Ian ravaged the state.