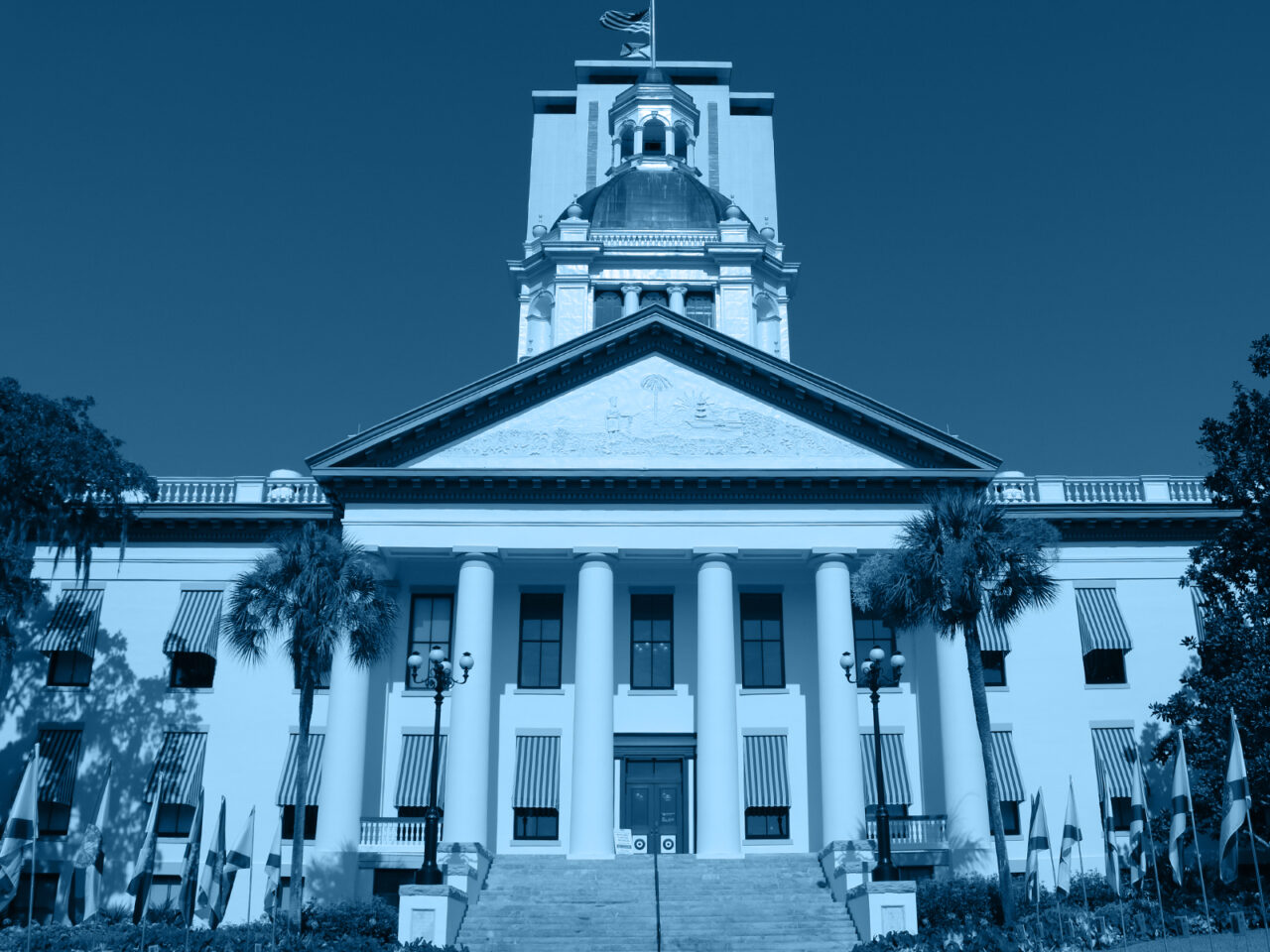 The VP is heading from the Capitol to the Capital City.
Vice President Kamala Harris will make Tallahassee center stage Sunday when she comes to town to talk about the 50th anniversary of the Roe v. Wade decision that guaranteed abortion rights — a court ruling that was rolled back last year by the U.S. Supreme Court.
Harris is expected to give a speech that the White House said will stress the "fight for women across America to have access to reproductive care and make their own health care decisions."
Harris came to Florida last year to talk about abortion rights when she held a roundtable with Democratic legislators in Orlando shortly after Roe was rolled back.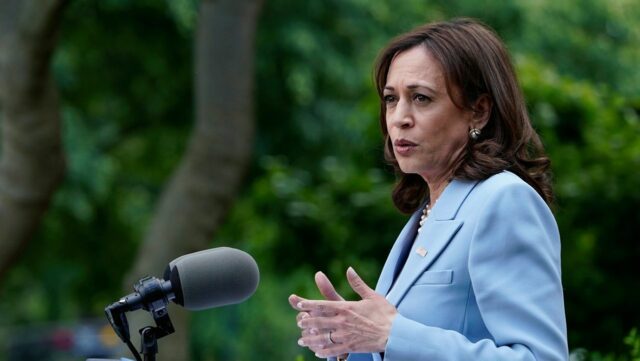 But now she's in the backyard of Gov. Ron DeSantis, who last year signed a law banning abortion after 15 weeks and includes no exceptions for rape or incest.
When asked about why Harris is coming to Tallahassee, White House Press Secretary Karine Jean-Pierre told reporters Friday that "Florida is an important state as we are talking about fighting for women's health care."
She noted that Florida is the third largest state in the nation, and it has an abortion ban in place. But Jean-Pierre also noted that Florida's current ban is "less stringent" than ones in place in surrounding Southern states, so it has become a destination for women to seek access to abortion. She added that it would be "devastating" for Florida women and women in neighboring states if legislators put even more restrictions in place.
In December, Senate President Kathleen Passidomo said lawmakers could pursue legislation shortening the window to 12 weeks. Whether that comes to pass hinges on the outcome of a challenge to the 15-week ban, which currently is awaiting a hearing in the state Supreme Court.
Abortion rights advocates and Democrats are expected to be on hand for Harris's speech, which is scheduled to take place midday Sunday.
Coming up, the usual assortment of news, intel, and observations from the week that was in Florida's capital city by Peter Schorsch, Drew Wilson, Gray Rohrer, Christine Jordan Sexton and the staff of Florida Politics.
But first …
Take 5
The "Takeaway 5" — the Top 5 stories from the week that was:
Paul Renner pushes universal school choice — House Speaker Paul Renner this week announced his goal for the upcoming 2023 Regular Legislative Session: allowing all parents of school-age children to receive private school vouchers if they so choose. (HB 1) removes nearly all eligibility parameters on the Family Empowerment Scholarship Program which is currently limited to households earning at or below 375% of the federal poverty level. If the bill passes, a family of four with an income of more than $104,063 per year would qualify for scholarships worth $7,250 to $7,850 per student. Households making less than 185% of the federal poverty level, or $51,338 per year for a family of four, would continue to be given top priority for the scholarships. House Democrats decried the bill as an erosion of funding and support for public schools. However, it has been widely praised by school choice advocates.
Warren case tossed, DeSantis blistered — U.S. District Judge Robert Hinkle on Friday opined that DeSantis violated the U.S. and Florida constitutions when he suspended Hillsborough County State Attorney Andrew Warren from office. But Hinkle also ruled that the 11th Amendment, which limits federal autonomy over states, stops him from reinstating Warren. Both sides were claiming victory following the ruling. "A win for the Governor and a win for the people of Florida," DeSantis Press Secretary Bryan Griffin tweeted after the ruling. Meanwhile, at a Tampa news conference, Warren said Hinkle's findings underscore his argument that DeSantis should never have removed him from office. "From the beginning, I said that this case was bigger than just me," he said. "The idea that a Governor can break federal and state law to send a message sends a shiver down the spine of anyone who cares about free speech, the integrity of our elections, or the rule of law." DeSantis suspended Warren from office on Aug. 4, alleging Warren had blanket policies not to prosecute certain kinds of cases. "The allegation was false," Hinkle noted.
No joke, unwinding begins April 1 — The DeSantis administration this week unveiled its plans for returning Florida's Medicaid program back to pre-pandemic days. Appearing before House and Senate health care panels, high-ranking health care officials said Florida will first focus its efforts on removing about 900,000 residents who no longer qualify for the program, either because they aged out, left the state, or earn too much to qualify for the safety net program for the poor, elderly and disabled. The state will then turn its attention to 850,000 enrollees whose eligibility status is unclear to the state because they haven't responded to the Department of Children and Families' inquiries for information. In all, upward of 1.75 million people may lose Medicaid coverage, according to the rewinding document posted on the Department of Children and Families website.
DeSantis blocks AP course on African American Studies— Florida high school students won't have access to a new Advanced Placement course on African American studies because the DeSantis administration says it violates state law and "lacks educational value. The National Review Wednesday first reported a pilot version of the AP African American Studies would not be offered in the state's course directory. The state, however, is willing to reconsider the decision if the course is changed "with lawful, historically accurate content," says the letter, which does not have an individual's name. It is signed, instead, "The Office of Articulation." The move has drawn sharp criticism and Democratic lawmakers are calling on the Florida Department of Education for more information. Democratic Sen. Shevrin Jones of Miami-Dade noted Friday that the state's AP class directory includes European and art history along with language and culture classes in Japanese, German, Italian and Spanish.
Full-court press — The DeSantis administration wants to know how many students at state universities have received gender-affirming care over the last five years. Chris Spencer, director of the Governor's Office of Planning and Budgeting, sent a memo last week requiring universities to answer by Feb. 10 a spate of questions about gender-affirming care, asking for details about puberty blockers and hormones and mastectomies. Spencer's deadline coincides with a public meeting on proposed rules to limit minors' ability to receive gender-affirming care. The boards pursued the proposed changes to their "standard of care" rules at the request of Florida Surgeon General Joseph Ladapo. The DeSantis administration has amended Florida Medicaid rules to ban reimbursement for all gender-affirming care, regardless of age. That rule is being challenged in federal court. U.S. District Judge Robert Hinkle this week denied a motion from the DeSantis administration to order evaluations of plaintiffs "Susan Doe" and "K.F."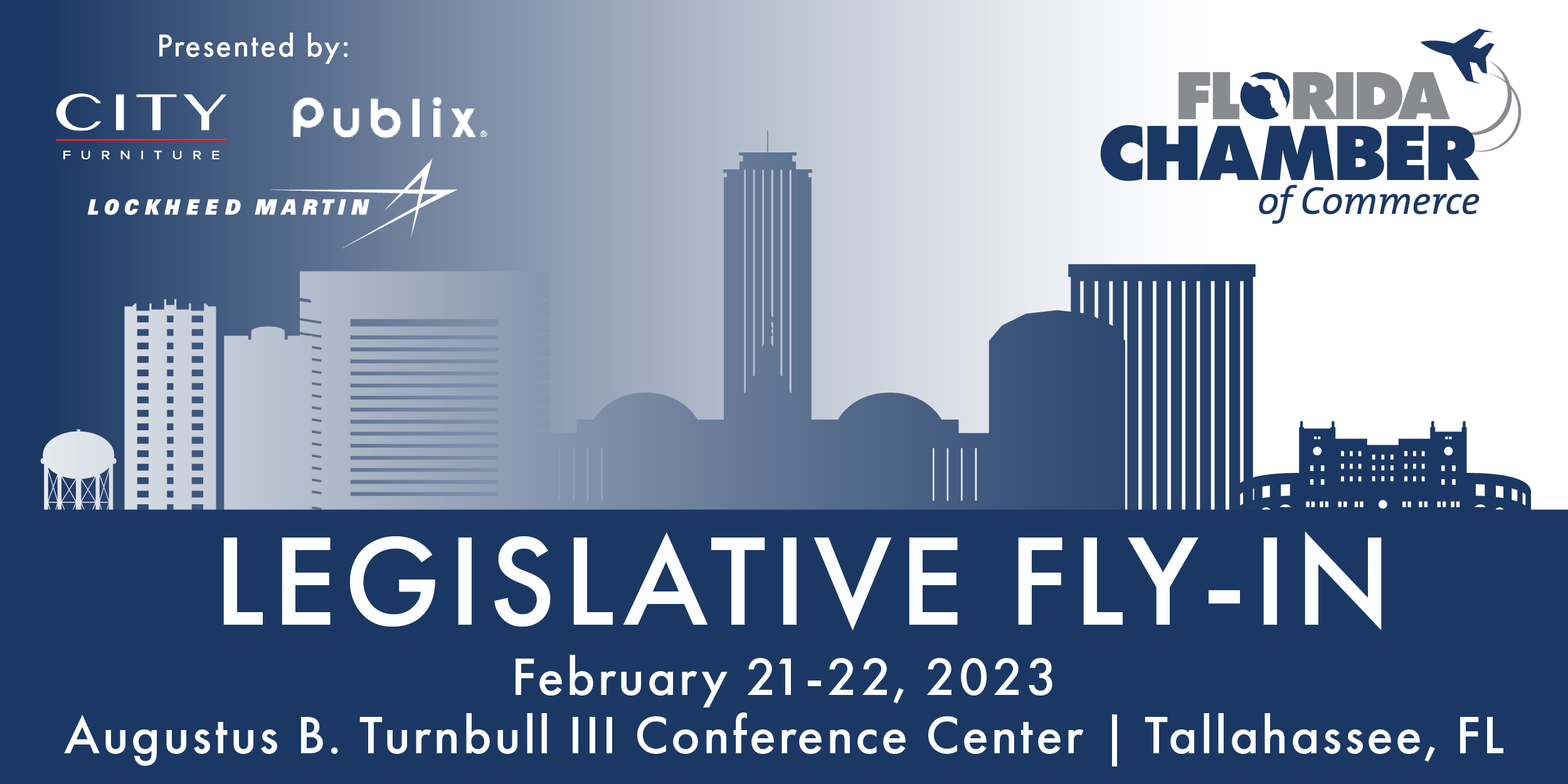 Back the Blue
Attorney General Ashley Moody presented a Back the Blue Award to Florida Highway Patrol Troop A this week for rescuing a human trafficking victim.
After a car pursuit, the troopers rescued a minor who was being trafficked by a known gang member with a prior felony conviction. The investigation uncovered that the suspect had transported the victim from South Florida to Okaloosa County and coerced her into sex work and child pornography.
In addition to the Back the Blue Award, Moody presented a resolution to FHP Troop A recognizing National Human Trafficking Prevention Month at a Cabinet meeting this week.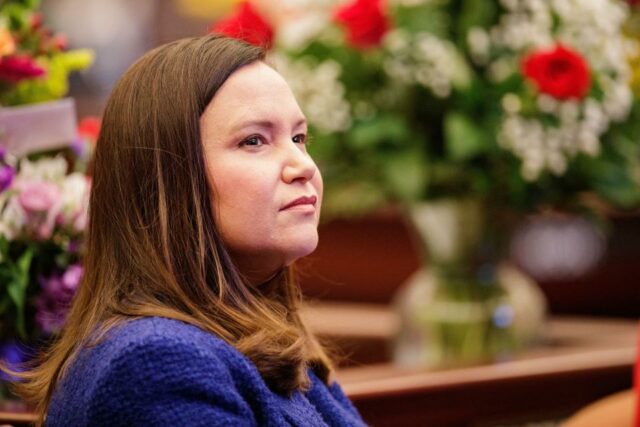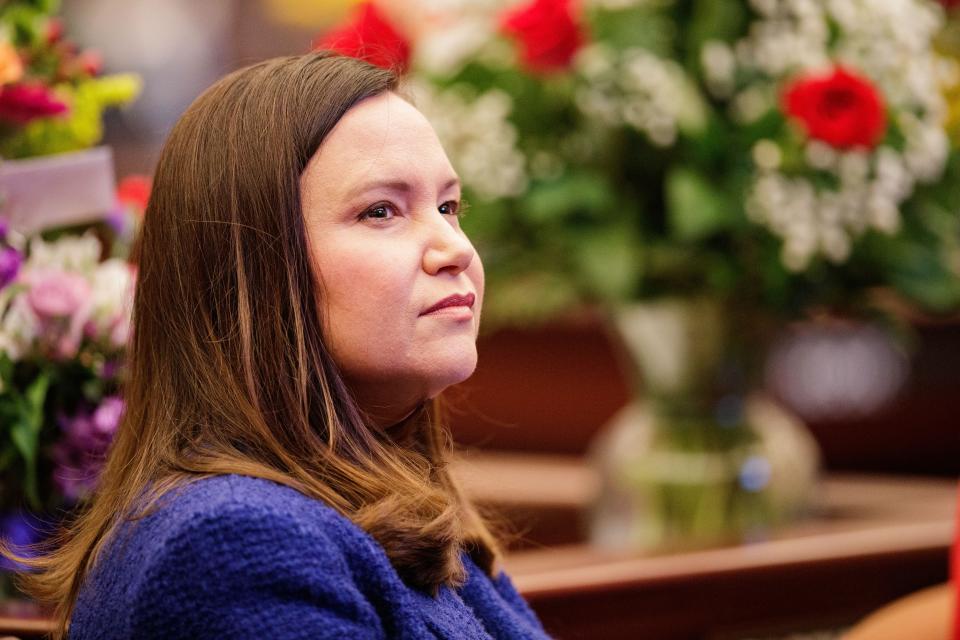 "I'm proud to present this Back the Blue Award and Cabinet Resolution to the courageous law enforcement officers in FHP Troop A — they are true heroes who rescued a minor from a dangerous human trafficker. Ending this atrocious crime is one of my top priorities and I'm grateful for our law enforcement in Florida who work daily to help us achieve this lofty goal," Moody said.
The state's top cop recognized the following troopers: Cpl. Jacob Moore, Troopers Ethan Ellerbee, Matthew Davis, and Ronald Khune.
Moody launched the statewide Back the Blue campaign nearly four years ago. It recognizes law enforcement officers, citizens and organizations taking extraordinary steps to forging positive relationships between law enforcement and local communities.
Moody has doled out more than 50 Back the Blue Awards since the program launched. Floridians can nominate a person or organization for a Back the Blue Award online.
Top cops
Chief Financial Officer Jimmy Patronis joined DeSantis and his fellow Cabinet members in recognizing the Florida Highway Patrol's Trooper of the Year as well as this year's slate of Florida Department of Law Enforcement award winners.
FHP's top award, handed down via a Cabinet resolution, went to Sgt. David Cox. He landed the award for tracking down an abducted 5-month-old girl and catching the people accused of taking her. The rescue took place in the Panama City area, where Patronis hails from.
"It was an honor to recognize Trooper David Cox today as Florida's 2021 Trooper of the Year for his heroic actions he displayed on Jan. 3, 2021. Florida is fortunate to have some of the best law enforcement officers in the entire country who epitomize service and sacrifice, and Sgt. David Cox is just one of those heroes who risk their lives every day to keep our communities safe," Patronis said.
FDLE's award winners were announced last year, but the Cabinet officially commended them this week. They include:
—Capitol Police Officer of the Year: Caleb Lewis.
—Forensic Scientist of the year: Corey Crumbley.
—Innovation of the Year: Biology LIMS Development Team.
—Jesse B. Dobson Distinguished Member of the Year: Lindsay Rojas.
—Distinguished Support Member of the Year: Jennifer Spatola.
—Contribution to Criminal Justice: Orlando Regional Operations Center and Tallahassee Regional Operations Center Toxicology Team.
—Excellence in Leadership: Chief Chris Johnson.
—Commissioner's Award: Shawn Johnson.
—Distinguished Team of the year: Jacksonville Regional Operations Center Investigations and Forensics.
—Jose Perez Special Agent of the Year: Special Agent Patricia Thompson.
"I am proud to have had the opportunity to recognize just a few of the brave men and women from our very own Florida Department of Law Enforcement. On behalf of the citizens of Florida, we are very thankful for all those in the law enforcement community who protect and serve our fellow Floridians 24/7, 365 days a year," Patronis said in a news release.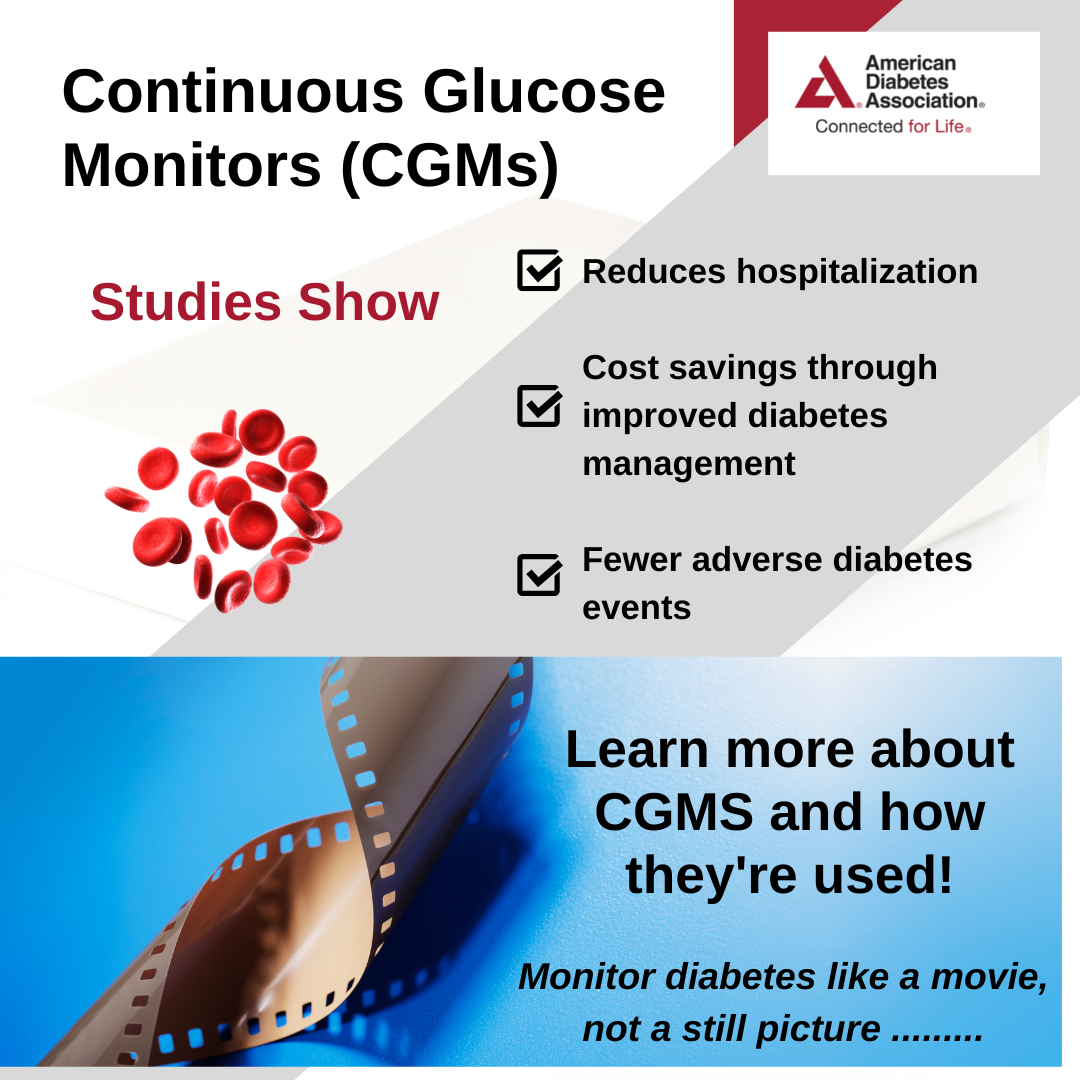 Instagram of the Week
The Week in Appointments
Department of Economic Opportunity — DeSantis has selected Meredith Ivey as acting Secretary of DEO, where Dane Eagle left as Secretary on Dec. 30. DeSantis' office made no formal announcement, but DEO began sending out news releases quoting her as acting Secretary. Ivey had been serving as Chief of Staff at DEO since May 2021. Before that, she served in DeSantis' communications office as deputy director of communications since he took office in January 2019 and served in the same role at the Republican Party of Florida before that.
Career Source Florida — DeSantis has picked Adrienne Johnston to replace Michelle Dennard as President and CEO of CareerSource Florida, which is tasked with connecting out-of-work Floridians with job openings and training opportunities. Johnston had served as deputy secretary of DEO's Division of Workforce Services and was previously chief of the Bureau of Workforce Statistics and Economic Research at DEO.
Florida Housing Finance Corporation — DeSantis named Mike DeNapoli as Chair of FHDC. DeNapoli serves as the director of DEO's Office of Small and Minority Business Capital and as Chair of the Florida Development Finance Corporation. The FHFC oversees affordable housing programs and projects in the state. DeNapoli succeeds Trey Price, who had been Executive Director of the agency since 2017. Price submitted his resignation Jan. 12, effective Feb. 1.
Office of Agricultural Water Policy — Agriculture Commissioner Wilton Simpson named West Gregory the Director of the Florida Department of Agriculture and Consumer Services' Office of Agricultural Water Policy. An attorney, Gregory most recently served as deputy general counsel at the Florida Department of Environmental Protection, and before that he worked as a senior attorney for the Florida House of Representatives Agricultural and Natural Resources Subcommittee from 2014-2018. Gregory graduated from the University of Florida with his law degree and an environmental and land use law certificate.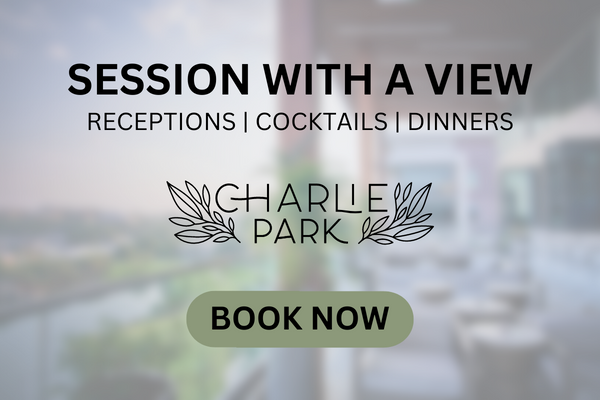 Vacancies remain
Florida's property insurance market is in 'crisis' and millions of people are expected to lose health care coverage as the state begins to unwind from the COVID-19 pandemic.
Yet Florida's Office of Insurance Regulation (OIR) continues to operate without top leadership. OIR Communications Director Samantha Bequer told Florida Politics this week the agency has not named a new Deputy Insurance Commissioner for Property and Casualty or a Deputy Insurance Commissioner for Life and Health.
The property casualty post has been vacant since December when Susanne Murphy stepped down from the post to join the Meenan Law Firm. Meanwhile, John Reilly stepped down from the life and health position to join Oscar Health.
David Altmaier, Florida's top insurance regulator for the last seven years, stepped down from his post in December. It's not yet clear where Altmaier will wind up. One seasoned veteran noted, "it's one of the best-kept secrets I've ever seen in the lobbying world."
Florida law requires the state's Insurance Commissioner to meet certain requirements and the candidate must first be agreed to by the Governor and the state's Chief Financial Officer (CFO). Thereafter the candidate must be approved by a majority vote of the Florida Cabinet.
When the Cabinet met this week there was no discussion about finding a new Insurance Commissioner.
Bequer told Florida Politics in an email that the "OIR continues to operate under the leadership of (its) executive team, which includes OIR's Chief of Staff and General Counsel."
Done deal
The state and the Southwest Water Management District closed a deal with longtime ranchers the Carlton family to protect the 16,316-acre Horse Creek Ranch in southwest Florida.
The Florida Cabinet approved the land buy late in August, and the transaction officially closed on Jan. 13. The conservation easement, which spans DeSoto and Hardee counties, will protect over 12 miles of Horse Creek, the most significant tributary of the Peace River, as well as 4,000 acres of intact wetlands and over 16,000 acres of wildlife habitat.
Conservation of ranchland has become a crucial strategy for protecting intact wetlands and flood plains and addressing red tide and algal blooms in south-central and southwest Florida.
"Protecting Horse Creek is critical to efforts to protect the Peace River and Charlotte Harbor watersheds," said Julie Morris, Director of the Florida Conservation Group, which helped facilitate the easement agreement. "Horse Creek provides 15% of the freshwater flow to the Peace River, which provides drinking water to over a million people in Charlotte, DeSoto, Manatee, and Sarasota counties."
The Horse Creek Ranch is one of the few large conservation hubs in the Peace River region and will help maintain the ecological integrity of Charlotte Harbor. The harbor is home to many threatened and endangered species, including the manatee and smalltooth sawfish.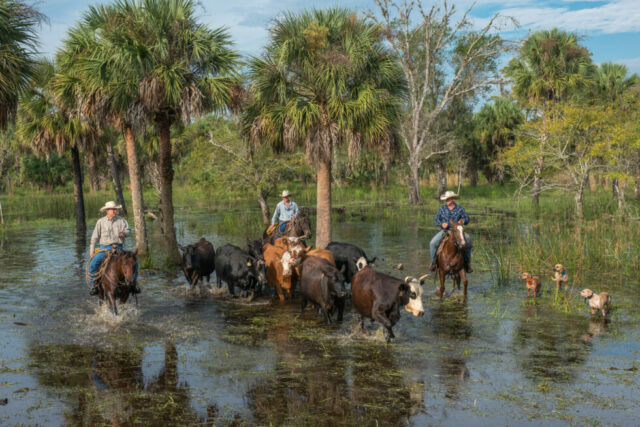 The state's purchase of a conservation easement of over 11,958 acres combined with SWFWMD's purchase of 4,357 acres combined to form the protected landscape. It is hoped that the easement can serve as a keystone for protecting added conservation lands and wildlife corridors in the region.
The protection of Horse Creek ranch is part of the conservation legacy of the Carlton family, who have been ranchers in Hardee County since the mid-1800s. For the Carltons, the easement continues the family's long history of stewardship of the land.
"My family and I feel very strongly that this conservation easement will be beneficial to all involved, and, most importantly, the land and water resources will be protected forever," said Doyle Carlton III.
Three generations of the Carlton family, including Doyle Carlton's daughter Millie Bolin, son Dale Carlton, and grandchildren currently work on the ranch.
"We are proud to work with the Carlton family and other Florida ranchers to protect this essential regional landscape," said Morris. "Ranchers in Florida have been great stewards of the land for many generations, and we are extremely thankful for their commitment to Florida's conservation."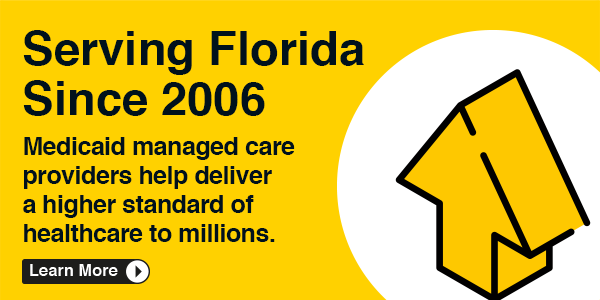 Big buy
DeSantis and the Cabinet this week approved funding for five land buys this week, including the 2,529-acre Role Tran site in Okeechobee County and the 135-acre Gissy Rainbow River Ranch in Marion County.
The approval marks a pivotal step forward for the deal, which was hammered out by the Department of Environmental Protection's Division of State Lands and Conservation Florida, a statewide accredited land conservancy working to conserve Florida's water, wildlife, wild places, and protect the Florida Wildlife Corridor.
Funding for the land buys will come from the Florida Forever program and represent a portion of the $17.7 million in acquisitions approved by the Cabinet on Tuesday. Including three other properties, the state OK'd 3,500 acres of acquisitions this week.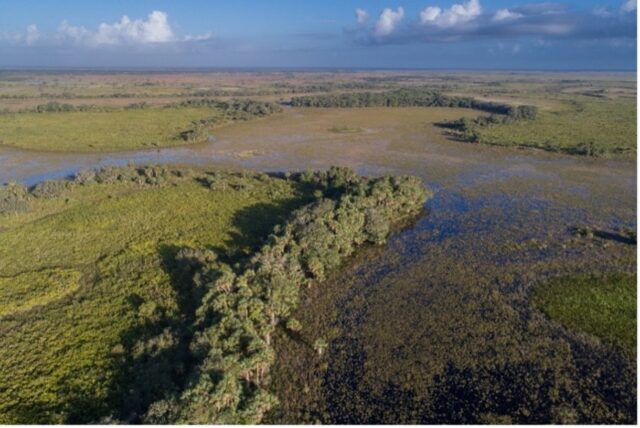 "We thank the Governor, the Cabinet, and the Department of Environmental Protection for continuing to support critical land acquisitions to protect our natural and agricultural landscapes," said Conservation Florida President and CEO Traci Deen.
"The conservation of land to create a conserved wildlife corridor spanning our state is not only necessary for wildlife such as the Florida panther, black bear, and gopher tortoise, but also for protecting our water, economy, and way of life. With today's approval of our Role Tran and Gissy Rainbow River Ranch projects, both properties are on their way to being protected for generations to come and we move the needle forward on the protection of a functional Florida Wildlife Corridor."
DEP Secretary Shawn Hamilton added, "We want to thank Gov. DeSantis and the Cabinet for supporting state land conservation goals through these important acquisitions. Investing in these properties helps increase the protection of Florida's unique natural landscapes and wildlife habitats."
The Role Tran buy will help preserve a significant dry prairie, which is important in the long term protection of the native natural community and the rare species that it supports. Additionally, preserving this intact landscape would allow for the protection and management of thousands of acres of additional high-quality habitats in an area of Florida known for its rare vertebrate wildlife, globally imperiled natural communities, and significant hydrological values.
"Conservation Florida has been a pleasure to work with on the protection of Role Tran," said Lee Lightsey, the owner of Role Tran, which was previously known as Triple Diamond. "I am grateful for the Department of Environmental Protection's support and guidance through this process, and can rest assured knowing our family's ranch will be conserved and appreciated for generations to come."
Clean and clear
Democratic Sen. Lori Berman and GOP Rep. Peggy Gossett-Seidman are teaming up on legislation to better notify the public of when it's safe — and unsafe — to get in the water.
The Safe Waterways Act (SB 172/HB 177) will "dramatically improve public notification when beach waters, canals, intra-coastalways and public bathing places are impaired by fecal indicator bacteria," according to a news release from Gossett-Seidman's office.
"This bill will enable the public to be informed promptly through their city's management and public safety department when their waterways are deemed unsafe and hazardous to use, this includes beach users, boaters, paddleboarders, swimmers, and all those utilizing our wonderful water environments," Gossett-Seidman said.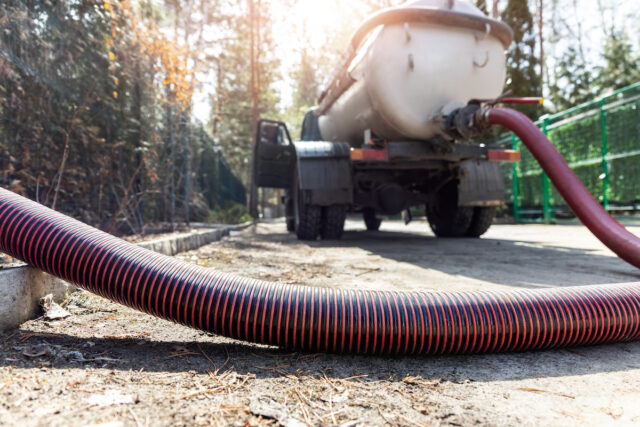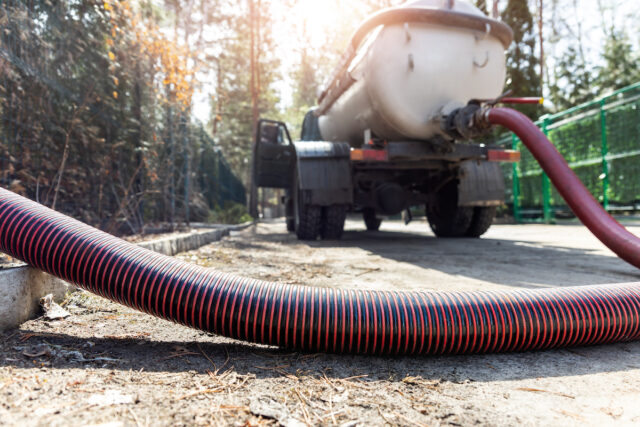 The news release notes that nearly 1 million acres of coastal estuaries and nine thousand miles of Florida's streams and rivers harbor unsafe levels of fecal indicator bacteria. The cause of contamination varies — aging and malfunctioning sewage treatment plants, septic tanks, landscape runoff, chemical runoffs and animal waste are all contributors.
People who are exposed to the bacteria may experience nausea, diarrhea, stomach cramps, chills or fever. Skin rashes and infections of the eyes, ears, nose and throat may also occur.
"The public has a right to know whether the beaches and waters they're swimming in are infested with fecal bacteria. Florida is failing in its responsibility to promptly inform the public and protect their health when water samples fail to meet safe levels," Berman said. "All we're asking for is transparency in water quality and consistency in public notification so everyone can properly enjoy our prized waters."
The nuts and bolts of the bill would require the Department of Health to adopt and enforce rules as well as issue health advisories when waterbodies fail to meet safety standards; the closure of unsafe waterbodies; prescribe conspicuous signage requirements; directly inform municipalities of contamination; and set up a public statewide interagency database to report fecal indicator bacteria data.
Representatives from Waterkeepers Florida, the Surfrider Foundation and 1000 Friends of Florida each issued statements backing the proposal.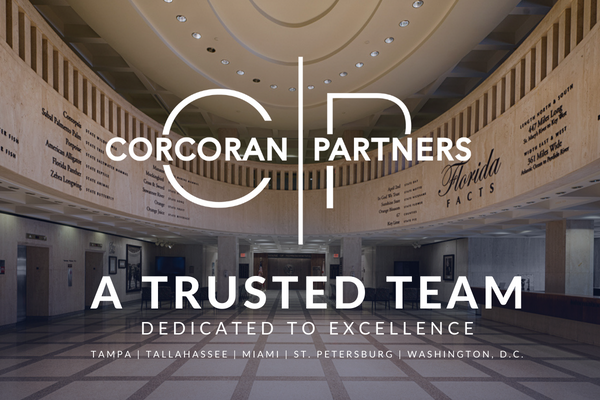 Health is wealth
Sen. Tina Polsky and Rep. Katherine Waldron rolled out legislation that would set up a nutritional program for Medicaid enrollees.
The South Florida Democrats introduced their bills (SB 188/HB 173) with a quote from famed American philosopher Ralph Waldo Emerson: "The first wealth is health."
The plan would set up the "Food Is Medicine" program, which would require AHCA to work with the U.S. Department of Health to help certain Medicaid recipients buy — and have delivered — healthy foods tailored to their conditions.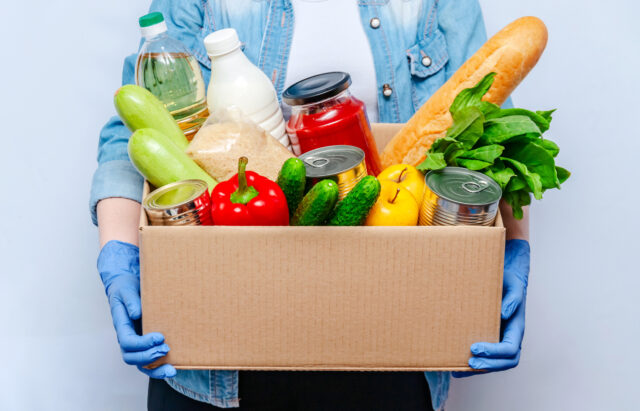 Eligibility would be limited to Medicaid recipients who have — or who are at risk of — a diet-related disease or condition as well as those who are either high-need patients, patients with high-cost patient care, or patients with the highest health care use.
The lawmakers stressed that the program would save the state money in the long-term by improving the health and well-being of some of the state's costliest Medicaid recipients.
"We need to utilize every tool we have to help combat disease and take advantage of federal funds offered like the Food is Medicine program to help benefit Floridians," Polsky said.
Waldron added, "With $1 of every $3 spent in Florida going to health care, we must enact responsible cost-cutting treatments for Medicaid patients while positively impacting their health. The Food Is Medicine programs, which have been shown to benefit health outcomes and prevent devastating and high-cost disease effects downstream is one such mechanism."
Rewind it back
Democratic Rep. Dan Daley wants harness racing to return and this week filed legislation to allow people to race sulkies around a track a la Ben Hur.
HB 275 would allow any entity that had permits to run other kinds of wagering — greyhound racing, thoroughbred and quarter-horse racing or jai alai games during the 2020-21 year — to also be able to get a permit to run two-wheeled chariots around a racetrack, also called Standardbred racing.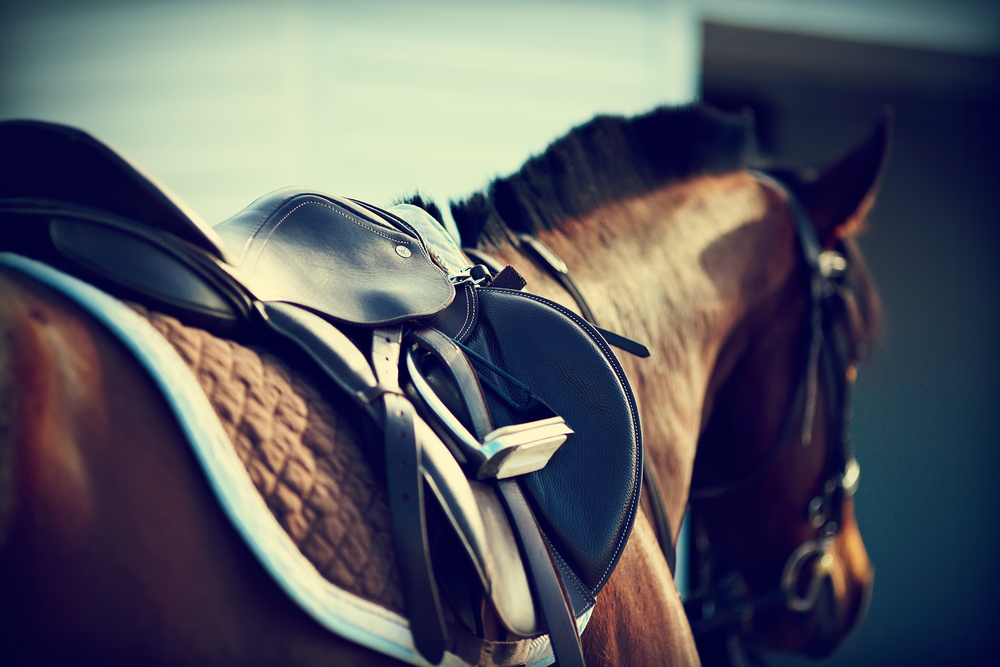 The future of the industry is at risk due to a tandem of events. The Gaming Compact between the state and the Seminole Tribe of Florida precludes any new harness racing permits which means that the racing can't be expanded.
Moreover, the existing industry took a hit when the Legislature agreed to allow entities to operate card games without some sort of horse racing, a practice known as "decoupling."
As a result, Isle Casino closed its racing operations and is using the land for a redevelopment project that includes a 900-room hotel, residences and retail space.
Daley says 15,000 jobs are at risk if HB 275 doesn't pass.
"Thousands of families are counting on us to do what is right for Florida," he said in a news release.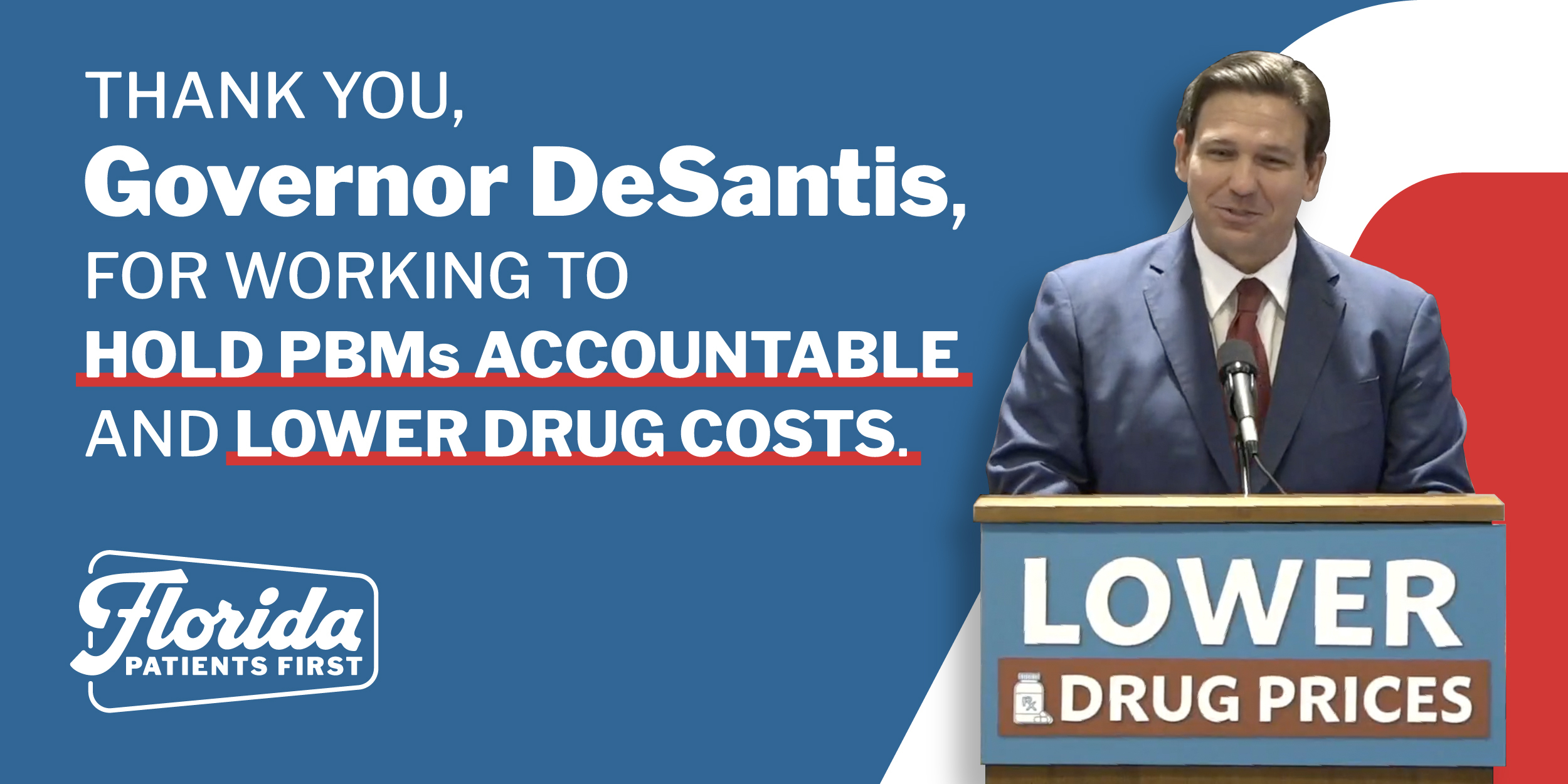 Broad authority
State Rep. Randy Fine has made it clear that the House Health and Human Services Committee he chairs has broad authority over all health and human service policies in the state.
Fine said the issues range from Medicaid to public health to mental health and child welfare issues. The panel will consider proposals that impact, in part or whole, the Agency for Health Care Administration (AHCA), the Agency for Persons with Disabilities (APD), the Department of Children and Families (DCF), the Department of Elder Affairs (DOEA), the Department of Health (DOH) and the Florida Department of Veterans Affairs (FDVA).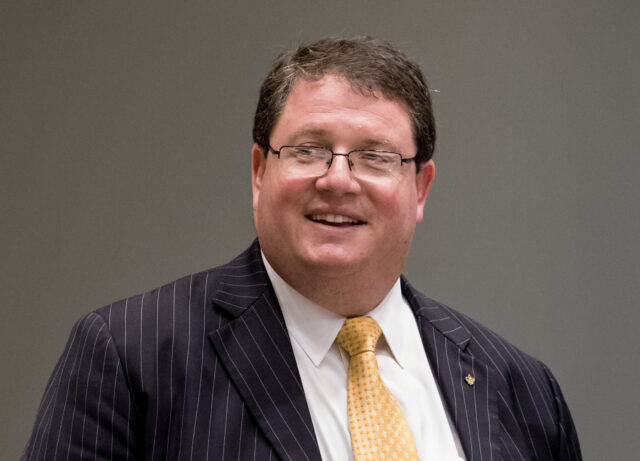 But Fine also included the Department of Management Services, the agency charged with administering the $3.1 billion state group health insurance plan, and the Florida Office of Insurance Regulation (OIR), which has authority over health insurance companies and managed care plans, in the list of state agencies that could be impacted by the panel's deliberations.
That puts Fine, who announced Thursday he's running for state Senate District 19, in charge of substantive policy that impacts two well-heeled lobbying interests: health care and health insurance.
"We cover eight different state agencies in total or in part," Fine said at the committee's first meeting this week, adding "we'll be tackling some very interesting issues this Session."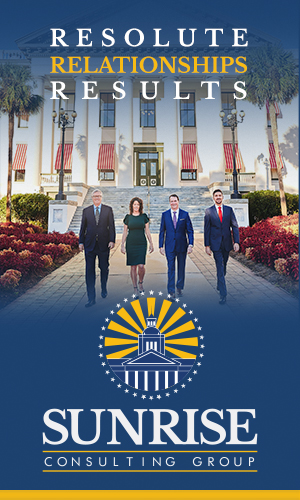 New digs
Democratic Rep. Jennifer Rita Harris is hosting a grand opening for her new district office.
Harris has set up shop at 2151 Consulate Drive, Suite 15-3, in Orlando. She'll be letting constituents through the doors at 5 p.m. on Jan. 27. Light refreshments will be provided to those who attend.
The new office is centrally located within Harris' House District 44 near the Florida Turnpike and South Orange Blossom Trail and is accessible by bus with a stop on Consulate Drive.
It will be open on weekdays from 9 a.m. to 5 p.m. for those who need constituent services. Meetings can be scheduled with Harris by appointment.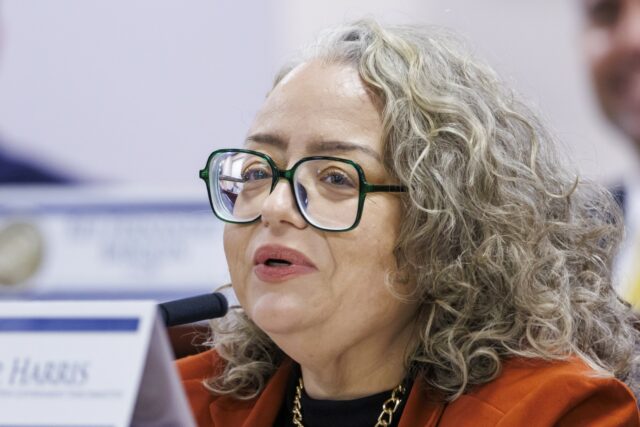 "I am so excited to invite constituents and stakeholders to our new district office," Harris said in a news release. "It's my goal that this will be accessible for constituents and that they know I am here to serve them and help address the issues they face in the district."
Harris was elected to her first term in August after ousting former Democratic Rep. Daisy Morales with an eight-point win in the Primary Election.
Her district covers the south-central Orange communities of Williamsburg, Meadow Woods, Hunters Creek, Southchase, and Taft with the Dr. Phillips area to the west and part of Lake Nona to the east.
The new boundaries also contain several huge economic engines, notably Universal Orlando, International Drive, SeaWorld and Orlando International Airport, as well as much of Orlando's manufacturing and warehousing industry corridor.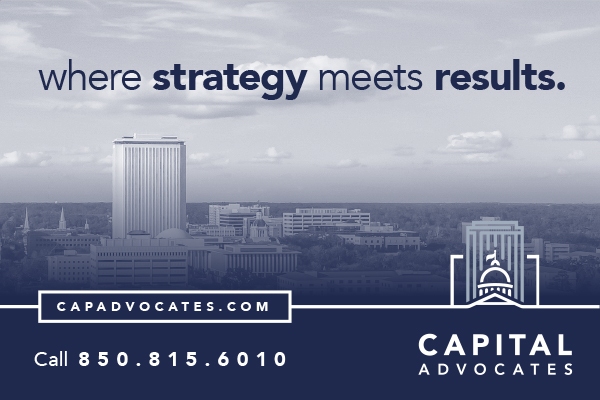 Welcome back
Democratic Rep. Yvonne Hayes Hinson will host two resource summits for formerly incarcerated citizens next month.
The first will be held at the Mary Sue Rich Community Center in Ocala from 5:30 p.m. to 7:30 p.m. on Feb. 2. The second will be held at the Santa Fe College Charles L. Blount Center in Gainesville from 11 a.m. to 1:30 p.m. on Feb. 18.
The two summits intend to help people with past felony convictions learn how to pay their fines and fees with the court system to restore their voting rights, address housing, and navigate employment in Alachua and Marion counties so they can feel empowered to be productive members of society.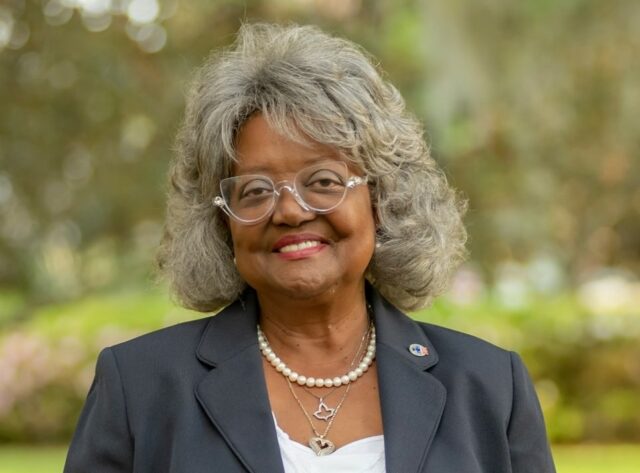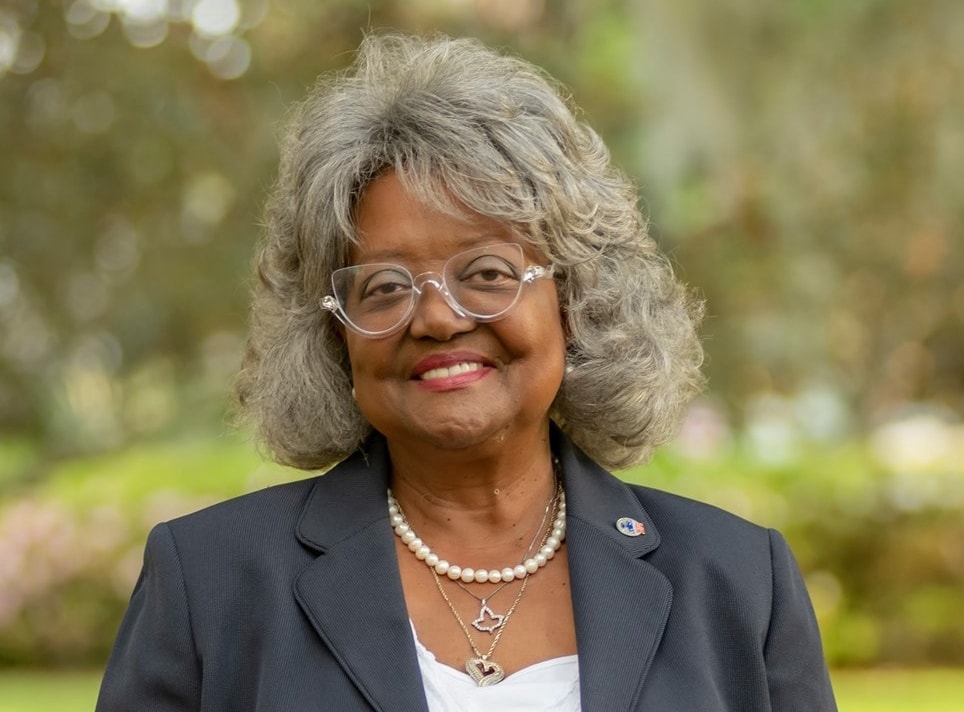 Attendees at both Summits will be able to listen to presentations by community partners such as the Florida Rights Restoration Coalition, the Alachua County Supervisor of Elections, the Marion County Supervisor of Elections, Florida Cares Charity, the Alachua County Clerk of the Circuit Court, the Gainesville Police Department, the Gainesville Housing Authority, the Ocala Housing Authority, CareerSource Florida, the Alachua County Housing Authority, the Marion County Clerk of Court and Comptroller and FLIP-FLOP Support Groups.
"Citizens returning from incarceration continue to face barriers and conditions as if they are still incarcerated," Hinson said. "I am hosting this Resource Summit not only to educate returning citizens on the possibilities but also to provide a gateway to opportunities. This empowering Summit will hopefully open doors to allow them to have their fees paid, access housing, find jobs, and more."
Returning citizens, their families, and anyone interested in learning about these resources are encouraged to attend.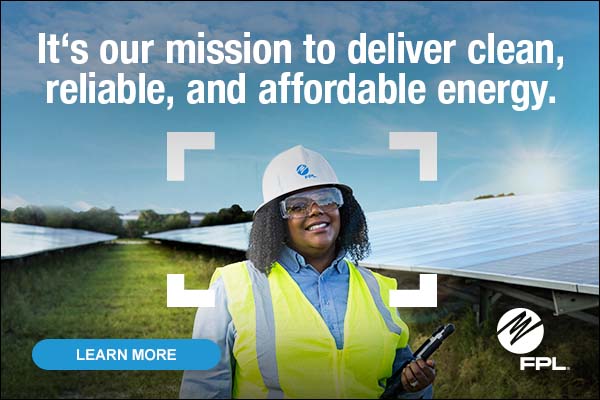 New crew
The Florida Restaurant and Lodging Association has announced its Board of Directors Executive Committee for 2023.
The industry group touted the board's "nearly 230 years of combined experience in hospitality" within the hospitality industry, which contributes $112 billion to the state economy each year and employs more than 1 million Floridians.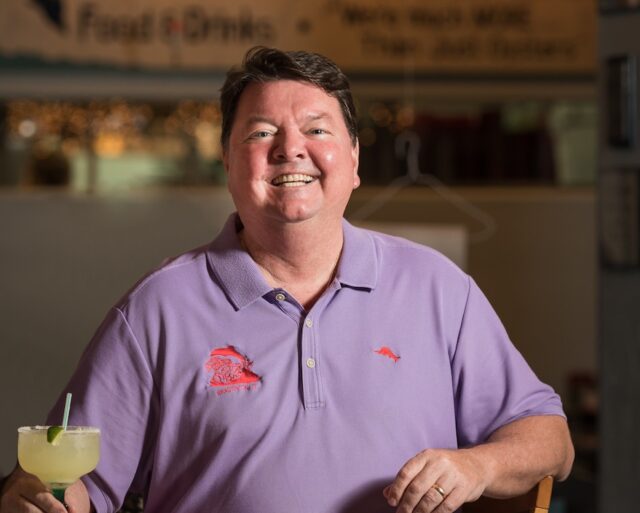 The Chair for this term is John Horne, the CEO of Oysters Rock Hospitality and the owner/operator of Anna Maria Oyster Bars in the Bradenton area and Café L'Europe in Sarasota. Roger Amidon, the general manager of Palm Beach Marriott Singer Island Beach Resort & Spa, will serve as Vice Chair.
"It's an incredible honor to lead the FRLA Board of Directors, and I am looking forward to an outstanding year," Horne said. "Hospitality is the greatest industry in Florida, and it is our collective priority to keep it that way through our statewide and federal advocacy, as well as our commitment to make a difference in our local communities. We're in the business of helping our guests have memorable experiences and ensuring that Florida remains the greatest place to live, work, and have FUN!"
The rest of the board: Saltwater Restaurants COO Nick Sarra was named Secretary/Treasurer and Restaurant Director; Loews Hotels at Universal Orlando Managing Director Barbara Bowden and HDG Hotels Chief Culture and Strategy Officer Lisa Lombardo were both named Lodging Director; Smith & Wollensky Restaurant Group Managing Partner Henry Delgado was named Restaurant Director; and Innisfree Hotels Regional Manager Olivia Hoblit is the Immediate Past Chair.
"The 2023 FRLA Board of Directors Executive Committee is one of our strongest ever," said FRLA President and CEO Carol Dover. "With more than two centuries' worth of combined experience, we value the wisdom and guidance of these industry icons as we work to build on our industry's incredible growth this year.
"In the face of uncertain economic times, historic food prices, and labor challenges, we need dedicated and passionate industry leaders who are innovative thinkers to get engaged. John Horne is a true visionary with such a warm and big personality who thrives in this wonderful 'people business' we all love, and we are thrilled to have him as our new Chair."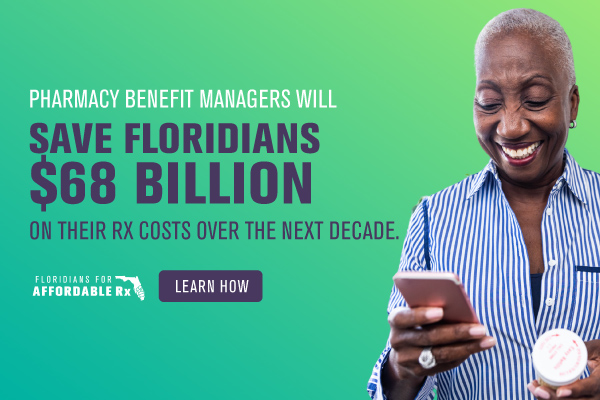 Calling all art lovers
Tallahassee — it's not just about football or pugilistic politics.
Florida's capital city also does have an artsy side. And there's no time like the present to lean into it with the Florida State University Museum of Fine Arts (MoFA) offering access to a trio of exhibitions this spring that feature contemporary artists from across the globe.
Two of the exhibitions — Cut Frames, Captured Pixels: Found Footage Film & Video, and Un sentimento di libertá | A Feeling of Freedom New — are currently on display. The third exhibit, Are We Free to Move About the World: The Passport in Contemporary Art, opens on Feb. 2.
Cut Frames, Captured Pixels is the museum's first all-moving exhibit. It features what is known as "found footage" — a filmmaking process where previously shot footage is remixed to create a new work.
Curated by FSU Digital Services Librarian Dave Rodriguez, the exhibit features the work of a number of different artists and is presented in three phases: "Cinematic Surfaces," "Video and its Discontents" and "Expanding Screens."
"Each work asks its audience to critically question how its source material is produced, circulated and consumed, in addition to how we, collectively, find meaning in them," Rodriguez said. "I hope that the exhibit will expose MoFA visitors to thoughtful, funny, incisive and inspiring work that they might not have experienced otherwise."
The exhibition opened Jan. 12 and runs through March 18.
Un sentimento di libertá | A Feeling of Freedom features the work of Afro-Italian artist Luigi Christoper Veggeti Kanku and was curated by FSU Director of Undergraduate Studies and Assistant Professor Tenley Bick.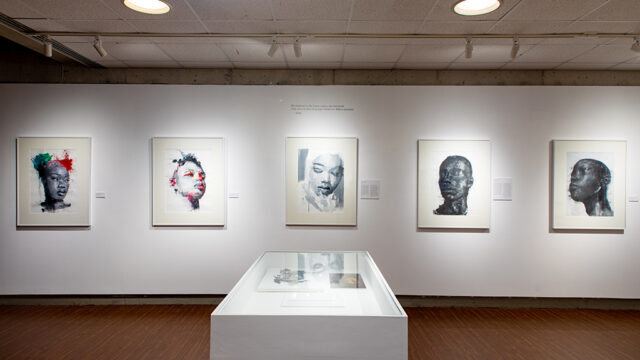 Historically, celebrations of Italian art have excluded Afro-Italian artists, according to Bick.
Kanku's art underscores the importance of belonging to a community but also cultural pride. The exhibit includes portraits, digital paintings and works on paper, some of which are being displayed for the first time, Bick said.
"These works shed light on the power of the visual to disrupt popular imaginaries around identity, race and place, and to create a feeling of freedom that can come with being at home in one's own country. Kanku's digital paintings offer an 'Afro-Pop' sensibility and a subversion of iconic examples of historical Italian modernist paintings."
The exhibit opened this week and runs through May 6.
Meanwhile, We Are Not Free to Move About the World explores how passports enable mobility for some contemporary artists but stymie it for others.
"This gathering of global artists examines the great paradox of the passport — its ability to grant freedom of movement as well as curtail it," said curator Grace Aneiza Ali, an assistant teaching professor in the Art Department and the Art History Department. "And it's an invitation for all of us to ponder a world ordered by the passport and how we negotiate our place in it."
The MoFa is located at 530 West Call St. It is open Monday through Saturday and is closed on Sundays. All exhibits are free and open to the public and support MoFA's mission to connect FSU and the broader community to the arts.
Capitol directions

Ron DeSantis — Up arrow — Go ahead and yank the "Jobs Governor" moniker from his predecessor.
Ron DeSantis, Part 2 — Down arrow — Ditching AP African American studies isn't anti-woke. It's erasure.
Ron DeSantis, Part 3 — Crossways arrow — Maybe he violated the constitution, but there's neither a check nor a balance.
Andrew Warren — Down arrow — Gubernatorial whim: 1. Prosecutorial discretion: 0.
NHL — Down arrow — The biggest black eye for the sport since Slap Shot 2.
Jimmy Patronis — Crossways arrow — We'd rather mainline "Digital Fentanyl" on TikTok than scroll Minion memes on BoomerBook.
Dep't of Ed — Down arrow — When can we expect their take on AP Euro? We'll need a couple of weeks to source Real Genius levels of popcorn.
Cord Byrd — Up arrow — He's the master of understatements, but at least he's making progress.
Paul Renner — Up arrow — Now that's what you call parental choice.
AFP — Up arrow — School choice advocates are about to get their biggest win since … well, ever.
Kathleen Passidomo — Down arrow — At this rate, kids won't be able to say "gay" until they can buy booze.
Ed Hooper — Up arrow — Can we time the parks bill with Freedom Week? Otherwise, no notes.
Medicaid rolls — Double down arrow — Put down the Fiskars, pick up the Husqvarna.
Film incentives — Crossways arrow — Can they at least get an incentive to film a live-action remake of Lucy with the football?
Chris Rufo — Down arrow — It's sad that we have to ask, but has he figured out that New College is a university yet?
Anthony Sabatini — Down arrow — *NBA Jam voice* REJECTED.
NRA — Up arrow — Florida's called the Gunshine State for a reason.
FHSAA — Down arrow — But, like, why though?
Littlejohn family — Crossways arrow — They lost the battle, but the war continues.
Michael Grieco — Down arrow — He's about to be a lawyer in the same sense Richard Grieco is an actor.
Shannon Shepp — Down arrow — EDIT: "I want to wander over yonder, and pick the $1.07 billion in fruit that's chillin' in the dirt."
The Southern Group — Up arrow — If Michael Mann ever makes a sequel to "The Insider," it should be about TSG's new hire, Diane Moulton
Tallahassee Chamber — Up arrow — … and many more!