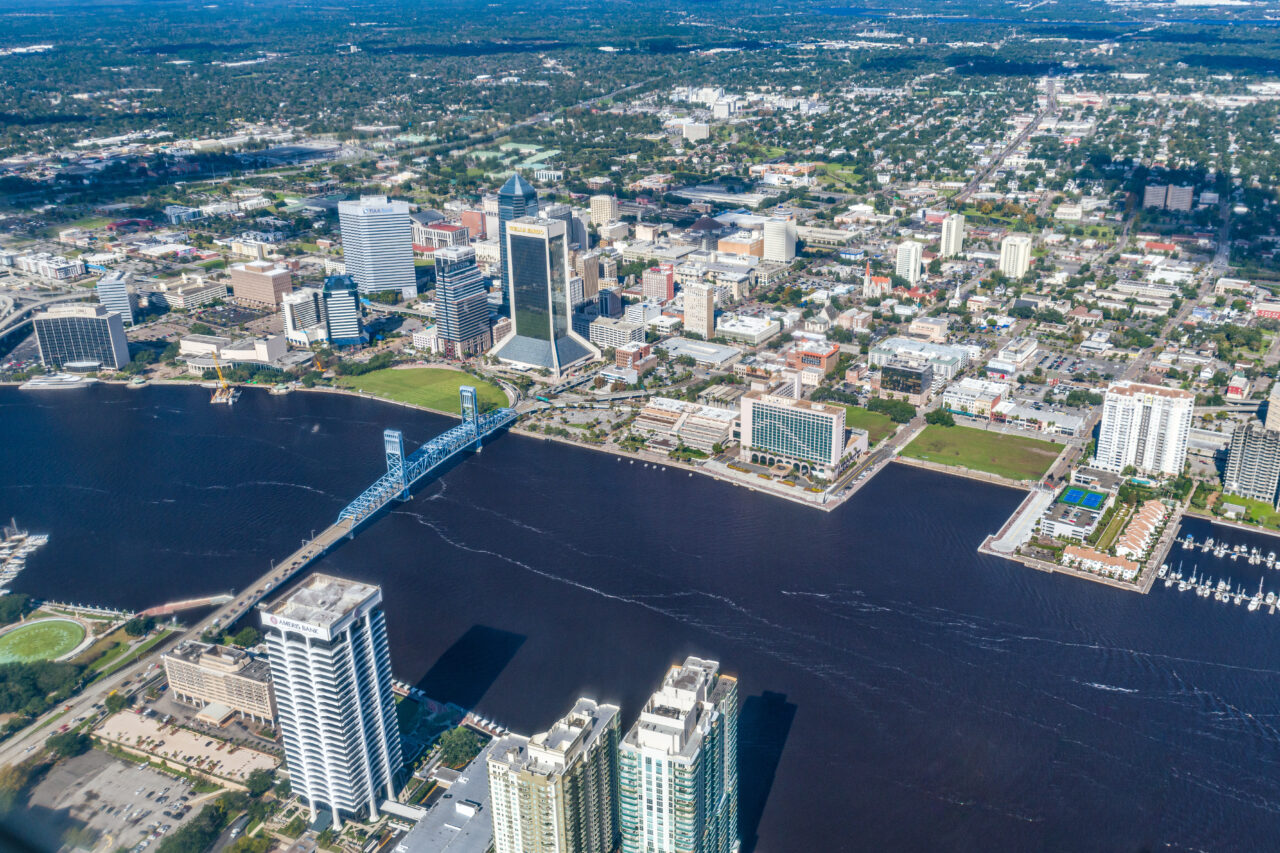 Proposed legislation is so nice, they filed it twice.
Divided
Jacksonville's City Council liked its legislation responding to a recent spate of antisemitic displays.
So much, in fact, they filed it twice.
The emergency legislation, sent ahead of Tuesday's meeting, intends to stop a trend that started in October of messages projected onto private buildings.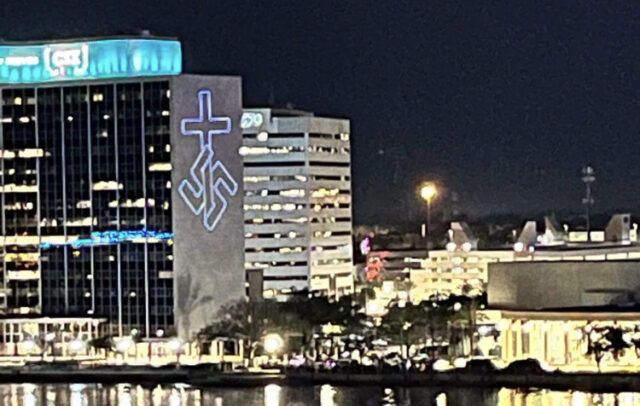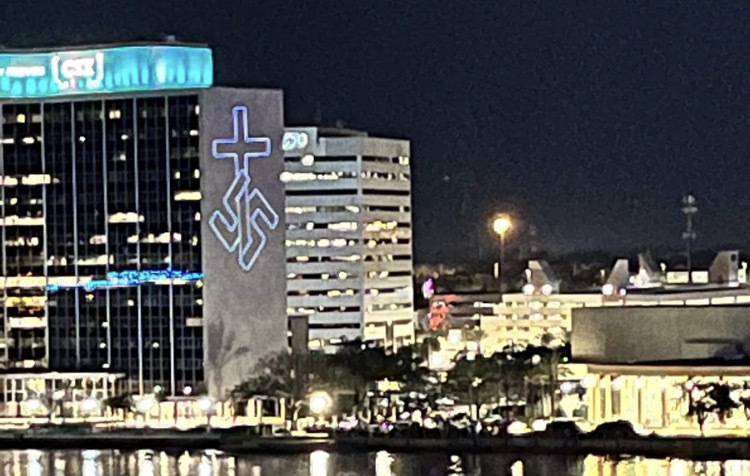 It was filed first by LeAnna Gutierrez Cumber, then City Council President Terrance Freeman filed a second version.
We are reminded of a couple of historical quotes here.
"Victory has many fathers, but defeat is an orphan," said former President John F. Kennedy after the Bay of Pigs debacle. That quote was not original to him, it turns out; the first incidence of it was from Tacitus back in the days of the Roman Empire.
Former British Prime Minister Winston Churchill (allegedly) once said: "You can always count on Americans to do the right thing — after they've tried everything else."
While there is a dispute as to whether he said it, the sentiment holds.
The Council finally did "the right thing," but not after letting the issue hang for months between the first projections after the Florida/Georgia game and the final one during the last Jaguars' regular season game this month.
Will the new bill stop the neo-Nazis from turning Jacksonville's buildings into insidious projection screens? That's the hope.
But the political "silly season" is compelling leaders, already taking late action, to compound the error by fighting over who got credit, so any one mayoral candidate could not use the issue to campaign for the March election.
Wait, there's more!
One Jacksonville Democrat is ready to make what most likely will be a doomed case against school choice legislation in the Choice & Innovation Subcommittee this week, its first hearing on the House side.
In a series of tweets Sunday, Rep. Angie Nixon blasted House Bill 1, a priority proposal of House Speaker Paul Renner that would allow a family of four with an income of more than $104,063 per year to be eligible for scholarships worth $7,250 to $7,850 per student.
While the bill will keep the priority for handing out scholarships in current law that are given to households making less than 185% of the federal poverty level, or $51,338 per year for a family of four, second-term Democrat Nixon sees the legislation to undermine traditional public schools.
I think it's important to highlight that yes DeSantis is attacking Black history in schools, but what's even worse, he's seeking to defund and bankrupt the entire public school system. He's using these attacks on Black curriculum as a distraction for something more insidious.

— State Rep. Angie Nixon (@AngieNixon) January 22, 2023
"He's pitching this as school choice. I believe in choice, but not at the expense of our public schools. It's going to allow anyone that goes to private schools, many of which have discriminatory practices, anyone that wants their kids to home-school, to be eligible for thousands," she asserted.
"90% of students in Florida attend PUBLIC SCHOOLS. Unlike public schools, private and religious schools can, and do, discriminate in admissions on the basis of gender, religion, sexual orientation, ability, behavioral history, prior academic achievement, standardized test scores, interviews with applicants and parents, and income. There's also NO conclusive evidence that vouchers improve achievement. Let's not get on the fact that the teachers don't have to be certified, they don't have to follow IEPs, they can teach a curriculum that's shoddy at best."
"44% of total private school enrollment in Florida are students using a voucher. 75% of voucher schools DO NOT report ANY test data due to capping enrollment at 30 students per grade level," Nixon added. "How do we know we're getting our money's worth as taxpayers? Are they putting out a quality product? I can tell you from experience, many are not."
"Research done illustrates that students who return to public schools consistently perform worse on the FSA than their peers with similar demographics who never left public schools," Nixon noted.
While her points will be heard in the committee of reference, they likely won't get much traction — not in a supermajority GOP legislature.
Renner's take?
"School choice empowers parents, creates competition, fosters innovation, and raises the level of excellence in all of our schools," Renner said. "HB 1 will give every parent the freedom to customize their children's education with a learning program that fits their unique needs."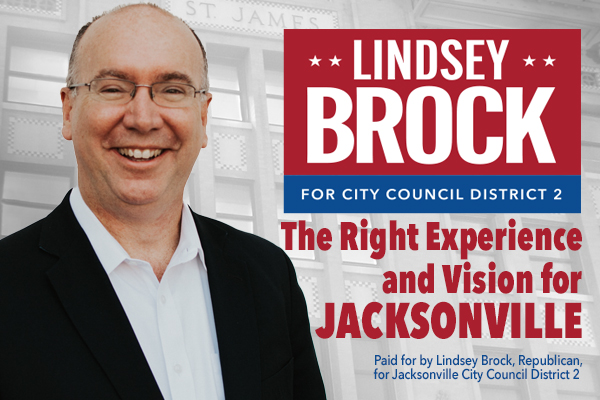 This is how we do it
Litterbugs are an incredibly old issue and making the case against trashing the environment, the Florida Department of Transportation is digging into its DJ crate.
A video Monday tries to yoke the anti-litter message to the Montell Jordan throwback jam "This Is How We Do It."
That 1995 chestnut was notable for being the first song to legally sample an even older hip-hop classic, Slick Rick's "Children's Story."
The 20-second song uses the intro to the Jordan track, which is basically the vocalist warbling over the percussion from the Slick Rick original. The video is simple, showing a middle-aged man in khakis taking garbage from his car and throwing it away inside the FDOT building, presumably resisting any temptation to leave it on the ground.
D2 Sec Greg Evans said, "When you litter, you're creating unsafe conditions for your fellow motorists & you're making it unsafe for crews that work to keep our roadways clean. We're asking everyone to partner with us to keep our roadways free of debris."
To watch the new FDOT joint, please click on the image below:
Broadband plan
St. Johns County's Sawgrass Marriott will be the scene for a statewide summit on broadband technology this weekend, courtesy of the Florida Association of Counties.
Two name speakers will bookend the event. The Jan. 26 keynote address will be delivered by Evan Feinman, the Director of BEAD at the National Telecommunications and Information Administration.
BEAD, short for Broadband Equity, Access, and Deployment, is distributing over $42 billion into broadband projects in the United States and its territories.
Gary Bolton, the CEO of the Fiber Broadband Association, will deliver the keynote address Jan. 27.
The summit will feature events with the National Telecommunications and Information Administration, the Federal Communications Commission, the Florida Department of Economic Opportunity — which hosts the Office of Broadband — and more. At those events, local governments can learn which agencies and organizations hold the funding.
FAC expects 90% of the state's 67 counties to have representation at this event.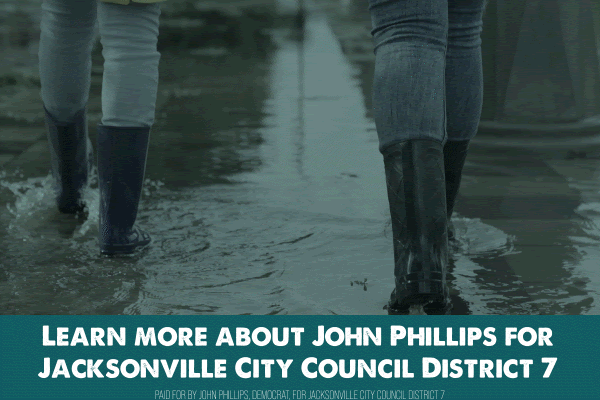 Help wanted
The Jacksonville Sheriff's Office is offering an unprecedented five-figure bonus to new hires, but there is a catch: Working as a guard in the city jail.
Sheriff T.K. Waters made the pitch this week in a recruitment video. Waters, as readers might remember, started out in JSO at the age of 21 as a correctional officer.
"By answering the call for service, not only will you be embarking on a noble career path, but you'll also receive the outstanding benefits that JSO has to offer," Waters said. "There's no better time than now to join."
"Let today be the day you finally answer the call," Waters advised those who had been "considering a career in law enforcement."
While the JoinJSO.com website the video promotes appears to have a security issue at this writing, what's clear from Waters' comments is that being a guard at the jail could lead to larger career security. The bonuses may seem to some to be the latest attempt to make up for compensation changes approved last decade, when the cherished defined benefit pension plan was phased out for new hires, in favor of a defined compensation plan that tied benefits to market performance.
To watch the video, please click on the image below:
Redistricting redux
One of the region's leading journalists will be holding forth this week on a topic he's covered more closely than anyone.
Andrew Pantazi of the Tributary will discuss redistricting Thursday evening in a virtual event held by Duval County Democrats.
"Pantazi will explain the evolution of redistricting in Jacksonville since the 2000 census and how the lawsuit results and new "people's map" will impact Jacksonville voters facing the 2023 unitary elections," per the event sign-up page.
You don't have to be a member of the Duval Democrats to listen to Pantazi's insights, but a word of warning: signing up will open you up to continued communications from the local party. If you can live with that, though, you're in for an educational evening.
Endorsements
Two Republicans in the 2023 race for Jacksonville Mayor are touting endorsements this week that they hope will help them in the March election.
Jacksonville City Council member Cumber is earning endorsements from past and present elected officials from the Beaches, including Lauren Key and Josh Messinger, Atlantic Beach Commissioner Jessica Ring, and former Neptune Beach Council member Edward Skinner Jones.
"The beaches are independent municipalities that strongly rely on the partnerships forged with the City of Jacksonville. LeAnna Cumber recognizes the value the three beach cities bring to Duval County and is committed to strengthening our partnerships with the City of Jacksonville," Key said of her endorsement.
Meanwhile, Jacksonville Chamber of Commerce CEO Daniel Davis could tout his own endorsement by Tuesday afternoon, with Sheriff Waters offering the latest police endorsement for Davis at the Fraternal Order of Police headquarters.
"One of the most important partnerships that JSO can have is a supportive mayor and only one candidate has a proven track record of supporting law enforcement and promoting innovative solutions to address violent crime in Jacksonville and that is Daniel Davis," Waters said, as reported first by the Davis-supportive Florida's Voice website, which got the embargoed version of the news release.
Police interests continue to consolidate behind Davis despite Cumber and another Republican in the field, Al Ferraro, consistently voting for whatever law enforcement wanted during their time on the dais.
Tweet, tweet:
Couldn't be more proud to have my friend and our great Sheriff TK Waters' endorsement and support. pic.twitter.com/O9k8C7AEgu

— Daniel Davis (@DanielDavisFL) January 24, 2023
In the mail
A funny aspect of Jacksonville Sheriff Waters endorsing Jacksonville Chamber of Commerce CEO Davis is the news was already in the mailboxes of city Republicans a day or two earlier.
Davis' committee, Building a Better Economy, sent out at least three mail pieces during the past week — two positive pieces sandwiching a hit on Council member Cumber, considered his top competition for conservative votes and money in the race for Jacksonville Mayor.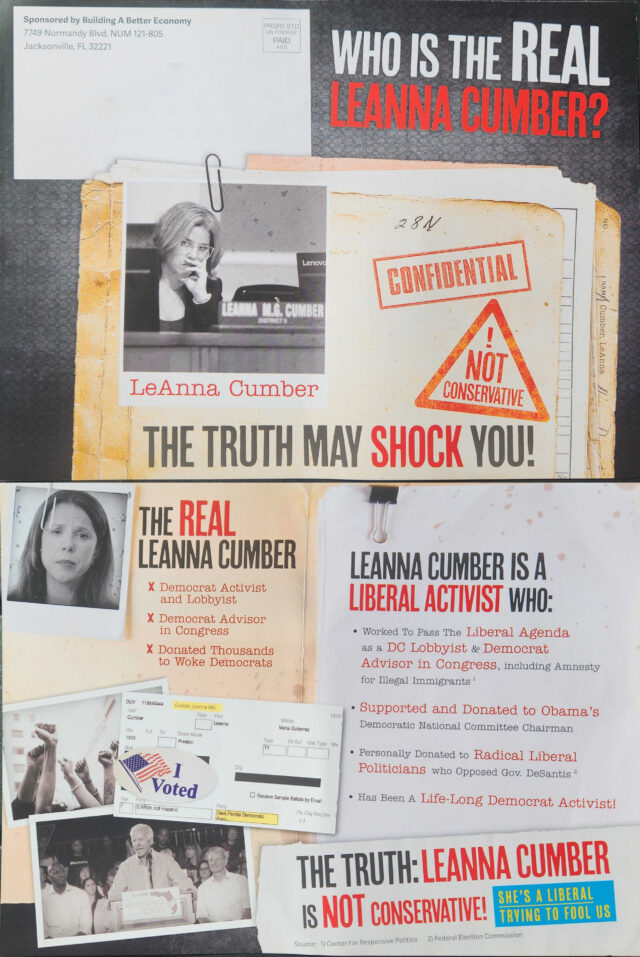 The first piece to drop emphasizes Davis' local leadership. The third piece, matching the first in graphic style, uses the word "conservative" six times and includes Waters' endorsement. Playing on the theme of the label, the second piece against Cumber calls her a "liberal activist" and "not conservative," but "a liberal trying to fool us."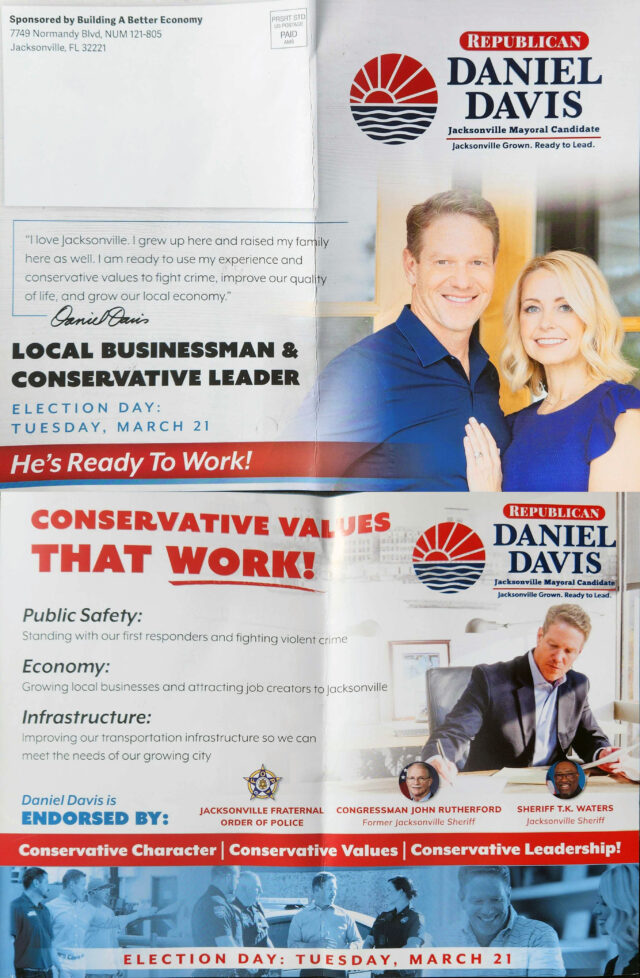 Meanwhile, the candidates for City Council District 5 continue to get their names and faces in front of the voters. Joe Carlucci's latest piece emphasizes his commitment to public safety, and the endorsements from local firefighters and police.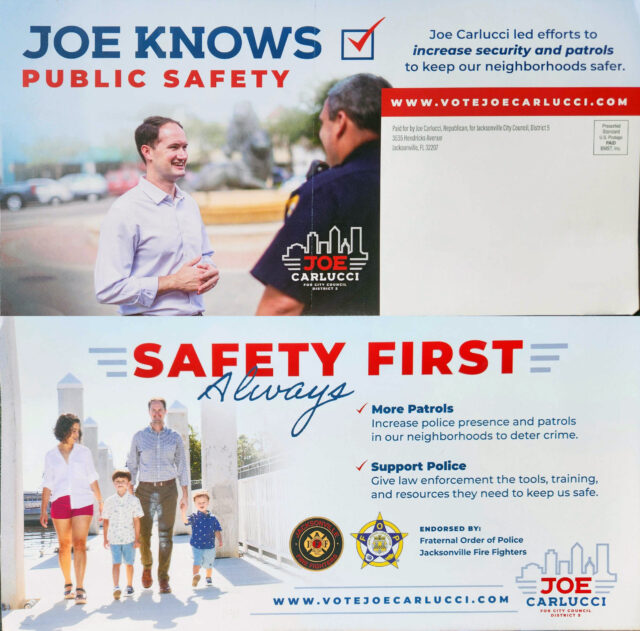 Morgan Roberts' mail piece is text-heavy, giving as thorough a look at a candidate as one can have in a mailer. It gives parts of her personal biography, along with business expertise and a general glance at her policy positions.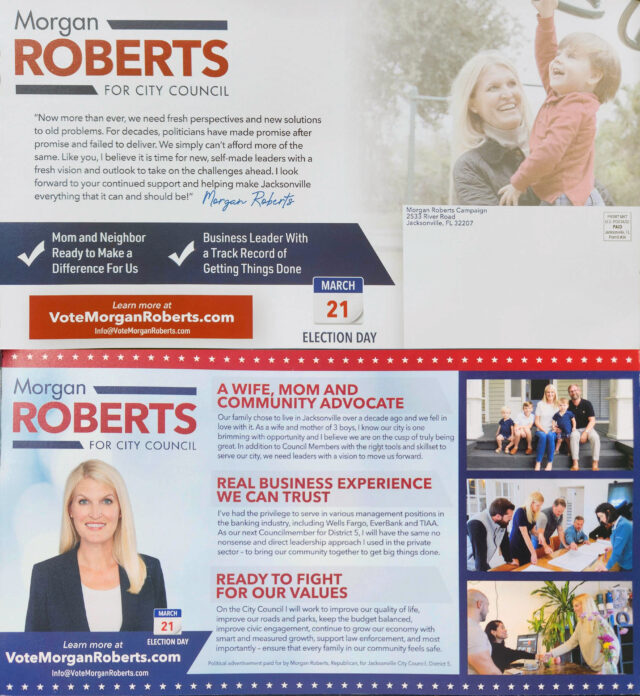 Whale, try again
Federal regulators closed out last week by denying a petition to compel the National Oceanic and Atmospheric Administration (NOAA) to enforce stricter vessel speed rules for the protection of North Atlantic right whales.
The petition, brought by several conservation groups, sought to get the government to take action to assist a species on a path toward extinction.
A federal court ruled NOAA Fisheries isn't doing what is required of it by law to save right whales, and one of the agency's plans to do something about that involves vessel speed restriction zones, including one in the calving grounds off the coasts of Northeast Florida and Southeast Georgia.
The speed zone is to last Nov. 15-April 15, covering the calving season, with vessels 35 feet or longer subject to a 10-knot limit. The limit already exists for vessels 65 feet and longer.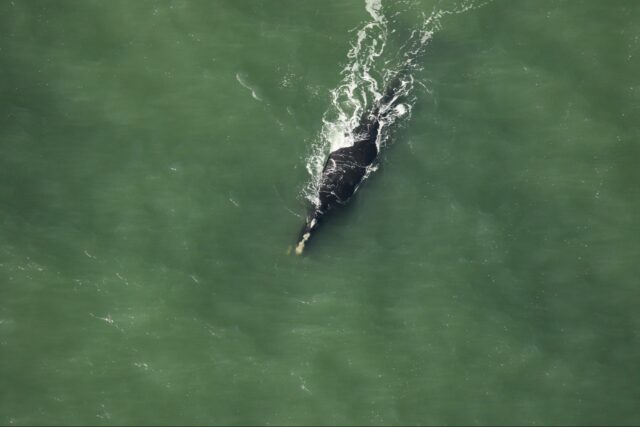 "Right whales have journeyed to the Southeast since time immemorial to birth and nurse their calves in the safety of warm, shallow waters," said Jane Davenport, senior attorney at Defenders of Wildlife, one of the groups bringing the petition.
"But the calving grounds have become killing grounds. NOAA has dragged its feet on updating the vessel speed rule for over a decade; right whale mothers and calves have paid for this delay with their lives. The agency's decision not to take emergency action to protect mothers and calves puts the species' entire future at risk."
There are around 70 or fewer calving female North Atlantic right whales believed to be alive. In all, scientists believe there are fewer than 340 total North Atlantic right whales remaining.
NOAA Fisheries has a regulatory package working its way through the rule-making process, but a spending deal in Congress included a deal with Maine legislators who demanded a delay in the implementation of those rules for six years, as the lobster industry generally opposes the other part of the regulatory package that addresses fixed-gear lobster trapping equipment.
Million here, million there
Jacksonville and JAXPORT came to a funding agreement on raising power lines near Blount Island, with $22.5 million available in loans and grants through 2025, plus another $5 million revolving line of credit. The JAXPORT board of directors approved the agreement at its meeting this week.
Moving the lines is key for the Port to service some of the largest cargo vessels on the water. The lines currently run at 175 feet above mean high tide level.
"The Board approved a memorandum of agreement with (JEA), by which (JEA) would agree to raise the wires from their current level to 225 feet above mean high tide level at the Fulton Cut St. Johns River Crossing," JAXPORT Chief Financial Officer Beth McCague said.
"This project is expected to be completed over four years. Last month, the Board approved an agreement with the state of Florida who was providing, in grant form, $22.5 million toward this project, which is currently estimated at $45 million."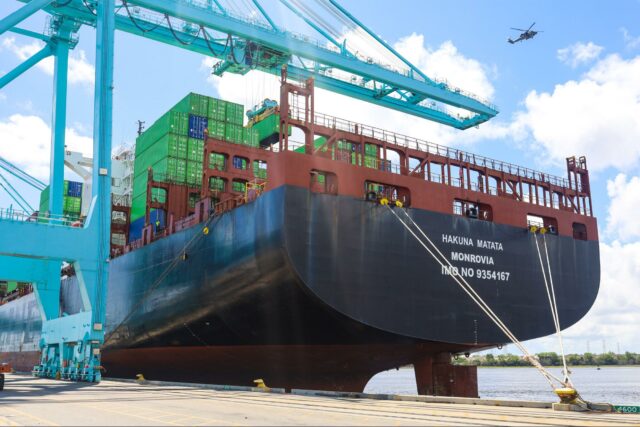 The City Council approved legislation Jan. 10 offering the agreement to JAXPORT. There are three parts to the funding package. The first is a $12.5 million loan from the city to the Port, at 3.5% interest, payable in 10 years beginning in 2025.
The second part is a $5 million revolving line of credit to support the project in advance of reimbursements from the Florida Department of Transportation, with "interest payable at city of Jacksonville commercial paper borrowing rate."
The third part of the plan involves a $10 million grant, available at $3.5 million Oct. 1 of this year, $4 million is available October 2024 and the remaining $2.5 million becomes available October 2025.
Almost
Northeast Florida was feeling it early this week as the beloved Jacksonville Jaguars fumbled their way out of one of the biggest upsets of the season, losing in the divisional round of the NFL Playoffs to the Kansas City Chiefs.
Gov. Ron DeSantis plugged into that vibe during an appearance in Jacksonville.
"We were hoping that it would be the preparation for the AFC Championship Game, but you know, it was a great run," DeSantis said. "We were able to (go) — I was actually out there. It was a tough place to play, I'll tell you what. Really, really great football environment for a big home-field advantage."
The Chiefs' Arrowhead Stadium is considered one of the toughest venues, year in and year out, in the NFL. If nothing else, the Jags covered the spread, and as the saying goes, good teams win, but great teams cover.
"But you know, I think there's a lot of bright, bright days ahead for the Jags here," DeSantis said. "I think the community really rallied at the gate. (There's) a lot of great players, and so it's just one of those things where you can see there's going to be some opportunities going forward. So, it's a tough loss."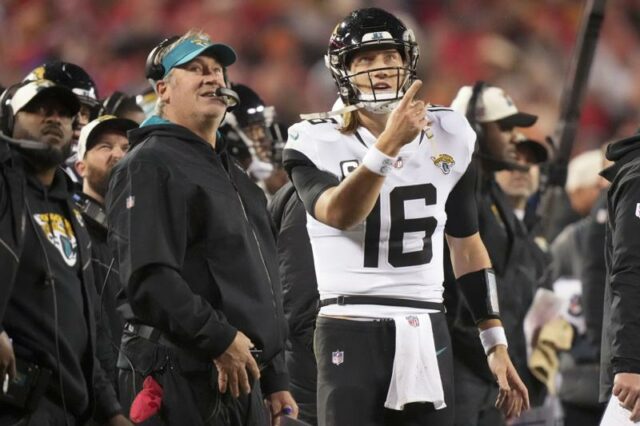 Certainly, the rest of the division is dreadful, giving the Jaguars some leeway in becoming that championship team they seemed close to over the weekend.
"But at the end of the day, you've got some young talent, and I think the days are going to be really, really good going forward," DeSantis said. "So that's something to be excited for."