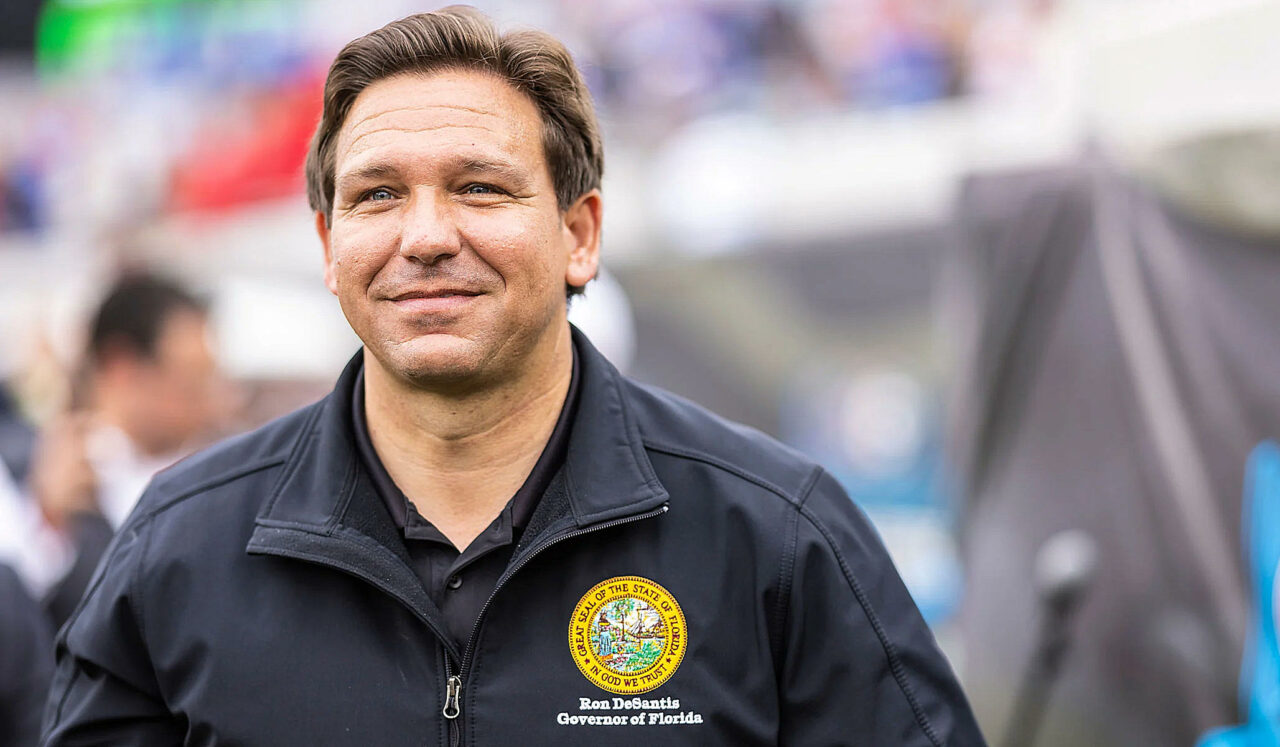 'DeSantis is not a sure thing to run and to win.'
The "Texas Voter Engagement Project Donor Appreciation Conference" is slated for next month, and while some GOP 2024 presidential hopefuls are scheduled to be there, Florida's Governor apparently is not one of them.
For journalist Mark Halperin — who reported at length in a Jan. 25 email about this "Texas hoedown of significance" being put on by Gov. Greg Abbott, U.S. Sen. John Cornyn, and strategist Karl Rove — the absence of Ron DeSantis means this could be a showdown of significance for seemingly more marginal 2024 possibilities who attend.
Chris Christie, Nikki Haley, Brian Kemp, Mike Pence, Tim Scott and Chris Sununu, names that have not been atop any 2024 polls, are nonetheless expected to make waves in sessions that (per Rove) are "off-the-record with no press, so you'll hear some of our party's most interesting leaders offer their candid views."
In theory, DeSantis or someone else of comparable stature could show up in the end, as "two more special guests" are billed. But the Halperin email frames the event as an opportunity for Lone Star State donors to kick the tires on alternatives to DeSantis and the other man at times topping polls: former President Donald Trump.
"Many in this group are attracted to Ron DeSantis; they can read the polls and know that the Sunshine State topper represents, in theory, the best hope to stop Trump. At the same time, they know DeSantis is not a sure thing to run and to win," Halperin wrote, citing a just-released Emerson College poll of a potential 2024 GOP Primary that showed DeSantis getting just 29% in a crowded field where Trump garnered 55% support.
"So for the "Stop Trump" crowd, they need a backup plan, especially for the ones not sold on DeSantis — both his capacity to beat Trump and his personality," Halperin added.
"The inclusion of Brian Kemp and Tim Scott will be of particular interest to some in the room (and, I suspect, to some reading this …), since they both capture the imagination of more than a few as potential nominees — especially for those who have written off the Trump/DeSantis-slaying and fundraising capacities of Christie, Haley, Pence and Sununu."
Though the Emerson College poll shows the race as Trump's to lose, a CWS Research poll of Texas Republicans from last fall suggests DeSantis may be the favored candidate in the Lone Star State.
In a field including Trump and a number of other candidates, DeSantis holds a double-digit lead, with 43% support being good for an 11-point lead over Trump. Aside from DeSantis and Trump, no other contender polled above 5%.
With Trump excluded, DeSantis consolidated his grip further, drawing 68% support. Former Vice President Pence was a weak second place with 8% backing. Former Ambassador Haley garnered third place with a 5% showing.
That Texas poll shows gains for DeSantis and attrition for Trump compared to those earlier in 2022. As recently as July, Trump held a 19-point lead over DeSantis with the same pollster. The results suggest a 30-point shift toward the Florida Governor in recent months in Texas.
Perhaps DeSantis is far enough ahead in Texas that he doesn't need this event, but reasonable expectations are that at least one hopeful on hand will make him pay for it. At least a couple of potential candidates have been somewhat critical of the Governor of late.
Former New Jersey Gov. Christie suggested DeSantis is not able to connect with other Governors.
"I don't think Ron hangs out with anybody from what I can tell," Christie contended last year on the Ruthless Podcast.
"You know, like when I'm at the RGA meetings and Ron's pretty much to himself and his entourage," Christie said. "I don't see him hanging with the other Governors."
Sununu, the current Governor of New Hampshire, likewise has criticized DeSantis in interviews.
In an interview with Fox News that ran earlier this month, Sununu agreed with DeSantis there is a "need to push back on woke policy," an ongoing concern of DeSantis, but that such pushback shouldn't happen at the expense of private businesses.
He said that "going after private business is a whole different story. … I come from the 'Live Free or Die' state, and private businesses can and should act like private businesses without the fear of being punished by people that might disagree with them."
Sununu slammed DeSantis before Christmas for another policy decision, chiding DeSantis for his desire to create a state equivalent to the Centers for Disease Control and Prevention.
"He's creating his own group to basically be a critique, as I understand it, of the federal group," Sununu told Hugh Hewitt.
"I don't need a committee or an organization to tell me and the American people the obvious. But I don't know, maybe there's some other function that they're achieving down in Florida. But I'm just telling you, in terms of critiquing that group, I think I've got it. I think the American people got it. It's been a disaster."
Previously, Sununu slammed Florida for raising taxes as his state cut them.
"And again, we just doubled down on that with the cutting of the taxes," Sununu said in May on The Howie Carr Show. as previously reported by POLITICO Florida Playbook. "And Florida is great, Florida's been very flexible. He did sign another billion dollars of tax increases. I love Ron, but the fact of the matter is their taxes are going up and ours are going down. So I think we're going in the right direction."