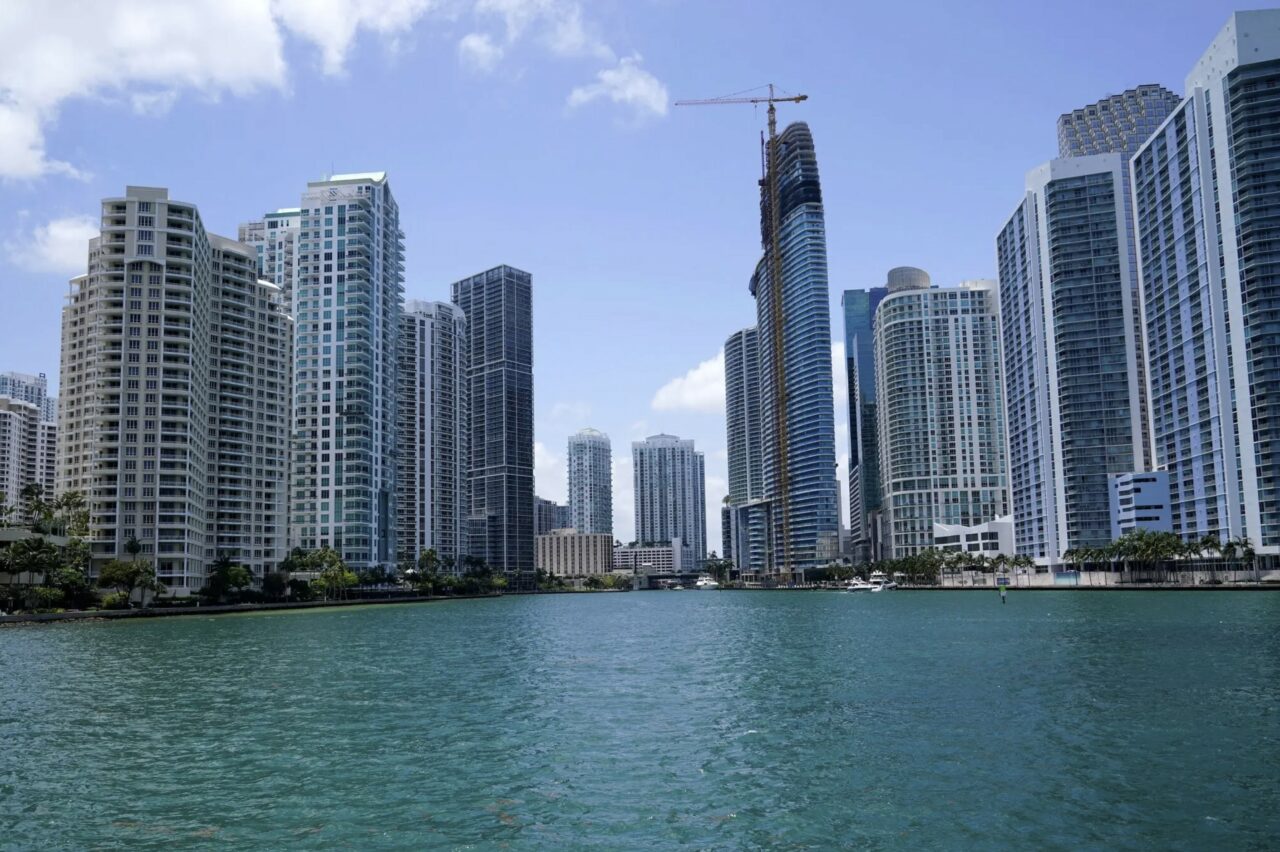 'It's estimated that landlords will have the upper hand moving into 2023.'
Rents rose across all asset classes in South Florida in the fourth quarter of 2022 as vacancies sank further amid a development rush to fill demand.
That bodes well for builders and Realtors and shouldn't too adversely impact the businesses and residents — prospective or already in the area — with enough cash to cover costs. For those struggling to get by, it may portend harder times ahead, as rents reached record highs with little indication that trajectory will change this year.
Miami-Dade County
The strong demand and dearth of available space was no more evident than in Miami-Dade, where industrial properties were in historically low supply, with retail and office openings trailing closely behind.
Preliminary Q4 market data from Colliers show Miami-Dade's industrial market hit an all-time low vacancy rate of 2.1%. That's despite the addition of 4.6 million square feet of new construction, which was "significantly outpaced" by the net absorption of 5.8 million square feet.
"Continued tenant demand and population growth are expected to bode well for market fundamentals going into 2023, as an additional 6 million square feet under construction will provide new and existing tenants further space options in a tightening market," Colliers personnel wrote.
The average triple net lease rate — under which tenants agree to pay maintenance and insurance fees in addition to their rent — for industrial property also climbed to a new high of $13.13 per square foot, marking a 14.6% increase from the same period the year prior.
Vacancies in Miami-Dade's retail and office markets also shrank to 3.3% and 10.1%, respectively, while prices grew.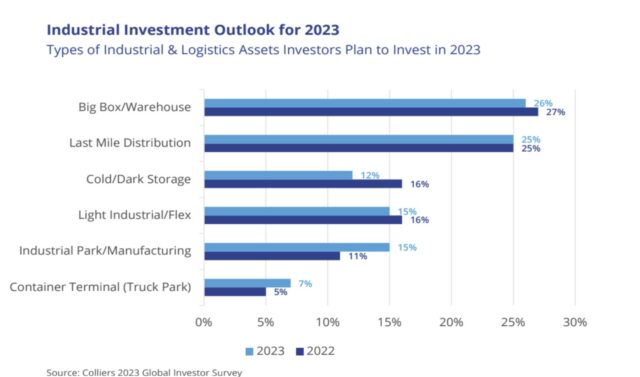 Rents in both asset classes rose by 12% between 2022 and 2023, with per-square-foot asking prices of $44.16 for retail and $57.18 for office properties.
In retail, the submarkets of South Dade, Kendall and the Miami Airport area saw the most leasing activity, with between 215,000 and 237,000 square feet rented out in each area. The largest lease in Q4 was Club Studio's rent of 35,363 square feet at Miami Worldcenter downtown.
Meanwhile, the office market enjoyed a 10% annual increase overall, with Class A rental rates growing 12% across the board.
The top three leases struck in Q4 were all centered in Miami's Brickell area. Kirkland & Ellis and Banco Santander International inked new rental agreements for 99,418 square feet and 95,998 square feet for a still-under-construction tower at 830 Brickell, while Bilzin Sumberg renewed its lease of 85,095 square feet at 1450 Brickell.
"The office market recovery since the global pandemic has been slow and uneven but South Florida has fared well and emerged as a top-tier office market," Colliers personnel wrote.
"Despite rising interest rates and economic uncertainty, South Florida and other Sunbelt markets like Austin, Dallas and Nashville captured the most tenant activity. While investment activity slowed at the end of 2022, strong new-to-market activity, particularly in Miami-Dade County, combined with limited supply and major renovations at existing buildings have pushed rental rates to all-time highs."
Broward County
Following the eighth consecutive quarter of decreased vacancies in the market, the average asking rate for retail space rentals in Broward soared to $26.84 per square foot, a new peak.
Just 4% of available retail properties remained open to new tenants in Q4, a 0.7-percentage-point decrease from the same time the year before, indicating the 329,000 square feet of additional retail now under construction will quickly be snatched up upon completion.
Colliers staff said an influx of new-to-market tenants coupled with a rising trend of clicks-to-bricks — a marketing strategy whereby businesses drive online shoppers to physical retail spaces — will likely keep market fundamentals healthy for at least the remainder of the year "as flagship stores flock to areas with high population growth."
"This in-migration of retailers has provided the Broward County retail market some insulation from the macro-economic headwinds facing the U.S. and in result, it's anticipated that the Broward County retail market will continue to flourish moving forward into 2023," they wrote.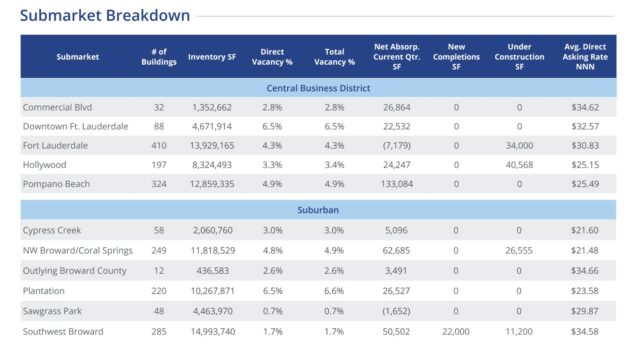 Broward's office and industrial vacancies both grew in Q4. For the county's office asset class, which had 11.7% of its spaces empty through December, the end of 2022 marked the second consecutive quarter of vacancy increases in the county. For industrial, which hit 4.3% vacancy, it was the first time since Q2 2021 that spaces were emptier than in the prior quarter.
Asking rates for both classes shot up anyway, with leasing for industrial rising 26.7% year-over-year to $13.86 per square foot and office space rents growing a comparatively modest 5% over the same period to $37.22, another record high.
Palm Beach County
Palm Beach offered a similarly mixed bag in terms of vacancy while rents across all three assets climbed to record highs.
Retail vacancy rates remained consistent in Q4, hovering at about 3.5%. Continued population growth and rebounding tourism numbers should lead the 610,000 square feet in development to be leased up quickly once it's finished, Colliers said.
Submarkets with the most retail-leasing action in 2022 included West Palm Beach, with more than 300,000 square feet rented out; Boynton/Lantana, which had nearly 215,000 square feet leased; and Delray Beach, with more than 200,000 square feet leased.
Conn's HomePlus lease of 47,209 square feet at Cross County Plaza in West Palm represented the largest retail agreement in Q4, followed a distant second by New Life Tabernacle's new lease of 14,000 square feet at Glades Plaza.
The average rent for retail space surged 8.9% to $29.16 per square foot.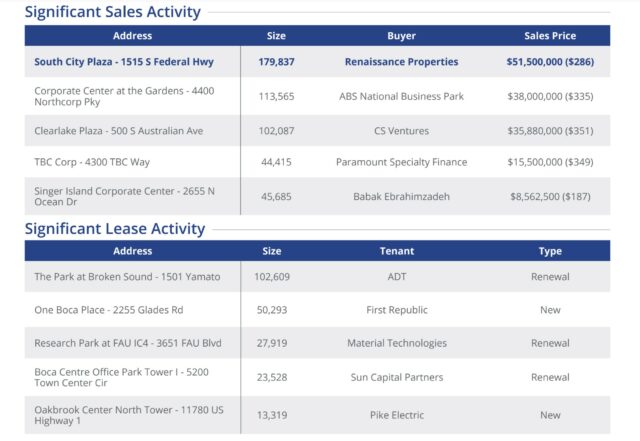 Office vacancies in Palm Beach stayed at 8.3% in Q4 thanks to "heavy leasing activity" throughout the year, even while "hybrid work patterns continue," while the availability of industrial space increased slightly for the third consecutive quarter to 3.6%.
The county has approximately 238,000 square feet of industrial space under construction and a whopping 1.1 million square feet of office space in some form of development. But Colliers predicted economic uncertainty is likely to cause office developers to "remain on the sidelines in 2023 helping sustain the supply/demand balance throughout the region."
Nonetheless, office rents rose more than 9% last year to $40.70 per square foot, the highest rent rate there for the asset ever.
That was nothing compared to the price hike industrial rentals underwent in 2022. Per-square-foot costs for triple-net-leased space skyrocketed by 22.7% to $13.26, also an all-time high.
"Strong leasing activity can be attributed in part to the pause on sales activity, as many investors hold out until the increase on interest rates settles," Colliers personnel wrote. "As the market continues to head in this direction with a low vacancy rate … it's anticipated that landlords will have the upper hand moving into 2023."