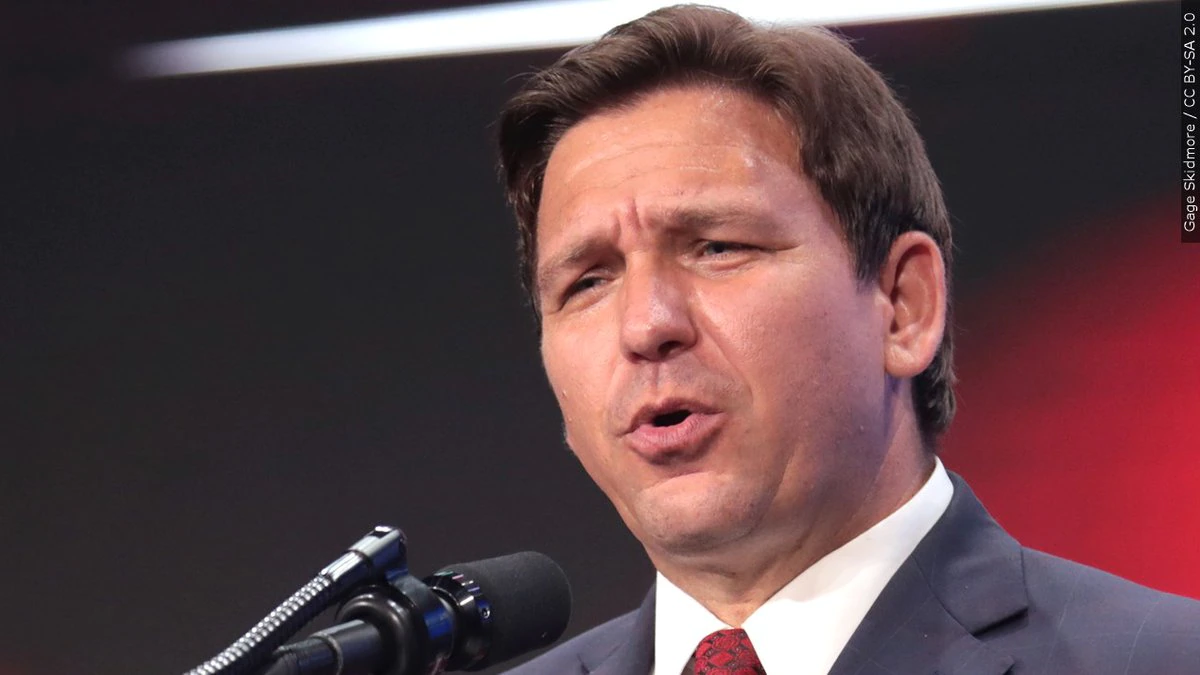 With Gov. Ron DeSantis hogging the 2024 spotlight, national reporters are looking to Florida, and sometimes getting it all wrong.
It's been happening for a while.
As Gov. Ron DeSantis, "America's Governor," continues to see his 2024 presidential prospects increase by the day, the national media's salivation is puddling to the point of needing a mop.
At this rate, the Florida Capitol Press Corps and other veteran Florida journalists may want to erect roadblocks at all major entry points to keep the bigfooting national media from swooping in and making their jobs more difficult.
To some degree, it's understandable. National media members go to wherever the news is hot, which often means entering a market where they might not be as familiar with the nitty gritty details, nuance or history of a topic, official or issue as the lowly local reporters who have been eating, drinking and sleeping it for God knows how long.
But it's getting ridiculous.
For the first four years of DeSantis' reign in Tallahassee, there has been one example after another of national journalists coming in with their hot takes. That's despite, seemingly, their only understanding of Florida being that it's home to Disney World. Time and again, they offer a takedown of DeSantis, only to see it boomerang.
Perhaps the most egregious example is 60 Minutes. The well-respected, time-honored weekly program flubbed it hard when they produced a feature in spring of 2021 on Publix becoming one of (many) pharmacies to offer COVID-19 vaccines under the state's rollout.
It speculated Publix was given a sweetheart deal because it donated to DeSantis' campaign.
It was so flawed, it sparked outrage not only from DeSantis, Publix and their respective supporters, but from Democrats, too.
Then-Director of Emergency Management, Democrat Jared Moskowitz, spared no words in disputing the 60 Minutes report. He noted Publix "was recommended" by his Department and the Florida Department of Health, not DeSantis. "Period! Full stop!"
Palm Beach County Mayor Dave Kerner, also a Democrat, offered a similar statement on the issue, further accusing 60 Minutes of reporting "intentionally false" information.
Florida reporters know Publix likes DeSantis (and lots of Republicans!), but they also understood the COVID-19 vaccine rollout had nothing to do with that relationship. Local journalists probably enjoyed their popcorn watching the 60 Minutes fallout knowing full well that wouldn't have happened to them.
Now that DeSantis is a top name for the GOP presidential nomination in 2024, the weird hits just keep coming.
It's fair to say DeSantis and his team revel in the controversies, the opportunity to call out overzealous outlets, and, in all likelihood, proactively seek these controversies. But nevertheless, examples just keep piling up and out-of-state reporters don't seem to be catching on.
For example, MSNBC aired a segment just this week in which New York University professor and MSNBC columnist Ruth Ben-Ghiat attacked DeSantis as an authoritarian for comments suggesting teachers should confiscate students' cell phones during classroom instruction.
Specifically, DeSantis said, "I think a school district would be totally within their rights to say, 'You know what, leave your phone in some cubby or something, go sit in class and learn, and if you get it at recess and you want to text people, fine.'"
Who the hell doesn't agree with that?
Should kids pay attention to lessons, not TikTok? Absolutely! This is not a controversial take. Yet here was Ben-Ghiat turning it into a scandal, setting herself up for, you guessed it, unadulterated internet mockery.
Conservative commentator Stephen Miller tweeted: "'Students shouldn't have cell phones and be on TikTok in the classroom.' 'He's Hitler.'"
"Students shouldn't have cell phones and be on TikTok in the classroom."

"He's Hitler" https://t.co/zlTx6Kgpdu

— Stephen L. Miller (@redsteeze) January 24, 2023
There are myriad substantive policies DeSantis critics can legitimately point to in order to make the authoritarian case, but they pick this hill to die on, forcing those who may disagree with DeSantis to actually defend him because it's better than defending unruly students glued to social media when they should be learning.
Then there is just blatant incorrect reporting.
In an otherwise reasonable report about DeSantis. Puck reporter Julia Loffe included a line about the Governor "purging longtime Republican legislators in Tallahassee."
Um, what?
Maybe she meant poaching, which would be at least reasonable since so many — see: Dane Eagle, Manny Diaz Jr., Jose Oliva — have either gone to work in DeSantis' administration or have been appointed to state posts. But them being "purged" is just not the case.
Just asking: which "longtime Republican legislators in Tallahassee" has @GovRonDeSantis purged, as @JuliaIoffe asserts?

So many of them have gone to work in the admin (@DaneEagle @SenMannyDiazJr, etc.); many have been appointed (@richardcorcoran, @RepJoseOliva). pic.twitter.com/pmsE9dNbJc

— Peter Schorsch (@PeterSchorschFL) January 19, 2023
And sweet mother of God, this one, from the Daily Beast: "DeSantis' secret Twitter army of far-right influencers."
The piece names a bunch of nefarious actors who have been reportedly recruited to promote the DeSantis brand, names like John Cardillo and Jack Murphy, clearly meant to stir up shock factor.
There are a couple of problems though. First: This. Is. Not. A. Secret.
POLITICO reported about "conservative social media influencers" who "have flocked to Florida for 'freedom,' 'liberty' and DeSantis."
"Some of those whom the governor's staff are wooing are heavily involved in amplifying the anti-vax movement and downplaying the Jan. 6 attack on the U.S. Capitol," the outlet wrote.
Still not convinced this social media recruitment strategy was the furthest thing from secret?
The Tampa Bay Times similarly reported, "MAGA influencers flock to Florida, chasing political clout and connections."
Still not enough? See also the Advocate, which published an extensive feature on how the DeSantis administration, driven largely by his then-Press Secretary Christina Pushaw, used right-wing media and conservative influencers to promote the DeSantis-backed "parental rights" legislation, dubbed the "Don't Say Gay" bill by critics.
The Daily Beast article not only exposed a not-at-all-secret social media strategy, it was chock full of weak, anonymous sourcing, bringing it as close to a Stephen Glass (do you hear the sound of glass shattering?) correlation as one might get.
And of course, Pushaw had a field day with the piece, particularly the part in which the outlet claimed, through an anonymous source, that DeSantis was using "bot farms" as a lure for said social media influencers.
"This is laughable even for the Daily Beast," Pushaw tweeted, adding that "nobody received this 'pitch.'"
"That's why you have to use anonymous sources & have NO receipts. (DeSantis) won by 20 points. He has millions of real life supporters. No need for 'bot farms' — do people actually do that?"
This is laughable even for the Daily Beast 😂 @JakeLahut, nobody received this "pitch" — thats why you have to use anonymous sources & have NO receipts. @RonDeSantisFL won by 20 points. He has millions of real life supporters. No need for "bot farms"- do people actually do that? pic.twitter.com/fAQt9hm1eV

— Christina Pushaw 🐊 🇺🇸 (@ChristinaPushaw) January 25, 2023
Ouch.
But none of this is likely to slow down anytime soon. As The Wall Street Journal reported just this week, DeSantis has become the focus of the 2024 cycle, meaning other would-be presidential contenders are going to throw whatever they can at him and the national media is going to keep eating it up one sound bite at a time.
So here's some parting advice to national media who may not be all that familiar with Florida politics or all things DeSantis — you've got to be sharp, because no matter how sharp you are, his "rapid response" team lead by Pushaw might just be sharper.
Take one misstep, and you'll get the 60 Minutes treatment.
Criticizing DeSantis, like any national figure seeking higher office, is fair game. But forget about bot farms and not-secret secrets. Focus instead on the wealth of verifiable positions and actions that offer up any number of opportunities to draw attention to glaring hypocrisy.
Some of it might require a bit of digging, but some of it is easy. Take a look at his positions at the onset of the pandemic and compare those to the rhetoric now.
Maybe have some fun with the revisionist history his team pushes, while also touting the "free state of Florida."
Whatever the angle, those of us who ate, drank and slept all things DeSantis administration for the past four-plus years know that every word spoken, tweeted, published or even whispered about the DeSantis machine is going to be put under a microscope and thrown to the DeSantis/MAGA/conservative base. So you'd be wise to dot those "I's" and cross those "T's."