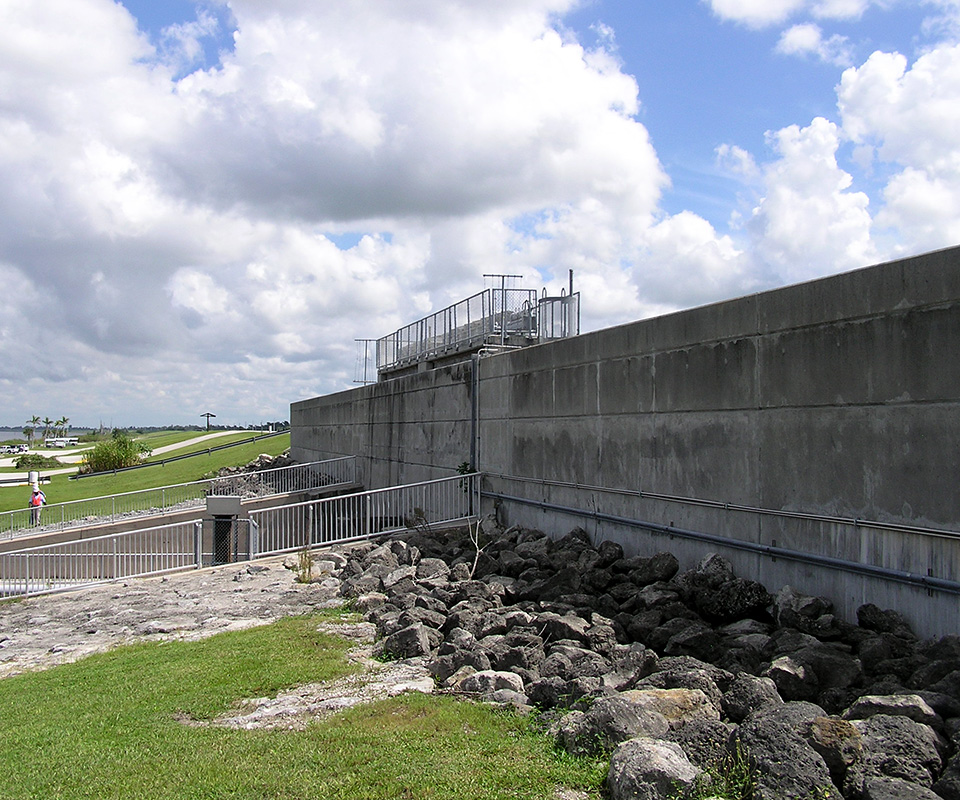 'This was a massive project and success would not have been achieved without the partnerships of so many in this area.'
With the U.S. Army Corps of Engineers holding a ribbon-cutting ceremony to commemorate wrapping long-planned upgrades to the Herbert Hoover dike, stakeholders and elected officials are cheering after reaching the milestone.
"This construction project has been a monumental undertaking that started in 2005. Corps team members and construction contractors, as well as the supporting staff from Federal, Tribal and State agencies, have dedicated a significant part of their careers to this project, and I thank them for their efforts," said Col. James Booth, U.S. Army Corps of Engineers Jacksonville District Commander.
"The Herbert Hoover Dike has never been in better shape than it is right now. That is great news for the lakeside communities. The Brighton Reservation and the cities of Clewiston, South Bay, Belle Glade, Pahokee, Okeechobee and Moore Haven are safer and more protected than they have ever been. These communities are why we restored the dike. Because of our collective efforts, Herbert Hoover Dike is now better suited to protect lakeside communities for many years to come."
The dike was built around Lake Okeechobee to help manage water flow and prevent flooding in nearby communities. But the dike had been in need of repairs, affecting how the Army Corps managed the lake's water levels.
Because of worry the dike could fail under excessive pressure,  lake levels were kept a bit lower than would perhaps be optimal, for fear an unexpected heavy rain event could cause flooding.
Now that the dike has been reinforced, the Army Corps will have more flexibility to keep the lake at higher levels, which can help ensure water remains in the lake even in a period of drought. That's big news as the Army Corps moves to a new Lake O regulation schedule.
"This was a massive project and success would not have been achieved without the partnerships of so many in this area," said Michael L. Connor, Assistant Secretary of the Army for Civil Works.
"While we mark this monumental achievement, we know much work remains to be done for Everglades restoration and building resilience in South Florida. Fortunately, the (Joe) Biden administration has committed over $1 billion to South Florida Ecosystem Restoration from the Bipartisan Infrastructure Law and made record budget requests to support ongoing progress for the region and deliver on our commitments."
"The completion of the Herbert Hoover Dike is welcome news for the State of Florida," added South Florida Water Management District Chairman Chauncey Goss.
"Today's ribbon cutting to celebrate the completion of the Herbert Hoover Dike rehabilitation marks an important day in our history as Florida continues to be at the forefront of our nation's ecosystem restoration, flood protection and resiliency efforts."
Several other interested parties also released statements celebrating the accomplishment.
U.S. Sen. Rick Scott
"It's a great honor to finally celebrate the ribbon cutting of the Herbert Hoover Dike Rehabilitation. Fixing the Dike is crucial for water quality in the Everglades and surrounding estuaries," Scott said.
"I'll keep fighting to protect our environment so future residents and visitors can enjoy all that Florida has to offer."
Hendry County Commissioner Karson Turner
"This is the culmination of a number of years of extremely hard work by hundreds of contractors and subcontractors throughout the region — throughout the world for that matter. And thousands of employees who have just been getting after it here in the lake area," Turner said.
"This project is absolutely amazing when you start looking at it in scope and size, and then when you also reflect back on how many governments had to come together, not just from the local level, but also state and federal, to really put the gas into the engine to make this culmination come together. It's nothing short of amazing."
South Bay Mayor Joe Kyles
"The completion of the Herbert Hoover Dike project along Lake Okeechobee, which is a great asset to this region of Florida, will bring renewed desire for economic development in our city," Kyles said. "As the requirement for flood insurance and associated cost for commercial construction is reduced, investment in South Bay will become more attractive."
Clewiston Mayor James Pittman
"The Herbert Hoover Dike rehabilitation and stabilization project has been a huge blessing for the City of Clewiston," Pittman said.
"This project's success is due to the Army Corps of Engineers and its contractor's diligence and commitment to excellence. It's this dedication from the Army Corps which protects people and property, one community at a time."
Annette Hernandez, Director of Outreach for U.S. Rep. Mario Díaz-Balart
"Congressman Mario Díaz-Balart, who was the co-chairman and co-founder of the Everglades Caucus, remains committed, along with national and local officials, to ensuring that projects like the HHD are adequately funded and completed."
Adam Gelber, Director of the Department of the Interior's Office of Everglades Restoration Initiatives
"This day marks a long history of the end of significant risk, change and achievement," Gelber said.
"It is a day to honor those who lost their lives during previous flooding events, to celebrate the clear and continued commitment of the federal government in protecting Floridians and to the Jacksonville District for the leadership in developing the Lake Okeechobee System Operating Manual."
U.S. Sugar Vice President for Strategic Environmental Affairs Michael Ellis
"This structure has withstood powerful storms for decades, but with tens of thousands of people living in its shadow, an upgrade to modern standards was long overdue," Ellis said.
"Thanks to the hard work of the men and women of the U.S. Army Corps of Engineers, farmers and all of our local residents now have the peace of mind that the risk of a dike failure has been significantly lowered."
Eric Eikenberg, Chief Executive Officer of The Everglades Foundation
"The dike will provide flood protection for local communities and it will allow Lake Okeechobee's water to, finally, be managed to provide aid across the watershed," Eikenberg said.
"The strengthened dike enables the Lake Okeechobee System Operating Manual (LOSOM) to not only send needed water south to the Everglades and Florida Bay in the dry season, but it will also reduce the harmful discharges to the east and west coasts during the wet season. The Everglades Foundation thanks the Corps for its work to protect Florida's communities and environment."