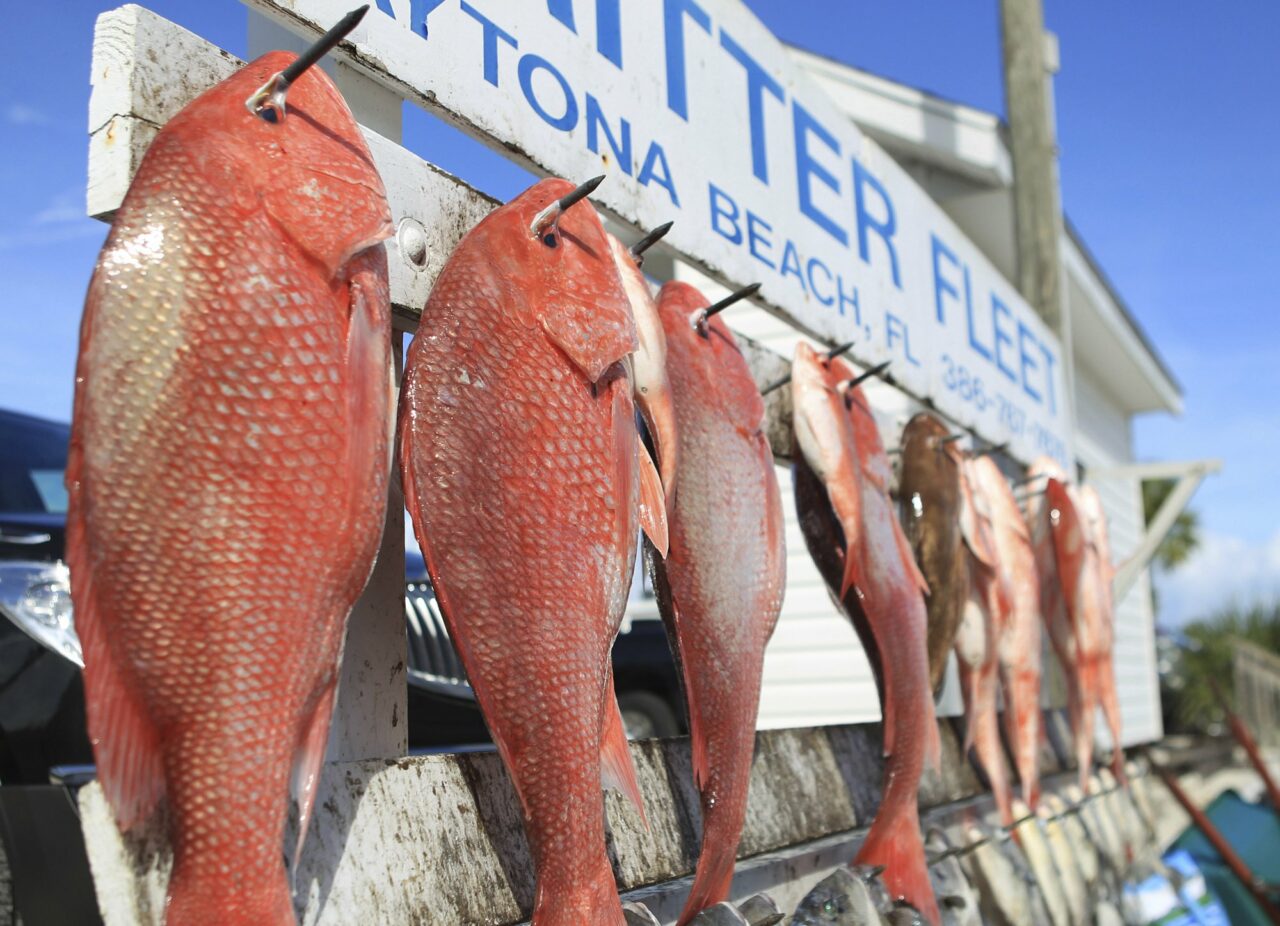 If implemented in time, the amendment all but ends any chance of a recreational red snapper season in 2023.
Fish aren't the only things red in the snapper debate.
Anglers are upset at statistics they don't believe and a narrative on red snapper that doesn't follow their experiences on the water — but they're not in a position to do much about it.
Despite reaction like the boisterous meeting held in Jacksonville on the subject, federal regulators are boxed in by federal fisheries law and red snapper catch limits are dropping even further than before.
"There is a really high abundance that's in this time series," South Atlantic Fishery Management Council (SAFMC) scientist Mike Schmidtke said at the Jacksonville meeting, referring to a graph of red snapper in the South Atlantic.
"We've seen more red snapper in this last part of the time series than we've seen in 40-plus years."
The SAFMC is in the process of approving Amendment 35, part of an effort to reduce dead discards of red snapper, which is causing the fish to be overfished and undergoing overfishing, according to regulatory standards. The amendment is supposed to come up for a vote at the Council's March meeting.
In bringing back the stock, the goal isn't only abundance, but also a sustainable population as seen through different ages. It takes about 34 2-year-old red snapper to produce the same eggs as one 10-year-old red snapper, for instance. Older fish are also bigger. Stock assessments show red snapper in the South Atlantic to be mostly quite young, with few fish older than five or six years.
Everything tracks back to a weight-based metric called maximum sustainable yield, or what the fishery can afford to lose.
Within the amendment, the Council must approve several actions. The SAFMC's Scientific and Statistical Committee made its recommendation from five alternatives.
In Alternative 2, the acceptable biological catch number drops from 53,000 fish to 28,000. The commercial annual catch limit goes from 124,815 pounds whole weight to 77,016, in one year. The recreational annual catch limit declines from 29,656 fish to 19,119.
Other alternatives included even lower limits.
Many anglers who spoke at the Jacksonville scoping meeting vocally rejected the data presented.
"This Magnuson-Stevens Act, I understand it's been in play for quite a long time," said Darrin Willingham, Vice President of the Jacksonville Offshore Sport Fishing Club.
"However, I think we need to go back and look for the original garbage-in, garbage-out data that has sent this terrible snowball rolling. If you look at it, the whole reason everybody is considering this to be overfished is because of data that has been shown to be skewed data, inappropriate data, false data."
If implemented in time, the amendment all but ends any chance of a recreational red snapper season in 2023, as there will be too many dead discards counting against the limit.
The amendment would also mandate only single-hook rigs could be used in the fishery, in the hopes of slowing the process.
"This is meant to be one portion of a collective effort of many different things going on right now, many different projects that are trying to not just change the limit, but also change the way the Council is managing red snapper," Schmidtke said.
St. Augustine fishing guide Robert Johnson spent time, several years earlier, working on fisheries regulations through the SAFMC and witnessed the process close-up.
"I don't think you guys really understand what's going on here," Johnson said to the other anglers. "Overfishing is occurring. Overfishing is occurring on a fish that you had a three-day season or a two-day season, and now you won't have any season."
The Council doesn't have any wiggle room here, he noted.
The SAFMC's next quarterly meeting is set for Jekyll Island, Georgia, beginning March 6 and continuing through the 10th.