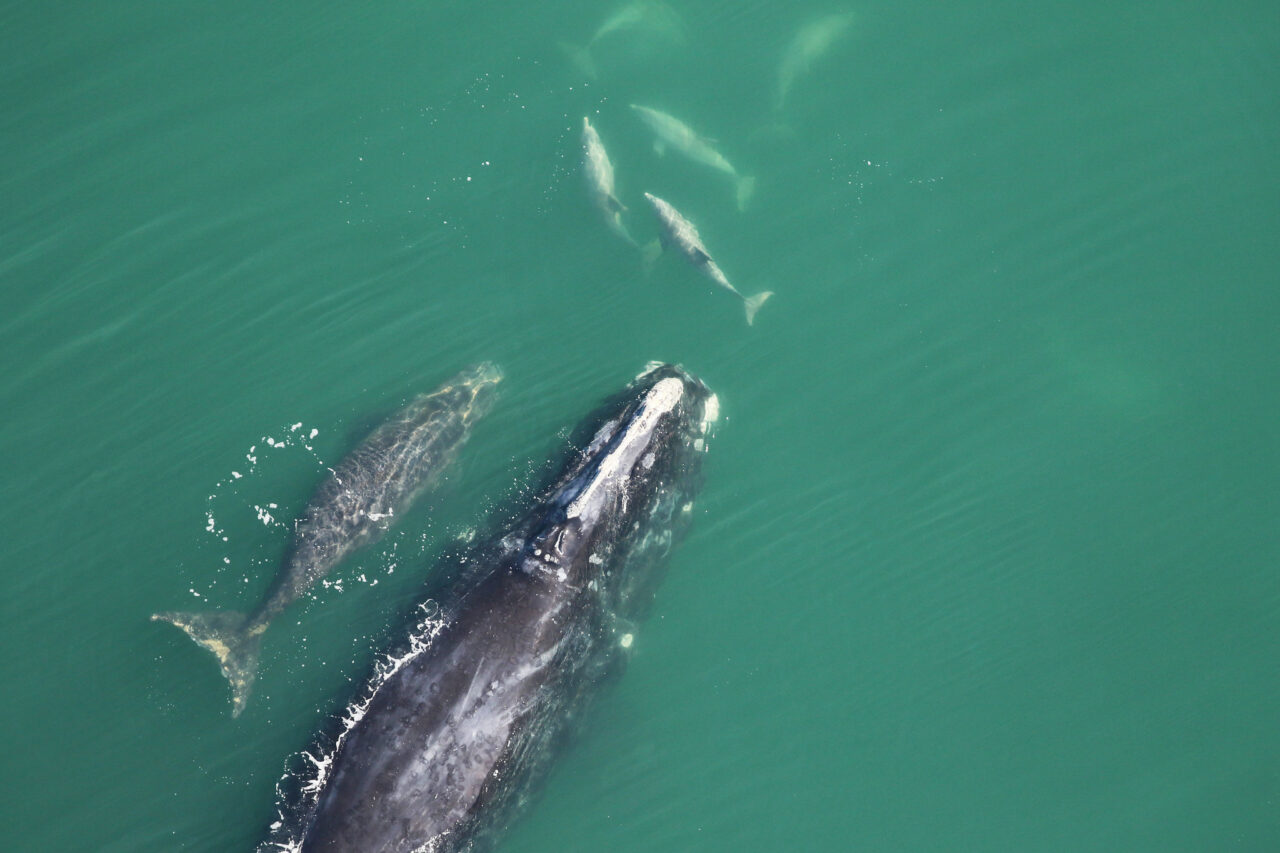 Scientists believe every right whale death the past 50 years is from human activity.
It's been one hit after another in January for North Atlantic right whales, a species already on the path toward extinction in our lifetime.
The numbers continue to fail to add up. There needs to be around 50 calves born each calving season to stabilize the population — now at around 340 whales — with fewer than 70 calving females. This season, survey teams have only seen a dozen calves, one of which was discovered alone before it eventually died by a Morehead City, North Carolina pier.
Scientists couldn't find the calf's birth mother nearby, so why the calf was alone remains a mystery for the time being. The same week, surveyors found the progeny of Spindle, right whale No. 1204, off St. Catherines Island, Georgia.
Also that week, a Clearwater Marine Aquarium team flying 20 miles off Rodanthe, North Carolina discovered a right whale entangled in heavy rope fishing gear, with "several wraps of line around the mouth and tail, with additional line trailing behind the whale.
"After reviewing documentation of this new entanglement case, NOAA Fisheries biologists have made a preliminary determination that it meets the criteria of a 'serious injury.' This means the whale is likely to die from this injury."
The whale, No. 4904, is a 4-year-old juvenile and one of the offspring of the aforementioned Spindle. Whale No. 4904 was last seen in May 2022 in Massachusetts Bay, without entanglement.
"Fishing gear entanglements are a top threat to this critically endangered species, and this entanglement is the result of continued mismanagement of this risk," Oceana Campaign Director Gib Brogan said at the time.
"The U.S. government should adopt proven safeguards that will eliminate entanglement risk in times and places where right whales swim. Because this species is so depleted, even a single entanglement is tragic."
Efforts by the federal government to reduce fishing gear entanglements — considered the top threat to the survival of North Atlantic right whales — are on hold for at least six years thanks to a deal cut by Maine legislators in Congress to prevent changes to how the lobster and crab trapping industry operates.
NOAA Fisheries later denied a petition that would've forced the government to act.
Scientists believe every right whale death the past 50 years is from human activity, whether that's from fishing gear entanglements, vessel strikes, problems related to climate change or other issues.
The danger of getting next to whales means efforts at disentangling them are few and far between, and planned for the right moment. An opening occurred to cut at least some of the line after a Florida Fish and Wildlife Conservation Commission team saw an entangled right whale near Jekyll Island, Georgia, on Jan. 20.
"Authorized responders and trained experts from multiple agencies worked from boats with specialized tools to remove approximately 375 feet of rope that was passing through the whale's mouth and dragging hundreds of feet behind its flukes," according to NOAA Fisheries.
"After this entanglement response, only a short segment of rope remained in the whale's mouth. Based on similar incidents, responders are optimistic the remaining rope will dislodge on its own. NOAA Fisheries will examine the removed rope to determine its origin, if possible."
This whale, Nimbus, is a 15-year-old male. It's unknown why male North Atlantic right whales swim to the calving grounds off Northeast Florida and Southeast Georgia.
The same day, though, a little good news — a team sighted Pediddle off Georgia, who is a staggering 45 years old and gave birth to her ninth calf. She's survived one entanglement, and scientists documented 23 entanglements and three vessel strikes among her family members.
She's notably the grandmother of Snow Cone, who attracted a fair amount of attention for her survival despite dangerous entanglements.
Calving season typically runs into April.