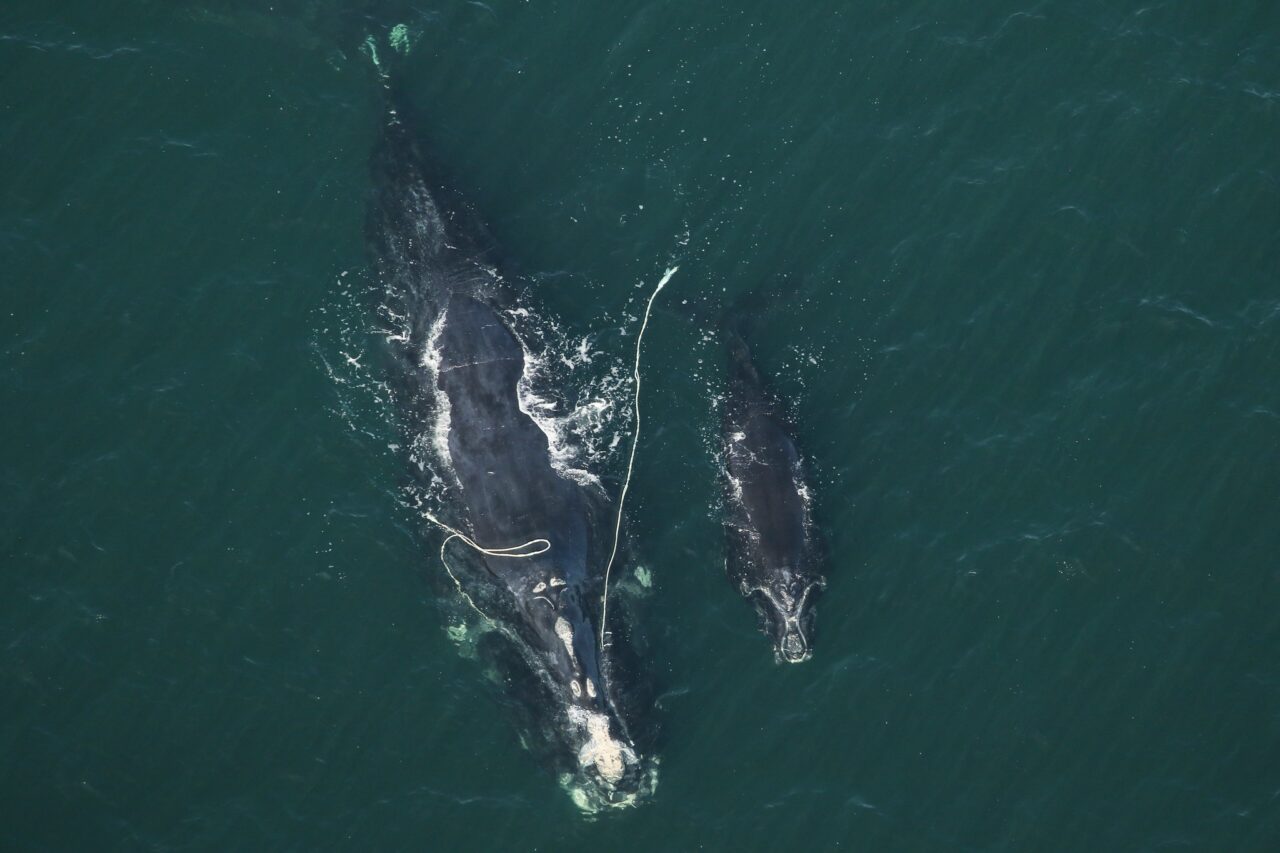 The number of deaths caused by fishing gear and vessel strikes far exceed the number allowable for a sustainable population.
Sometimes, people need an extra jolt to impress upon them a sense of urgency.
A previously unscheduled appearance before the Atlantic States Marine Fisheries Council (ASMFC) gave the opportunity for NOAA Fisheries Assistant Administrator Janet Coit to advocate for the necessity of adapting to new lobster and crab trapping gear to save both North Atlantic right whales and the lobster industry.
"The lobster sector is incredibly important to our nation, to the economy of Maine and other states, and I know we're all here wanting it to be sustainable, and continue to be an important industry going forward," Coit said.
"We also, I think, are all committed in wanting to conserve and restore threatened and endangered species. The endangered North Atlantic right whale is really on the brink, so preventing its decline and conserving North Atlantic right whales — that's a tall task."
The Monterey Bay Aquarium recently put lobster on its "red list" of unsustainable food because of the deaths and severe injuries caused by fixed-gear traps on right whales, as the heavy rope wraps around the whale. A number of crabs are already on the red list.
There are around 340 North Atlantic right whales in existence, with fewer than 70 calving females. The whales calve off the coasts of Northeast Florida and Southeast Georgia between November and April before returning to waters off New England and Canada.
The federal government is required, under the Endangered Species Act, to meet standards set under the Marine Mammal Protection Act. The number of deaths caused by fishing gear and vessel strikes far exceed the number allowable for a sustainable population under the law.
Meanwhile, calving numbers remain far too low. A season of 25 calves would be successful compared to recent years, but there need to be seasons of 50 calves or more to stabilize the population.
A deal cut by Maine legislators in a recent congressional spending bill delayed new right whale protections for six years, so the agency is looking to have its new rules set up and ready to go when that period expires. In the meantime, there's options open to expand on-demand fishing gear so there are fewer large ropes suspended in the water.
The bill allocated $26 million to ASMFC for ropeless, on-demand gear, along with monitoring and cost recovery.
"Primarily, what I'm anticipating is that we're working on all of the antecedent steps to having ropeless gear available, so that it can be used in the closed areas," Coit said.
That's in addition to another $20 million set aside in the legislation.
"We can work with the National Fish and Wildlife Foundation, an entity that is a partner to NOAA and can attract and leverage other funding, or we can do our own … program," Coit said. "But whatever we do, Congress has let us know they would also like to see that funding go primarily for on-demand, or ropeless, gear."
This is a historic moment for right whale conservation, she said — a time in which to speed up efforts and adapt to new technologies.
Coit spoke to the American Lobster Management Board, part of the ASMFC, but one without representation from Florida or Georgia since the Board is ostensibly concerned with New England-area lobster and not right whales.
Other agencies are picking up the idea that the coming six years are to be a time of action, not laying back until the regulatory delay runs out.
"We have heard, people in Maine, industry members talk about this as a six-year pause or reprieve — we don't have to do anything," said Pat Keliher of the Maine Department of Marine Resources. "That is certainly not the intent of the state of Maine. We have four years to collect data, and so I want to make sure that our focus is going to be on issues around gear."
Ropeless gear shouldn't be needed everywhere, he added, but what is used needs to work.
One aspect sometimes bypassed in these discussions is the effect of climate change. North Atlantic right whales' main food source, tiny creatures called zooplankton, are moving north into colder waters. That moves feeding grounds and lengthens the trip of each calving run south, something that requires potential whale mothers to eat large amounts and pile on the blubber, which is later converted to nurse the calf on the long trip back north.
"I think that climate change must be given equal weight, or more, to what our management plan might be," said Massachusetts state Rep. Sarah Peake.
"Whether it's ropeless fishing — I think the gear-marking … is important, but we have North Atlantic right whales right now in Cape Cod Bay that are visible from Herring Cove Beach in my district, and there's a concern with that because their food source is not in Cape Cod Bay, but those right whales are in Cape Cod Bay."
The changes in food and calving means longer periods between calving. A whale that once gave birth every three years may now be giving birth every 10 or so, should she live that long.