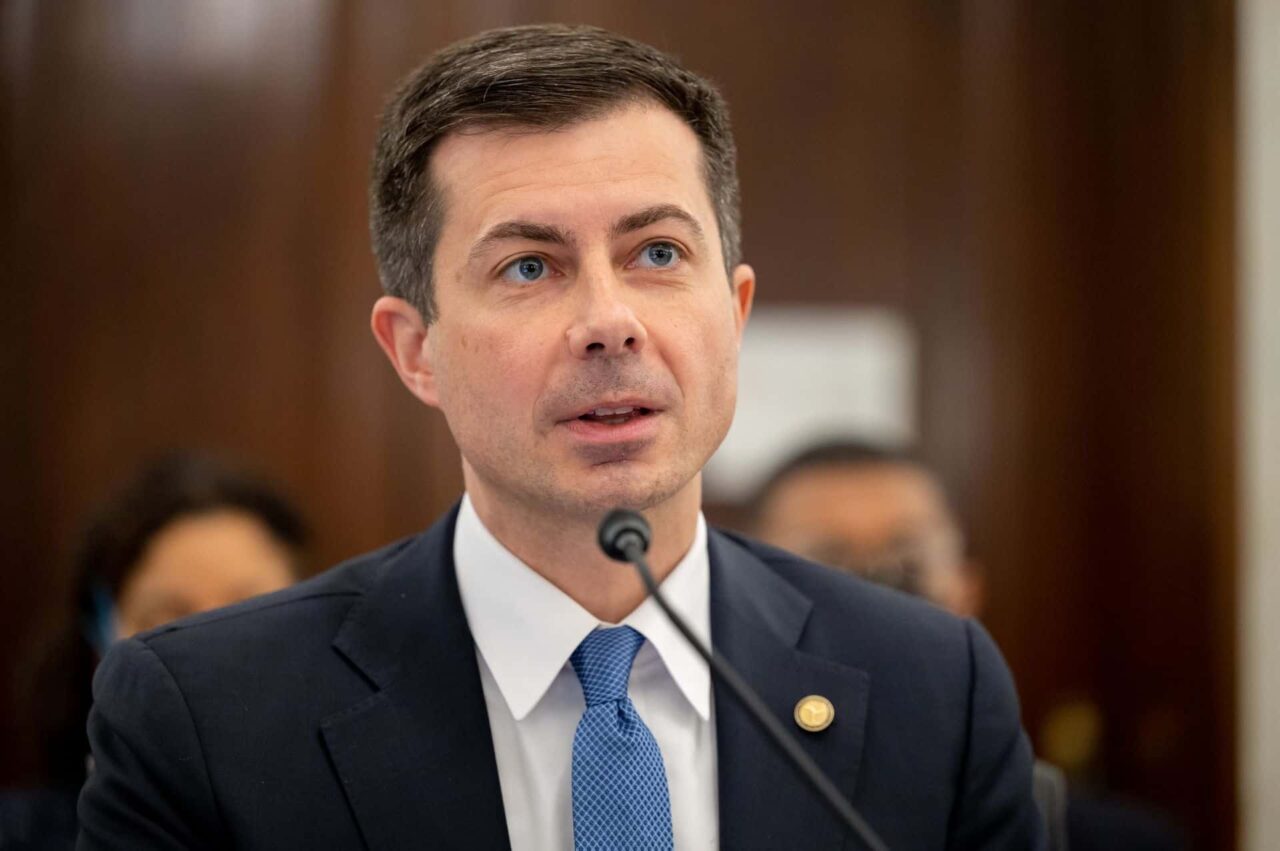 More than half the money will fund transportation safety projects in Hillsborough County.
Florida is getting a federal funding boost to reduce its rising number of roadway fatalities.
On Wednesday, U.S. Transportation Secretary Pete Buttigieg announced 37 grant awards for communities in Florida totaling $67 million through the Safe Streets and Roads for All (SS4A) Grant Program.
The funds, which come through President Joe Biden's Bipartisan Infrastructure Framework, will help finance regional, local and tribal initiatives to prevent deaths and serious injuries on Sunshine State roads.
More than half the money this round will cover a trio of "implementation projects" in Tampa, Hillsborough County and Gainesville.
"Every year, crashes cost tens of thousands of American lives and hundreds of billions of dollars to our economy; we face a national emergency on our roadways, and it demands urgent action," Buttigieg said. "We are proud that these grants will directly support hundreds of communities as they prepare steps that are proven to make roadways safer and save lives."
While the number of serious injuries has steadily declined over the last decade, fatalities have run the opposite way, data from the Florida Department of Highway Safety and Motor Vehicles shows.
Roadway deaths in Florida have risen nearly every year since 2013. Between then and 2020, the most recent year for which full data is available, annual fatalities have risen nearly 50% from 2,224 to 3,332.
That's despite more than 90% seatbelt use, ubiquitous speed limit postings, the broad availability of rideshare services and the 2019 enactment of a law making distracted driving a primary offense in Florida, meaning police only need to see motorists using mobile devices to stop them and issue a citation. Lawmakers passed a similar measure in 2009 for seatbelts, resulting in a brief decline in deadly crashes.
To help reverse this trend, Tampa will receive $20 million for its Tampa — Systemic Applications for Equity (T-SAFE) program. On average, 44 people die and 289 suffer life-altering injuries on Tampa roads annually, according to the U.S. Department of Transportation (USDOT). The T-SAFE program involves installing pedestrian mid-block crosswalks, backplates with reflective borders, flashing beacons, high-visibility crosswalks and signage enhancements across the city's road network.
Tampa will also install new sidewalks and added safety measures — including street light upgrades, separate bike lanes and school speed zone flashers — near schools, parks and transit routes.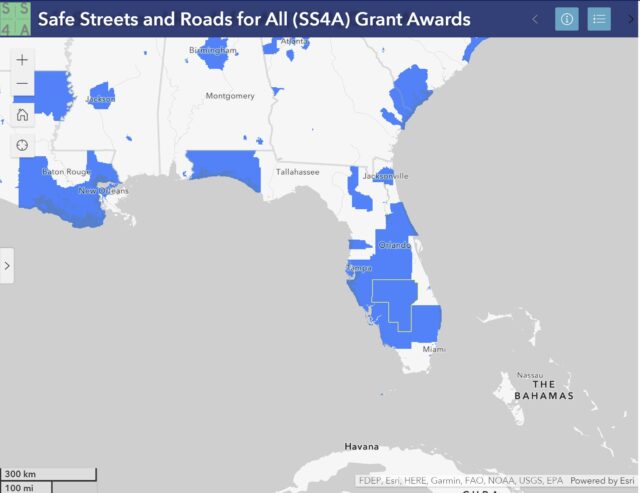 Hillsborough County, which has the highest traffic fatality rate per capita among large counties in the U.S., is on track to receive $19.7 million for its "Data Driven Equitable Transportation Safety Programs." The funds will help improve safety for pedestrians, bicyclists, transit users and drivers through the installation of "proven safety countermeasures like sidewalks, curb bulb-outs, bike lanes, and speed management strategies" at 22 locations throughout the county.
Gainesville will receive $8 million to convert 4.15 miles of University Avenue, now a hotspot for pedestrian and bicyclist crashes, into a "Complete Street" designed and operated to optimize the safe mobility of drivers, pedestrians, bicyclists and transit riders. The project's scope includes narrowing and repurposing part of the roadway from four to two lanes, adding dividers to the route and installing a buffered, two-way cycle track, among other improvements.
The remainder of the funding is going to 34 "action planning grants" across Florida to help improve roadway safety. Such grants, USDOT said, are meant to assist communities without existing roadway safety plans to reduce fatalities and lay the groundwork for comprehensive sets of action.
The largest recipient is the Broward Metropolitan Planning Organization (MPO), which is on track to get $5 million for its regional comprehensive safety action plan.
Other recipients include Alachua County, Bay County Commission, Central Florida Regional Planning Council, Charlotte County Punta Gorda MPO, Collier Metropolitan Planning Organization, Columbia County, Hernando County, Lee County MPO, Manatee County, MetroPlan Orlando, Palm Beach County Commission, Pinellas Planning Council, Polk County Commission, River to Sea Transportation Planning, Sarasota County Commission, West Florida Regional Planning Council and the municipalities of Atlantic Beach, Boca Raton, Fort Pierce, Greenacres, Holmes Beach, Jacksonville, Key West, Miami Beach, Mount Dora, North Miami Beach, Opa-locka, Palatka, Palmetto Bay, Port Richey, Wellington and West Palm Beach.
Additional funding is likely to come, as this is just the first round of the program. In addition to SS4A grants, the Federal Highway Administration on Thursday will announce $21 million for 70 tribal governments to improve safety on tribal lands.
USDOT has also launched a data visualization tool showing crash hotspots to help target resources.
In Florida, the highest concentration of crashes between 2016 and 2020 occurred in the Miami, Orlando, Tampa and Jacksonville areas. However, the tool showed most of Florida as having high levels of fatalities.