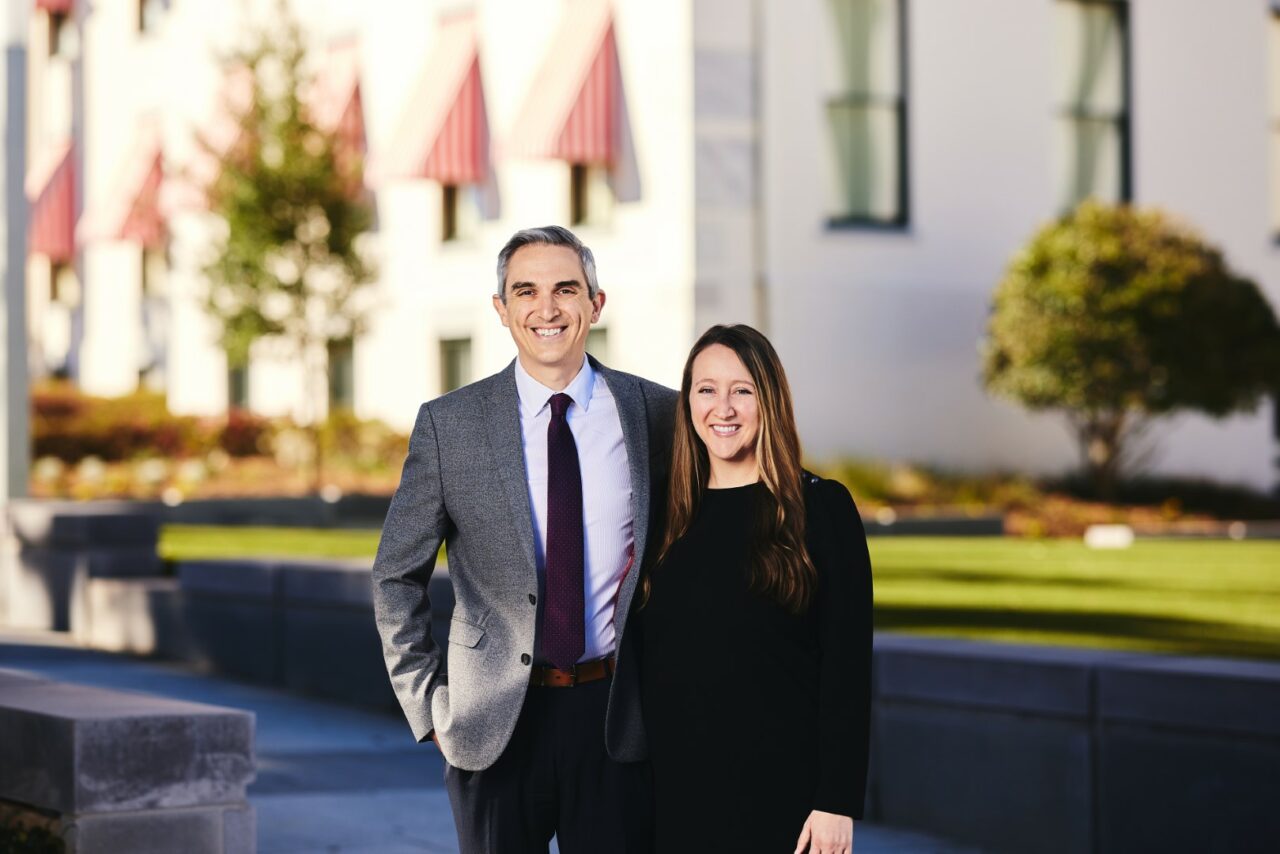 'We're pretty pathetically in love.'
The first encounters between Jenna Box and Arek Sarkissian did not seem propitious.
At The Gainesville Sun, he was a police reporter, and she was a copy editor. Her desk sat between the newsroom and the snack bar, so Arek would walk past her carrying a squawking police scanner. She did not appreciate the interruption.
"Every time I saw her, she would just squint her eyes at me," he reported.
An editor ultimately introduced them with the admonition "you need to watch Jenna because if you cross her, she'll cut you," but Arek was struck by Cupid's arrow. Not that he could do anything about it, she had a boyfriend. They did, however, become Facebook friends.
Fast forward a month; Jenna's boyfriend was history, Arek had misspelled a name in a story and couldn't get ahold of the copy desk, so he messaged Miss Squinty Eyes via Facebook so she could save his bacon.
They connected but he was "too chicken" to ask her out "because I didn't want to get involved in a newsroom romance and I was trying to rebuild my career."
In the meanwhile, Jenna entered a newsroom raffle for some Gator basketball tickets, deciding to herself that if she won them, she'd ask Arek to join her. She won them.
They agreed to keep their dating status on the QT, but at the game, "my buddy who used to work at the Alligator was the photographer that day and he saw me up in the stands and took a picture of Arek and me," Jenna said.
Early in their dating life, Arek would return to Tallahassee as part of the capital press corps, ultimately landing as a POLITICO reporter, focusing his coverage on health care and medical marijuana. In 2015, he did visit Jenna in Ocala, where she was filling in to do some night copy editing, to surprise her with a proposal over pizza. The rest of the romantic evening was spent in the newsroom while Jenna put the paper to bed.
Jenna would follow Arek to Tallahassee, first landing a job at Sachs Media, where she climbed the ranks, ultimately becoming Deputy Director of Public Relations. She moved to the Florida House as Communications Director four years later.
They were married at their church home at St. John's Episcopal Church in 2016 by former Monroe County Sheriff and current Episcopal priest Allison DeFoor.
"Jenna is definitely the polar opposite of me," Arek said. "I'm a typical reporter: 'Let's go out and … kick butt and take numbers, and Jenna is more calm and methodical. She definitely keeps me grounded."
Like many couples, the Sarkissians' first "child" was a failed foster dog named Lucky, described by Arek as "the most sweetest, kindest, most gentle dog ever." After being bitten as a child, Jenna was afraid of dogs, but the 50-pound lab/spaniel mix's demeanor won her over.
"I guess one of the cool things about our marriage is we were able to bridge a lot of the fears that we have with each other," he said.
Arek has a daughter, Samantha, now 18, from a previous relationship and their family has grown with the addition of two more girls, Ava, 21 months old, and Anna, who turns 7 weeks old on Valentine's Day.
POLITICO has a generous paternity leave policy which Arek plans to tap into after sine die so baby Anna can stay home for a few more months before starting day care.
In her new job as Director of Special Projects and Open Government, Jenna is basically the person in the House who handles open records requests. To avoid conflict, when her husband makes a request, she hands it off to a deputy. But the press versus government debate has become the topic-that-shall-not-be-discussed between the couple.
"That's the only little hot spot for work," he said. "If there's one thorn in our marriage, it's my frustration with getting information in general out of the Process and then her obviously not coming to the defense of it. I think within six months we realized there's a lot of conversations we should have to stay away from and that was it. We might complain about our day together like a married couple would, but we don't launch into tirades or anything like that."
Bottom line, according to Arek: "We're pretty pathetically in love."