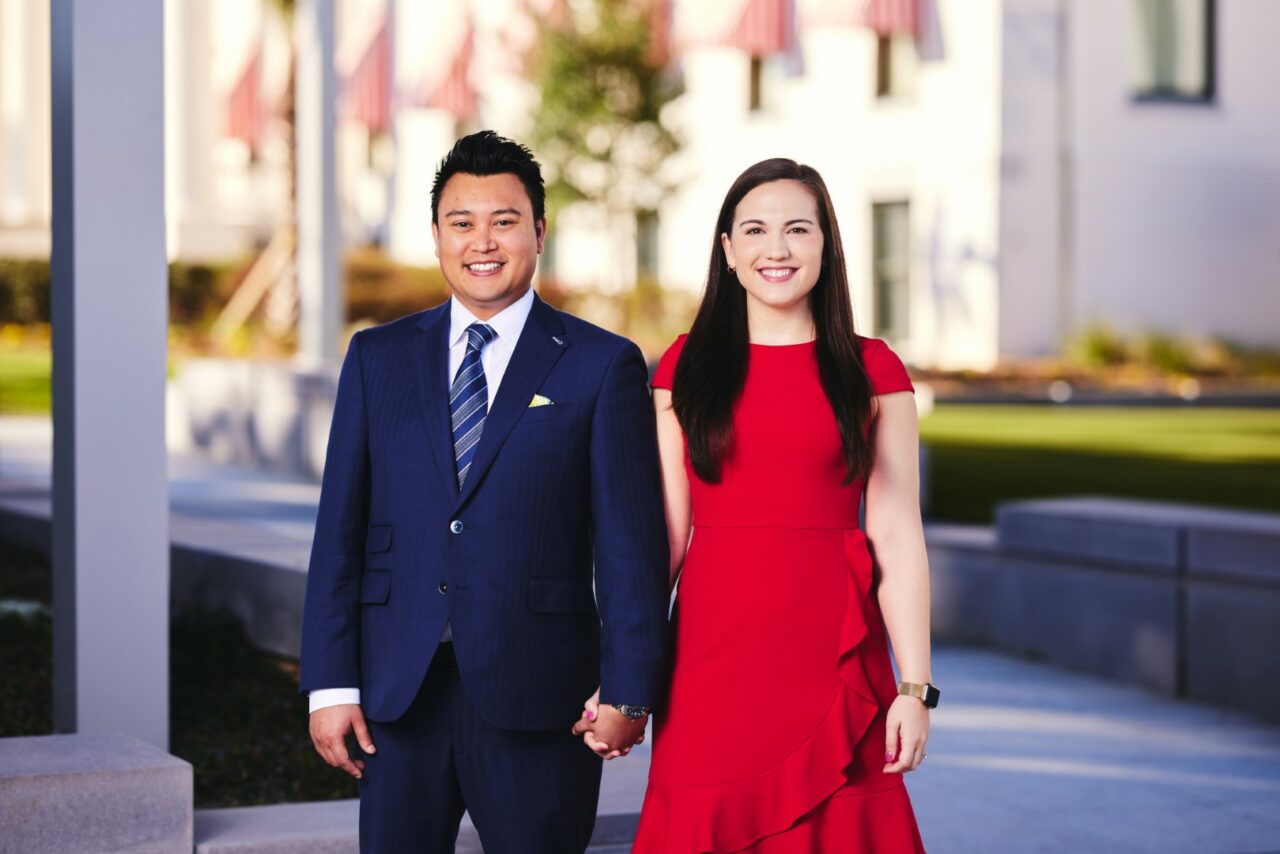 'He wasn't her type at first — but it turns out he's better.'
The love story of Aly Coleman and Omar Raschid has all the elements of a really good rom-com: an unlikely couple, dogs as romance facilitators, wingman friends, the friend zone, alcohol-fueled drama, a (sort of) breakup, all ending with a — spoiler alert — wedding.
Here's the setup:
The year is 2019. Uber-extrovert Omar, a 35-year-old transplant from Washington, works for the Florida House (he's now a lobbyist at Johnston & Stewart). Soft-spoken Aly is a 25-year-old from Pensacola working as deputy director of communications at the Department of Children and Families (she's now a senior vice president at On 3 Public Relations).
A friend of hers and a friend of his decided Aly and Omar needed to meet, so they arranged for the pair to sit together at CollegeTown bar Madison Social during a March Madness game.
Let's just say, for Aly, lightning didn't strike.
"Obviously, she catches my eye, and she does not give me the time of day," Omar recalls.
In her defense, Aly had no clue about the machinations of their friends and the Southern girl didn't see a "big city pretty boy" (her words) as potential husband material.
After some bar hopping, Aly called it a night early and (foreshadowing) went home to take care of her dog, Georgie.
Time passes, and Omar tries to put himself where Aly is, but … no spark.
"I get desperate and the only thing I know about Ali aside from … obviously she's very pretty, is that she loves her dog," he said. "I thought maybe I could get her attention by talking about dogs. So, I sent her a Facebook message and was like, 'Hey, I'm thinking about adopting a dog. Do you have any suggestions?'"
Friendly online interactions ensue, but it's Session, and acquiring a dog must wait until Sine Die. The day after the hankie drops, he visits the animal shelter, thinking he'll fill out the paperwork and will have to wait a few days before adopting. He walks out with an energetic boxer mix puppy.
"First thing I do with her in the car, is take a picture of her and send it to Aly and say, 'Hey I got a dog, do you want to walk them?'"
And so begins months of dog walks at Cascades Park with Aly firmly placing the romantically inclined Omar in the dreaded best friend zone.
Aly was aware of Omar's yearning for more. "I was very against it, I was stubborn and once I make up my mind, it's hard to persuade me otherwise," she said. "I even had feelings, but I was telling myself, 'This is not the guy that you are going to marry, this is not like it's just not what you envisioned.'"
One night, their group was socializing, and a friend was feeding him tequila shots when Omar spied Aly chatting up another man. He narrates: "I finally have enough liquid courage in me as she's mid-flirt with some other gentleman to step in between them and say, 'This guy, really?' She went off, and that just really set me off."
After three agonizing days of not speaking, Aly sets up a "come-to-Jesus" meeting and offers three alternatives: continue being friends, never speak to each other again, or go on one date.
While both technically millennials, Aly and Omar are "cuspers," on the younger and older ends of their generation.
During one of their dog walks, Aly mentions that "High School Musical" is a definitive marker in her life. On their first date, Omar brings her home after dinner with all three High School Musical movies ready for them to watch and a box of her favorite snacks.
"I said that like six months prior and I didn't even know that he was paying attention," she said. "It was just very sweet, and he won me over. I gave in and stopped being stubborn."
The couple would bond over a mutual love of movies, especially the Star Wars franchise (He proposed on May the Fourth). She would come to share his obsession with comics and superhero movies. Much of their courtship happened during COVID-19, during which time the pair watched all 24 Marvel movies in chronological order.
The couple set their wedding for Saturday, Oct. 1, 2022, in Pensacola. About a week earlier, one might recall, a storm named Ian was wending its way into the Gulf of Mexico.
"I'm freaking out because I've never experienced something like that before and to us Yankees, hurricanes are a big deal," Omar said. "I was refreshing the spaghetti models every five minutes."
Aly remained cool and collected at first, but even when it became obvious Pensacola was out of the cone and the hurricane actually hit southwest Florida, cancellations started coming in for guests traveling by air and those living in Tampa. "We kind of switched roles in that week," he said.
Their officiant was former Rep. and now Okaloosa County Commissioner Mel Ponder. "He gave us great counsel and he was the one that kept saying, 'I will marry you to that day no matter where we are, don't worry, everything's gonna be OK."
And it was.
The moral of the story, courtesy of Omar and Aly's wedding website:
"Aly will tell you, a big smile on her face, that Omar is the best thing to ever happen to her; the greatest, most exciting love she'll ever know. He wasn't her type at first — but it turns out he's better."