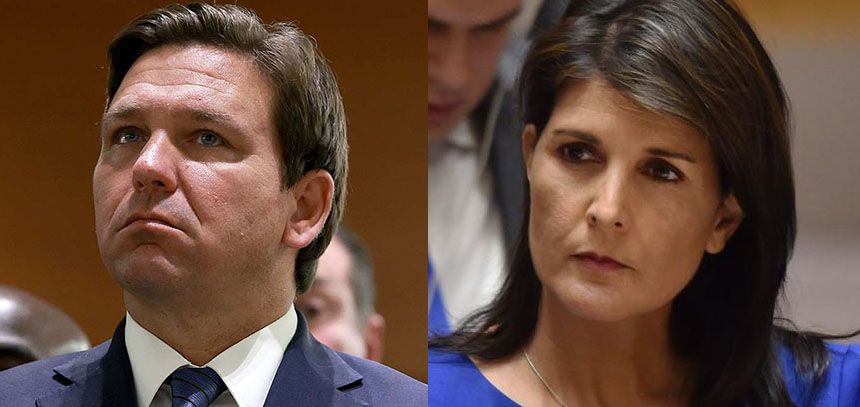 'Wouldn't you like to know?'
A Jacksonville reporter took a swing and a miss at trying to get Florida's Governor to break 2024 news Tuesday.
Asked about the entry of Nikki Haley to the presidential race, and whether he wanted to make his own announcement, Gov. Ron DeSantis offered a simple quip.
"Wouldn't you like to know?"
The crowd at the local trucking company, one made up of politicians from the region and legislative leadership, laughed and applauded at the latest indication that DeSantis is taking his time to roll out what is a widely expected formal announcement of a run.
As The Washington Post reported, Team DeSantis is getting ready for potential action in early states New Hampshire and Iowa, which have a disproportionate impact on the rest of the calendar. Familiar faces Phil Cox and Generra Peck reportedly will be central to that effort.
The Governor has struck a balance between his official duties and what seems to be his best shot for the White House, with a potential General Election against President Joe Biden as the endgame. He has been deliberately coy for months when asked.
"Everyone wants to talk about me in Florida," DeSantis said this summer. "Like, I'm just sitting here, little ol' me, doing my job!"
Perhaps the toughest provocations to resist have come from former President Donald Trump who, while he denies calling DeSantis "Meatball Ron" in private, has been willing to float scurrilous stories that DeSantis was "grooming" students during his short-lived career as a teacher at a college preparatory school.
"I spend my time delivering results for the people of Florida and fighting against Joe Biden. That's how I spend my time. I don't spend my time trying to smear other Republicans," the Governor told a crowd in Ocala last week in response.
It's unlikely that Haley will stoop to Trump's depths, but at least one new single-state poll suggests her candidacy would make it harder for DeSantis to consolidate the anti-Trump vote.
The Missouri Scout private news service rolled out a Remington Research poll showing Trump garnering 38% support, three points ahead of DeSantis' 35%. Haley was the choice of 8% of respondents, with undecided voters making up 19% of the sample.