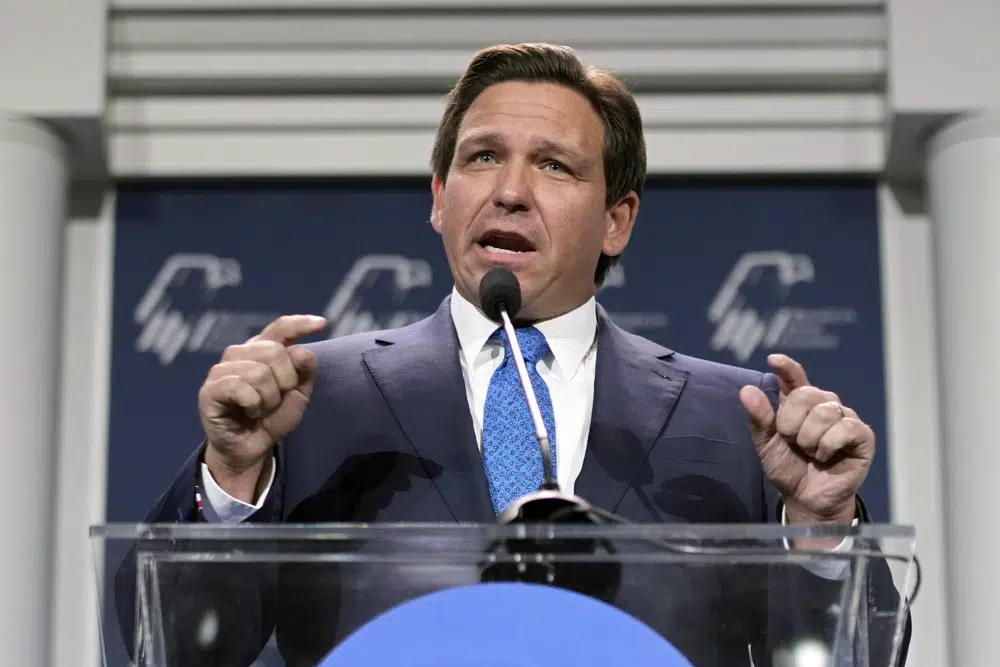 'We don't want to wait here in Florida until we're all trapped in a digital dungeon.'
Gov. Ron DeSantis' latest proposal to target Big Tech censorship and install privacy protections includes a ban on TikTok on networks operated by public K-12 schools and universities.
DeSantis said the the popular video app, which critics say is tied to China's communist government, operates differently in China than in the U.S., where reams of data are collected from users.
"In China it's all very wholesome and patriotic, in the U.S. they're trying to inject as much garbage as possible," DeSantis told reporters in West Palm Beach.
The TikTok ban expands on DeSantis' executive order last year banning the app from devices issued by the state government, but it's part of a broader proposal aimed at restricting large tech firms such as Google, Facebook, Twitter, Amazon and Apple, from censoring or abusing the privacy of users.
Other parts of the plan, dubbed the "Digital Bill of Rights" by DeSantis, would ban tech giants from surveilling private conversations without explicit authorization from users; ban "unfair censorship" on social media platforms; require transparency in search engine algorithms and require tech firms to allow users to control their personal data.
Stemming from revelations from Twitter, in which government officials requested posts be taken down, which were the subject of recent hearings held by House Republicans in Congress, DeSantis is also seeking to ban state and local government officials from coordinating with tech firms to censor online content.
"That's a collusion between government and the private sector to deprive you of your rights," DeSantis said.
DeSantis acknowledged that courts in Florida have struck down parts of the last Big Tech crackdown law he signed in 2021, which sought to prohibit platforms from banning political candidates. He noted that courts in Texas have upheld a similar law and argued "old school, Chamber of Commerce-type" judges don't understand the power of Big Tech platforms and the need for government restrictions.
"You have some of these massive companies that have huge amounts of power to control the discourse, control what you see," DeSantis said. "We've got to fight back and provide protections."
Lawmakers are expected to consider the plan in their 60-day Regular Session, which begins March 7.
DeSantis already has support from Attorney General Ashley Moody, who was on hand Wednesday to back the plan and who argued the state needs to act before tech giants gain more power.
"We don't want to wait here in Florida until we're all trapped in a digital dungeon," Moody said.