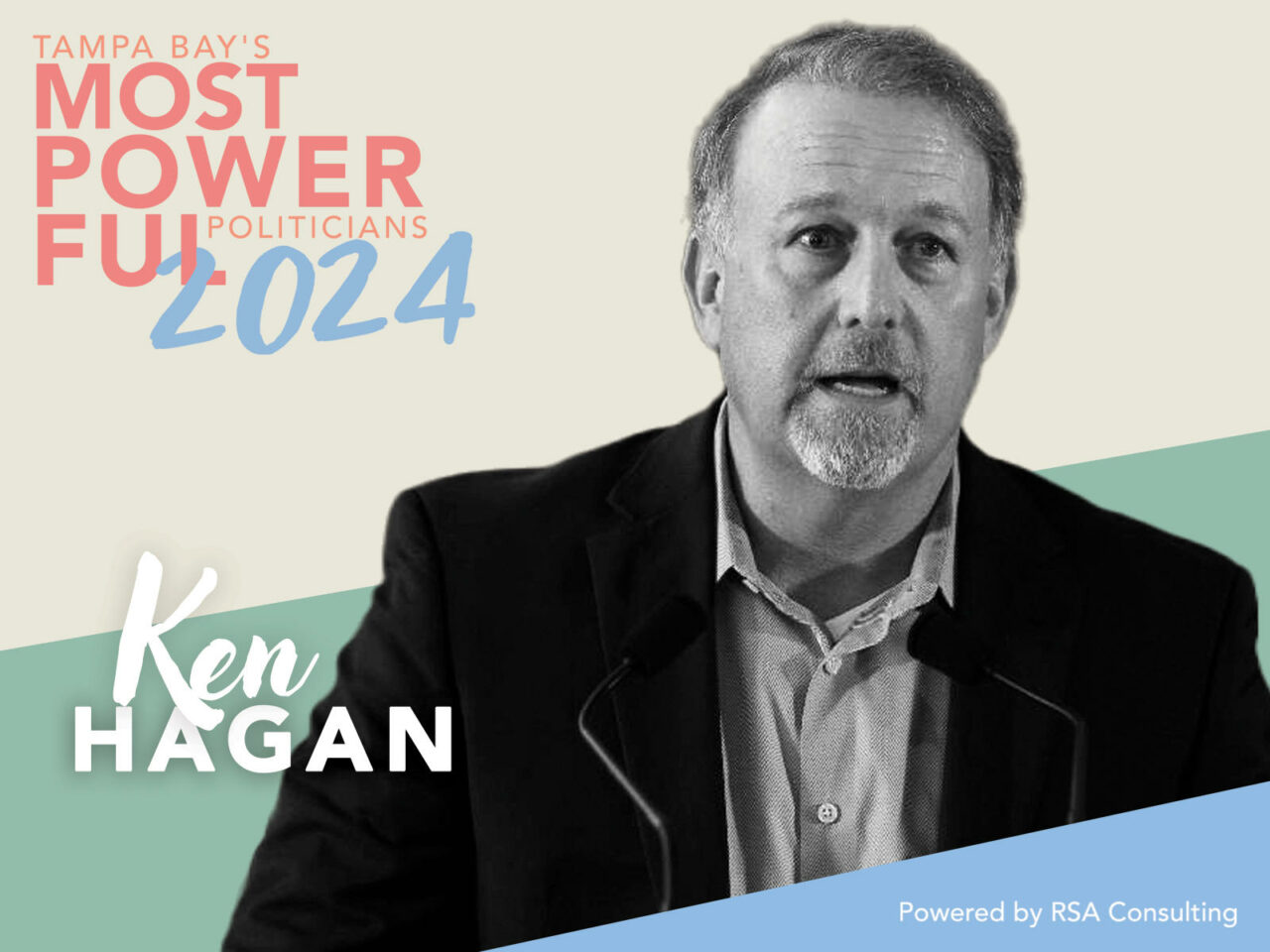 Not only will he wield the gavel and control the board's agenda, Hagan will preside over a Republican-controlled body.
Hillsborough County Commissioner Ken Hagan hasn't made the list of Tampa Bay's Most Powerful Politicians since 2019, when he was at the center of efforts to woo the Tampa Bay Rays to Tampa or Hillsborough County with a new stadium in Ybor City.
That plan went kaput, and so it seemed, did Hagan's obvious relevance.
But 2023 brings a new era of possibility for the longtime Republican Commissioner.
"Since he was first elected to the board in 2002, Commissioner Ken Hagan's seniority in Hillsborough County government continues to grow. Commissioner Hagan is a policy master who knows how the process works and who the players are," said RSA Consulting President and CEO Ron Pierce. "He always seems to find a way to thread the needle on complex discussions to get the 4 votes needed to pass. The board's shake-up at the last election and a new Republican majority has made him even more influential, and his leadership is critically important to the new board members."
Serving since 2002, Hagan was tapped this year to be the Commission Chair. Not only will he wield the gavel and control the board's agenda, Hagan will preside over what is now a Republican-controlled body, thanks to a red wave in the 2022 Midterms.
His leadership is already in action. Commissioners voted unanimously in mid-February to keep new stores that sell vaping products away from schools, an effort to minimize youth vaping. 
The vote came after Commissioners last year inquired about how many stores that sold vaping products were located within 500 feet of a Hillsborough County School. The answer was shocking — 200 retailers were operating vape shops of those that sold vape products on the same block as schools.
Current Hillsborough ordinance already prohibits selling vaping products to underage individuals, but does not limit how close a store can be to a school. 
But the biggest area Hagan will likely find himself leading this year is on the complicated matter of refunding sales tax payments.
The county collected nearly $570 million from the voter-approved All For Transportation sales tax before it was struck down as unconstitutional. That money has been sitting in escrow ever since waiting for instruction on how to spend it.
Gov. Ron DeSantis, as part of his proposed budget, has said the money must be refunded to consumers first, a process that will be complicated given how difficult it will be for consumers to quantify how much tax they are owed, before any excess is spent on road and bridge projects.
Under that plan, a third-party claims administrator will establish a refund process, with any remaining revenue to be distributed to the Florida Department of Transportation next April. 
With Hagan at the gavel, Commissioners had already outlined plans for the funds, including $130 million to pave 680 miles of roads. Smaller asks in those priorities — such as Commissioner Pat Kemp's request for $25 million for a maintenance facility for the Hillsborough Area Regional Transit Authority — will have to be reevaluated as the Governor's proposal blocks any funds from being used on transit projects.
That's a minefield Hagan will be charged with navigating. 
While Hagan's hay day of being the top negotiator on the Rays stadium project may be quiet, it's not entirely doused. The Tampa Bay Rays, along with developer Hines, were selected by St. Petersburg Mayor Ken Welch to lead redevelopment of the Tropicana Field site where the team currently is under contract to play through the 2027 season.
That seems to suggest their future is in St. Pete, but the Rays have not committed to that. And, as Chair, Hagan also ensured he would continue to sit on the Tampa Sports Authority, where he will likely continue to wield power on any behind-the-scenes stadium talks. 
"Years of experience, fundraising prowess, and return to the majority has him positioned for major decisions regarding Rays and Buccaneers stadium funding," said Joe Farrell, Vice President of Public Affairs for the Pinellas REALTOR Organization. 
Methodology
We define the Tampa Bay region as Pinellas, Hillsborough and Pasco, but can also include Hernando, Polk or Sarasota — if the politicians from those counties impact either Pinellas or Hillsborough.
We define a politician as being in office or running for office.
Being first on a panelist's list earns the politician 25 points, second earns them 24 points and so on, to where being listed 25th earns a politician one point. Points are added and, voilà, we have a list.
Special thanks go to our experienced and knowledgeable panelists, who were essential to developing the 2023 list: Christina Barker of the Vinik Family Office, Ashley Bauman of Mercury, Ed Briggs of RSA Consulting, political consultant Maya Brown, Ricky Butler of the Pinellas Co. Sheriff's Office, Reggie Cardozo of The Public Square, Ronald Christaldi of Schumaker, Barry Edwards, Joe Farrell of Pinellas Realtors, pollster Matt Florell of Vicidial Group, Shawn Foster of Sunrise Consulting Group, Adam Giery of Strategos Group, political consultant Max Goodman, Mike Griffin of Savills, Todd Josko of Ballard Partners, Natalie King of RSA Consulting, political consultant Benjamin Kirby, Merritt Martin of Moffitt Cancer Center, Mike Moore of The Southern Group, Ron Pierce of RSA Consulting, J.C. Pritchett, pastor of St. Pete's Faith Church, Darren Richards of Tucker/Hall, Preston Rudie of Catalyst Communications Group, Amanda Stewart of Johnston and Stewart, Bemetra Simmons of the Tampa Bay Partnership, and Alan Suskey of Shumaker Advisors and communications consultant Janelle Irwin Taylor. With Michelle and Peter Schorsch.