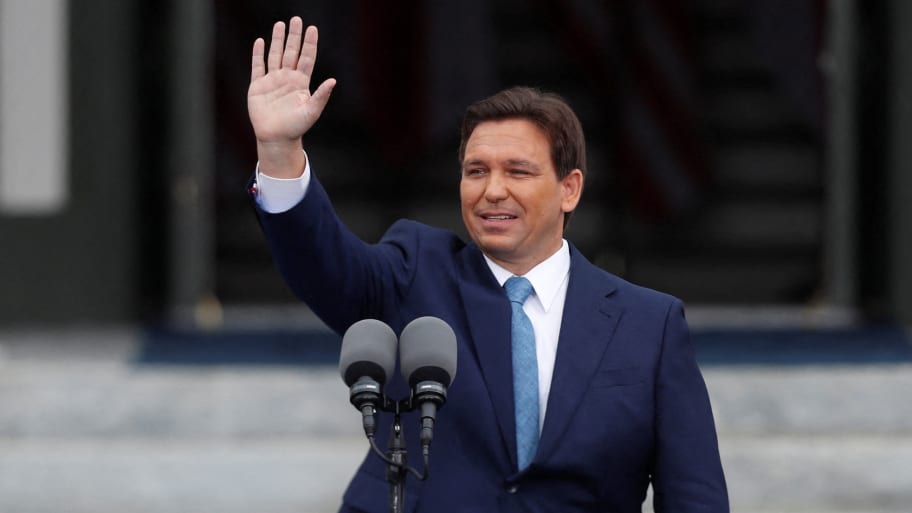 Expect this to be an early priority in 2023 Legislative Session.
Progressive principles in banking have been a frequent target of Gov. Ron DeSantis, and a new proposal to remove them from state investment considerations has bicameral backing.
Leaders of the House and Senate are hailing Rep. Bob Rommel's legislation that would "protect Florida retirement accounts and state investments from financial discrimination by eliminating the consideration of environmental, social, and governance (ESG) investment strategies" and "protect Floridians from being denied loans based on their political or social beliefs."
The legislative intent of HB 3 was hailed by DeSantis recently.
"By applying arbitrary ESG financial metrics that serve no one except the companies that created them, elites are circumventing the ballot box to implement a radical ideological agenda. Through this legislation, we will protect the investments of Floridians and the ability of Floridians to participate in the economy," DeSantis said.
"Florida's investment decisions should be based solely on financial or pecuniary factors, not political virtue signaling through radical ESG investment strategies," added Speaker Paul Renner.
"When financial institutions use ESG to make investment decisions, they drive up the cost of living, undermine our national security, and bypass our democratic process. Those with the responsibility of investing state dollars, like state employee pension fund managers, have a primary fiduciary duty to act in the sole financial interest of their client and should not capitulate to the ESG demands of martini millionaires."
Senate President Kathleen Passidomo is on board as well.
"Speaker Renner and Governor DeSantis have been leaders in creating public awareness of this critical issue and developing concrete steps the Legislature can take this session to protect the retirement funds of state and local employees by guarding against misguided and discriminatory ESG policies," Passidomo said.
"We all want our state employees and local employees — including many classroom teachers and law enforcement officers who are part of the state retirement system — to have a strong retirement they can count on. Together, we are going to make certain that state funds are managed to prioritize the highest return on investment, as our retirees and taxpayers expect."
Given GOP supermajorities in both chambers, the rousing support from leadership is the latest indication that this bill will be a victory for DeSantis early in this Legislative Session.
"We will protect our state's fiscal health and retiree nest eggs from the radical ESG agenda by ensuring bond rating agencies and financial institutions focus on their fiduciary responsibilities and prevent Floridians from being discriminated against for personal beliefs," Chair Rommel said.
"I look forward to working with Speaker Renner and Governor DeSantis to fight back against corporate elites who threaten to hijack our democracy for their political gain."
Those paying attention to the Governor's press conference last week in Naples won't be surprised by the legislative intent.
Following up on last year's ban of ESG investments on the state level, such as pension funds, the Governor is rolling out this year's enhancements.
These include putting that ban into statute, enactment of protections against "discrimination for religious, political and social beliefs," a ban on the use of "social credit scores," and a ban against housing deposits in "institutions pursuing this woke ESG agenda." Additionally, the state will keep ESG out of procurement, contracting, and "local and state bonds."
"We will be standing up for folks in Daytona and Destin, not following the elites in Davos," DeSantis contended.
He said the "Davos" crowd is targeting "domestic energy production." ESG also imperils "national security" by increasing compliance costs, DeSantis argued, inhibiting the "recapture of supply chains" from China.
Additionally, DeSantis claimed it "violates fiduciary duty" by using "shareholder assets" to "advance a political agenda."
"Their targets always seem to be those people who are disfavored by the jet setters in places like Davos," DeSantis decried. He singled out the GEO Group as an example of a company "de-banked" because "they were contracting with the actual federal government" on immigration enforcement.
"That is using your economic power to enforce a political agenda," DeSantis argued.
Other key players, including Chief Financial Officer Jimmy Patronis, have also signaled support.
"When it comes to ESG, many of us have been boiled like a frog. The Governor is right that over time ESG has wound its way into too many aspects of American society, and pulling it back is going to take work. This proposed legislation puts returns first, it puts the Constitution first, and it puts corporate America on notice that if they play politics with Florida residents, we'll have the tools to hold them accountable," Patronis asserted.