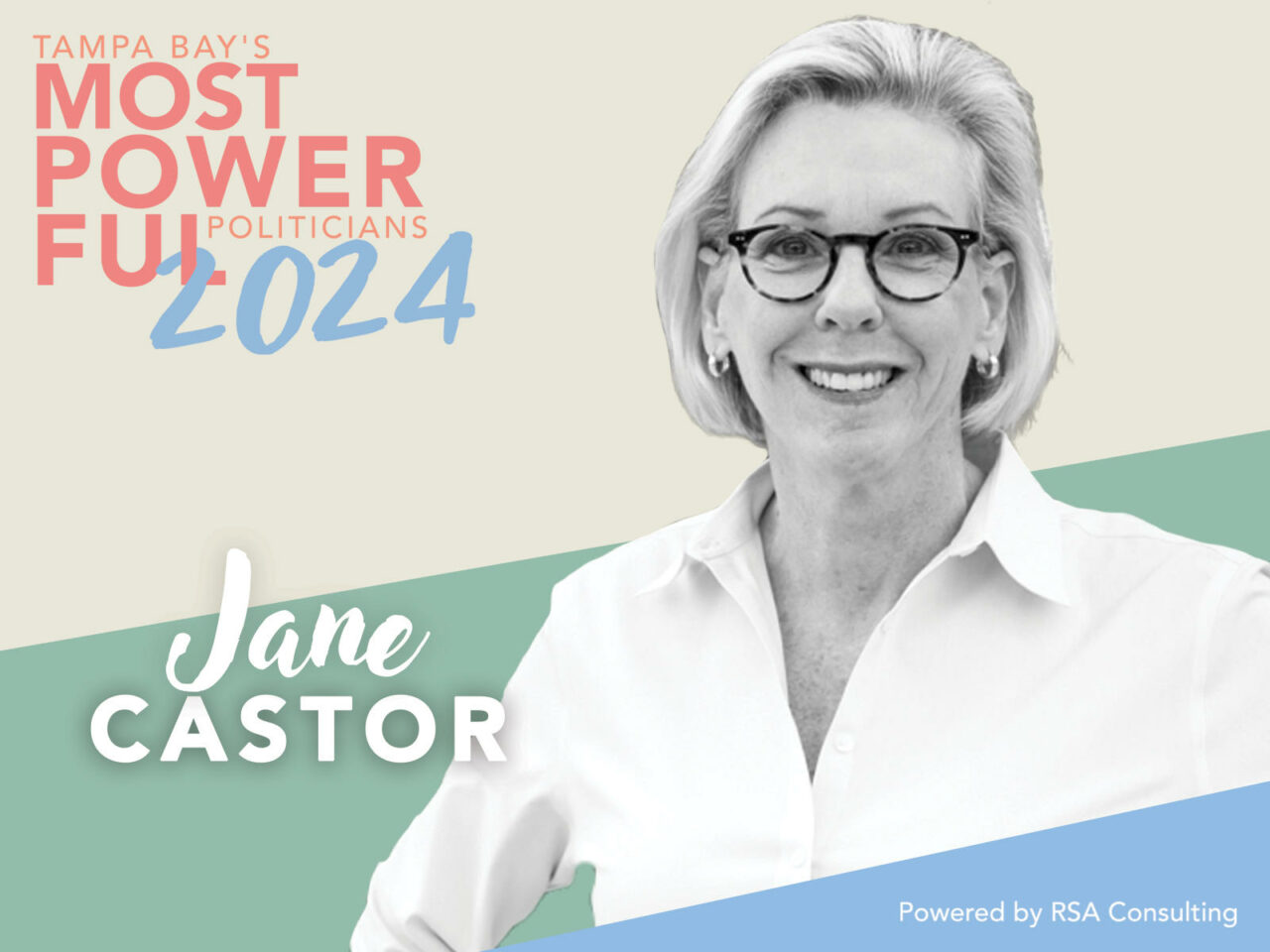 Castor has weathered the rough patches while excelling during the good times.
If Tampa Mayor Jane Castor has a standout flex, it's an easy one: She was practically re-elected to the highest office in the region's largest city without opposition. 
Technically, Castor will be on the ballot in March, but no one else will. Her only opposition is a write-in candidate, who stands about as much chance of being elected as a frozen iguana that just fell from a South Florida palm tree. 
That sort of re-election isn't just a flex, it's a reflection of the kind of power that says, "Don't even bother."
How Tampa's first openly gay Mayor got to that point though, is the fun part. 
"Mayor Jane Castor embodies the power of determination and progress. Her visionary leadership is driving Tampa Bay towards a brighter future," said communications consultant Ashley Bauman, Castor's former Communications Director.
To be clear, there have been bumps along the way, but Castor has weathered the rough patches while excelling during the good times. 
"Mayor Castor's pride for her city shines through everything she does. She embodies Tampa's bold spirit, and her leadership has been a steady hand through both the city's challenges and championships," said RSA Consulting President and CEO Ron Pierce. "Mayor Castor has certainly played a role in the region's tremendous growth over the last few years and has high approval ratings to show for it. The fact that she is unopposed in the upcoming election is evident of just how well-loved and respected she across the city."
Early in her tenure, in 2019, Castor launched and City Council approved the nearly $2.9 billion Progressive Infrastructure Plan to Ensure Sustainability, or PIPES, program. It's the largest public works investment in Tampa's history.
And throughout 2022, things started really coming together, with $200 million in investments in East Tampa, MacFarlane Park, Forest Hills and Virginia Park over the next three years. In November, the city began construction to replace an 80-year old water main, a $3.8 million project.
Castor also committed Tampa to the Vision Zero Action Plan, which aims to eliminate roadway fatalities and severe injuries while increasing safe, healthy and equitable mobility for all. The program was first implemented in Sweden in the 1990s and is now gaining momentum in U.S. cities. 
Castor made key progress on the Vision Zero plan in early February, with a $20 million federal grant, along with a $5 million local match, to make major transportation improvements along Tampa streets. The funding, through the Safe Streets and Roads for All grant program, will help pay for several shovel-ready and other road safety improvement projects, mostly in East Tampa, West Tampa and the University area. 
Projects include bike lanes and safety improvements to Avenida Republica de Cuba in Ybor City; a Main Street project at Habana Avenue, MacDill Avenue and Armenia Avenue; Twiggs St. in downtown; and Habana Avenue in West Tampa, among others. 
Following her predecessor's lead, Castor is building on Bob Buckhorn's legacy Riverwalk with expansion plans west of the Hillsborough River. In February, the city announced it was taking the next step in the West River District BUILD Grant project.
The 5-mile-long project will connect the existing trail into West Tampa, Tampa Heights, Bayshore Boulevard, Hyde Park, Riverside Heights, North Franklin Street and Bowman Heights.
Also in February, the city received a more than $5 million grant from the U.S. Department of Transportation through the Reconnecting Communities Pilot Grant Program to improve the Ashley Drive interchange and better connect neighborhoods to downtown Tampa, another critical part of increasing pedestrian, cyclist and roadway safety. 
Perhaps it's that growing resume that helps Castor thrive even when she's under fire. 
When video surfaced of Castor's chosen Police Chief, Mary O'Connor, flashing her badge during a traffic stop and asking the Pinellas deputy who pulled her and her husband over to "just let us go," Castor's critics pounced. 
Castor immediately suspended O'Connor and she later resigned, but not before the situation made national headlines and drew into question whether Castor should have hired her in the first place. O'Connor had once been arrested and charged with battery on a Hillsborough Sheriff's deputy in 1995 during a DUI arrest of her then-boyfriend, now husband, Keith O'Connor. 
Castor, as she always does, didn't flinch. She issued a to-the-point statement acknowledging the situation, demanding better from law enforcement leadership and, in a particularly poignant move, noted how she had given O'Connor a second chance, as she "believe(s) in second chances for people."
And perhaps this is where she shines brightest:
"Like Captain Marvel, she's the leader, doesn't always go along with the team's (Dem Party) playbook, and like her or not, it's clear she is in charge," said Pinellas REALTOR Organization Vice President of Public Affairs Joe Farrell.
Methodology
We define the Tampa Bay region as Pinellas, Hillsborough and Pasco, but can also include Hernando, Polk or Sarasota — if the politicians from those counties impact either Pinellas or Hillsborough.
We define a politician as being in office or running for office.
Being first on a panelist's list earns the politician 25 points, second earns them 24 points and so on, to where being listed 25th earns a politician one point. Points are added and, voilà, we have a list.
Special thanks go to our experienced and knowledgeable panelists, who were essential to developing the 2023 list: Christina Barker of the Vinik Family Office, Ashley Bauman of Mercury, Ed Briggs of RSA Consulting, political consultant Maya Brown, Ricky Butler of the Pinellas Co. Sheriff's Office, Reggie Cardozo of The Public Square, Ronald Christaldi of Schumaker, Barry Edwards, Joe Farrell of Pinellas Realtors, pollster Matt Florell of Vicidial Group, Shawn Foster of Sunrise Consulting Group, Adam Giery of Strategos Group, political consultant Max Goodman, Mike Griffin of Savills, Todd Josko of Ballard Partners, Natalie King of RSA Consulting, political consultant Benjamin Kirby, Merritt Martin of Moffitt Cancer Center, Mike Moore of The Southern Group, Ron Pierce of RSA Consulting, J.C. Pritchett, pastor of St. Pete's Faith Church, Darren Richards of Tucker/Hall, Preston Rudie of Catalyst Communications Group, Amanda Stewart of Johnston and Stewart, Bemetra Simmons of the Tampa Bay Partnership, Alan Suskey of Shumaker Advisors and communications consultant Janelle Irwin Taylor. With Michelle and Peter Schorsch.