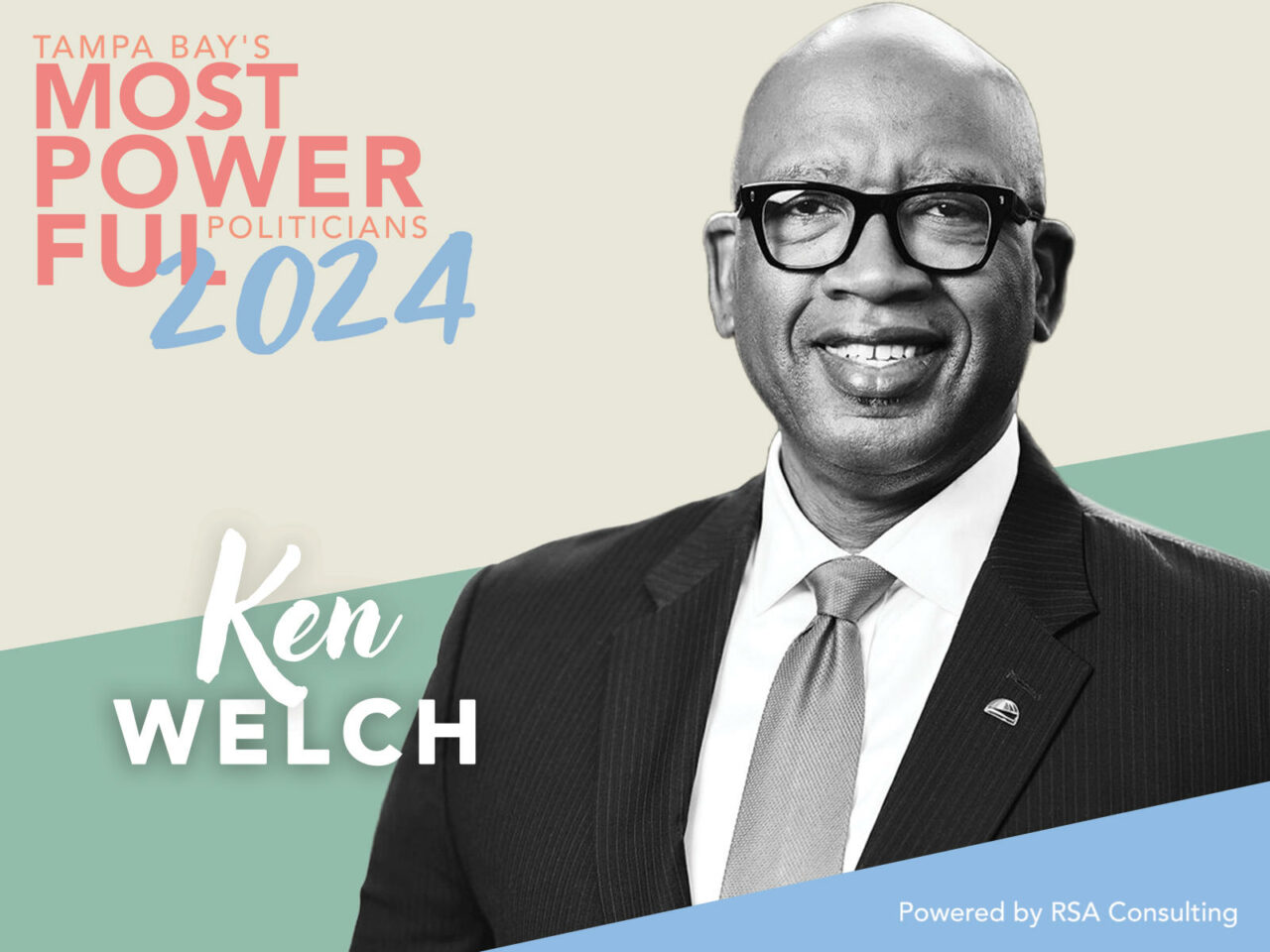 Welch has notched a lot of major accomplishments.
Being Mayor of the second-largest city in the Tampa Bay region, and the fifth-largest city in the state, comes with inherent power. But beyond the obvious, St. Petersburg Mayor Ken Welch continues to prove that he can take bold steps and weather storms.
While he bumped up two spots in this year's 10th annual list of Tampa Bay's Most Powerful Politicians — from No. 4 to No. 2 — one could argue he stayed about the same. Two spots in last year's list were held by elected officials who either got bumped downward due to a change in elected office (Wilton Simpson) or who are no longer elected officials (Chris Sprowls).
Now in his second year as the city's first African American Mayor, Welch has notched a lot of major accomplishments. During his early weeks and months in office, he focused — as he continues to do — on affordable housing.
"Mayor Ken Welch's unwavering commitment to community improvement sets him apart as a true leader," said communications consultant Ashley Bauman, who previously worked on Welch's campaign. "His passion and dedication make him a powerful force for positive change in Tampa Bay."
Under his guidance, the city increased its down payment assistance available to certain first-time home buyers to $60,000. The previous assistance was just $40,000. The city also implemented a $500 per month stipend for its lowest paid city employees who face residency requirements to remain in their jobs, which applies to about 250 employees.
There were a flurry of ribbon cuttings on affordable housing developments, including SkyWay Lofts — a community serving those earning at or below 60% or 80% area median income (AMI) — and Delmar 745 — a 65-unit apartment community targeted to those earning as low as 30% AMI. 
Despite progress, affordable housing continues to be one of the city, region, state and nation's most pressing challenges. Welch has made it clear he's well aware that a city cannot be truly successful if its people cannot access safe, affordable housing. 
That's at least one motivating factor behind what has become a staple of his administration — demand community benefit even if it dings his reputation. (As we previously noted, delays aren't always a bad thing.)
Also early in the administration, Welch called for a community and economic impact study of Albert Whitted Airport, a request that immediately angered those who have been longtime supporters of keeping the city's airport alive and well.
While Welch did not say he wanted to do away with Albert Whitted, nor did he mention specific priorities like affordable housing, he did make it clear he was interested in ensuring any city-owned land provided adequate community benefit. 
While that study has yet to come to fruition, it was an early reminder that Welch means business when it comes to city equity.
Affordable housing was also a key issue leading Welch to cancel a plan, approved under his predecessor Rick Kriseman, that would have provided residences, a hotel and a Moffitt cancer treatment clinic.
Under the city's Community Benefits Agreement, also enacted during the Kriseman administration, projects on city-owned land must show adequate community benefit. Welch canceled the project noting that, even after negotiations, it failed to reach the 30% affordable and workforce housing threshold, or 120 units, he had requested.
And if you're sensing a theme, affordable housing and community equity were also at play in what was arguably Welch's biggest decision of his tenure — canceling Kriseman's developer selection from the city's previous Request for Proposals and starting anew. 
Then, he noted a fresh look was needed to ensure proposed developments were responding to new challenges — like the housing crisis. Fast forward to January, and Welch had selected a developer. The preferred Hines/Tampa Bay Rays project didn't offer the most affordable housing (that would have been Sugar Hill), but it did offer 1,459 affordable units, 859 of which would be directly onsite. 
It is on that project that Welch will likely continue to be in the spotlight and from which he will continue to derive regional power.
"Mayor Welch's 20 years of service on the Pinellas County Commission have prepared him well to lead St. Petersburg through this period of transition and growth. He has a strong vision for the city, and all eyes are on Mayor Welch as he addresses the Rays stadium decision and the infrastructure and development needs in the city," said RSA Consulting President and CEO Ron Pierce. "His ability to support regional solutions will ensure that Pinellas County and St. Petersburg have a seat at the table when these issues are being discussed locally and in Tallahassee."
Selecting a development team that includes the Tampa Bay Rays gives St. Pete its best shot at keeping Major League Baseball in the Sunshine City, even as some Tampa and Hillsborough officials remain optimistic a deal on their side of the Bay could still pan out. And while the development team has been selected, negotiations will still play out and the project will take further shape, meaning Welch will continue to play a leading role in what will be the largest redevelopment project in St. Pete in a generation. 
Welch's tenure so far has not been without controversy, which makes his holding steady, and technically increasing his place on this list, all the more impressive. 
At the end of August, Welch's former Communications Director Janelle Taylor abruptly resigned, prompting a domino effect of changes at City Hall after her resignation letter revealed she had accused then-Deputy Mayor Stephanie Owens of bullying. 
Owens resigned just a few days later and questions quickly surfaced about whether Welch knew, or should have known, about morale issues among his staff and rank-and-file city employees. A letter even leaked reportedly delivered to Welch during his mayoral campaign leveling similar allegations against Owens. 
Welch denied being aware of a problem and vowed to ensure staff were comfortable reporting issues to avoid future problems. And he shuffled staff and hired two new people to manage comms.
News like that — especially in an elected official's first year — can often be damning and difficult to overcome. But for Welch, it seemed merely a blip on the radar. 
Shortly after, the Tampa Bay Times published a fairly extensive expose on Welch's presence — or lack thereof — at City Hall, noting that Welch's attendance rate in-person at work was just over 34%. Even that didn't seem to make much noise. 
Joe Farrell, Vice President of Public Affairs for the Pinellas REALTOR Organization, called Welch "a new kind of Mayor for St. Pete," adding that he follows through "on promises made during the campaign, regardless of whoever's delicate sensibility is ruffled."
"Dare I say YIMBY," Farrell pondered. For the uninitiated, that stands for "You're In My Back Yard," a likely reference to Welch's strong roots in St. Pete, including his family history in the historic Gas Plant neighborhood where Tropicana Field is now located.
For now at least, Welch is enjoying being (almost) the top dog in Tampa Bay politics, and with the Trop site project moving forward, might stay there for a bit. His real test will come re-election time.
Methodology
We define the Tampa Bay region as Pinellas, Hillsborough and Pasco, but can also include Hernando, Polk or Sarasota — if the politicians from those counties impact either Pinellas or Hillsborough.
We define a politician as being in office or running for office.
Being first on a panelist's list earns the politician 25 points, second earns them 24 points and so on, to where being listed 25th earns a politician one point. Points are added and, voilà, we have a list.
Special thanks go to our experienced and knowledgeable panelists, who were essential to developing the 2023 list: Christina Barker of the Vinik Family Office, Ashley Bauman of Mercury, Ed Briggs of RSA Consulting, political consultant Maya Brown, Ricky Butler of the Pinellas Co. Sheriff's Office, Reggie Cardozo of The Public Square, Ronald Christaldi of Schumaker, Barry Edwards, Joe Farrell of Pinellas Realtors, pollster Matt Florell of Vicidial Group, Shawn Foster of Sunrise Consulting Group, Adam Giery of Strategos Group, political consultant Max Goodman, Mike Griffin of Savills, Todd Josko of Ballard Partners, Natalie King of RSA Consulting, political consultant Benjamin Kirby, Merritt Martin of Moffitt Cancer Center, Mike Moore of The Southern Group, Ron Pierce of RSA Consulting, J.C. Pritchett, pastor of St. Pete's Faith Church, Darren Richards of Tucker/Hall, Preston Rudie of Catalyst Communications Group, Amanda Stewart of Johnston and Stewart, Bemetra Simmons of the Tampa Bay Partnership, Alan Suskey of Shumaker Advisors and communications consultant Janelle Irwin Taylor. With Michelle and Peter Schorsch.