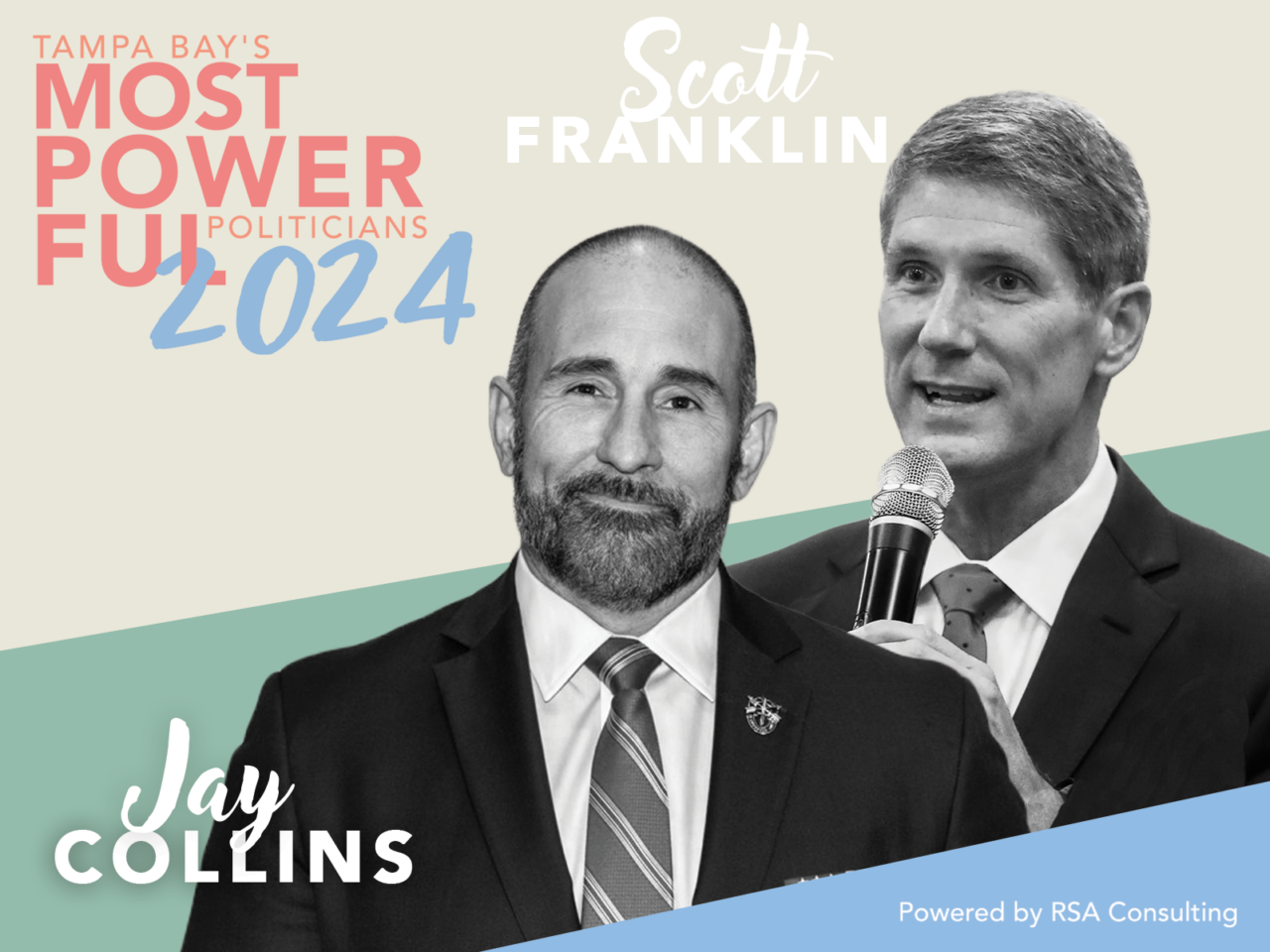 Franklin is quiet, but efficient while Collins is already making waves as a freshman.
It would seem like knocking off an incumbent would lend a bit of street cred when contemplating lists like our Tampa Bay's Most Powerful Politicians.
U.S. Rep. Scott Franklin did just that in 2020 when he trounced Ross Spano in the GOP Primary for Florida's 15th Congressional District (now Florida's 18th Congressional District) and state Sen. Jay Collins managed to topple former Sen. Janet Cruz in the 2022 Midterms, delivering Senate District 14 for the GOP.
Yet neither managed to land in the 10th annual list of Tampa Bay's Most Powerful Politicians. Still, both deserve a mention.
Franklin, a well-spoken, affable lawmaker, does his work with quiet efficiency, leading from a slice of Central Florida that is largely rural and often ignored. 
But that doesn't mean he's not getting stuff done. 
The Lakeland Republican recently co-sponsored legislation with U.S. Rep. Gerry Connolly of Virginia, the Cardiac Arrest Survival Act, that would establish uniform liability protection for businesses that acquire automated external defibrillators (AEDs) and those who use them. That's a crucial element to ensure individuals receive life-saving care in a medical emergency. 
He also recently introduced legislation to provide relief to Florida's agriculture producers, the Block Grant Assistance Act. It would provide needed relief to farmers and other agriculture businesses and interests impacted by hurricanes Ian and Nicole.
That came after Franklin led a letter to the House Appropriations Committee requesting disaster relief following Hurricane Ian.
Collins, meanwhile, is someone to watch. In his first year as an elected official, he's already making waves. 
He's introduced 17 bills for the 2023 Legislative Session, as well as two others on which he is a co-sponsor. 
Chief among them is a proposal (SB 150) that would remove the requirement to get a permit in order to carry a concealed firearm. Democrats, not surprisingly, condemn the measure, saying it would lead to more shootings. But Collins is undeterred, arguing the bill is "a giant step forward to restore our Second Amendment rights."
Collins also landed a number of committee assignments, including two appropriations subcommittees. And he earned the gavel in the Agriculture Committee, a feat for a first-term lawmaker.