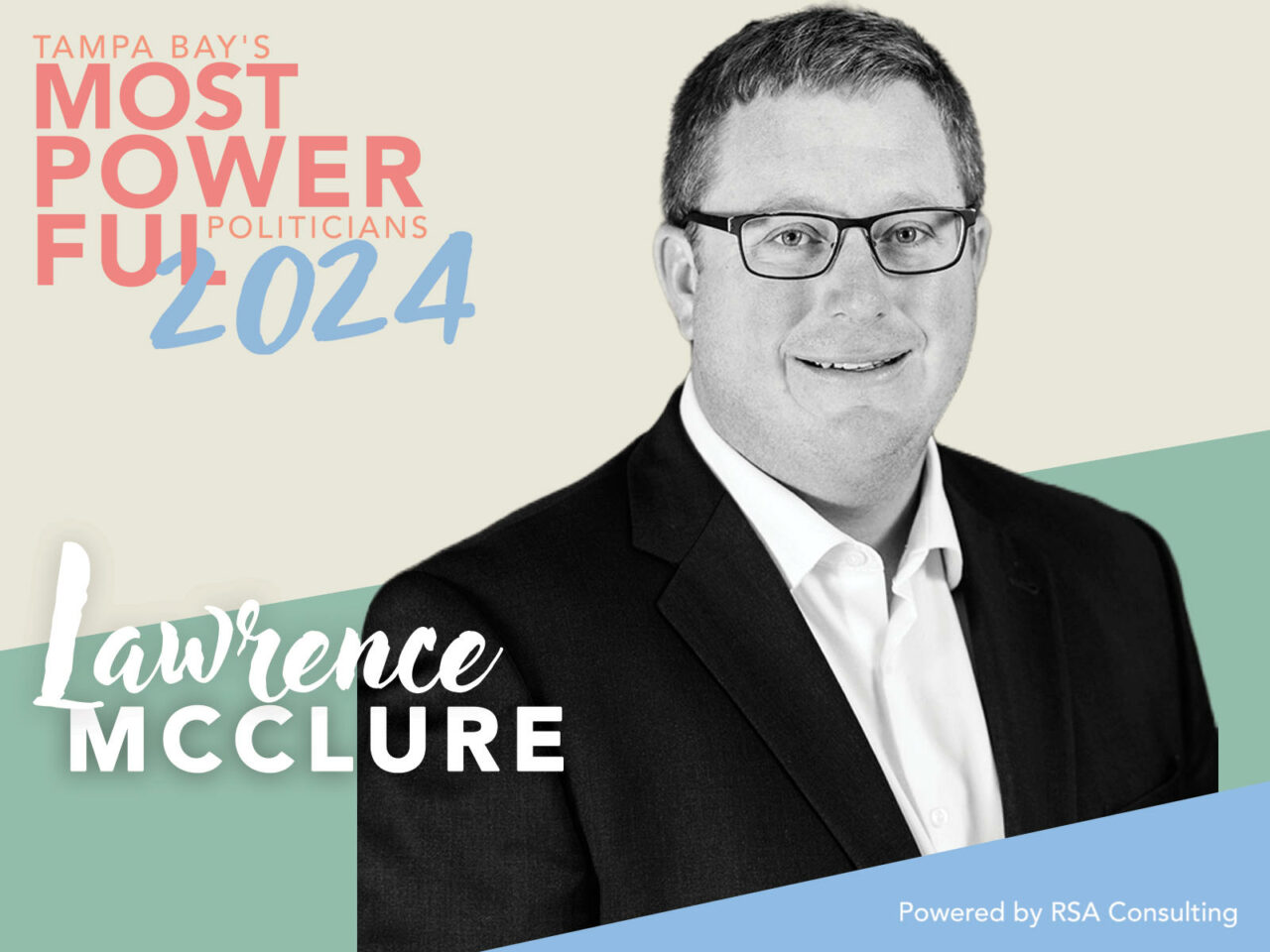 He's well on his way to chairing the powerful Appropriations Committee.
What a difference a couple years can make. Before landing at No. 6 on the 10th annual list of Tampa Bay's Most Powerful Politicians, state Rep. Lawrence McClure was already on a steady incline. He jumped eight spots this year, from No. 14 just one year ago, and has bounded an impressive 14 spots since the year before that, when he made the list at No. 20.
The boost in stature is commensurate with the Dover lawmaker's leadership. McClure landed his first committee Chairmanship this cycle, wielding the gavel for the State Affairs Committee. And he will again serve as Vice Chair for the powerful House Appropriations Committee, which largely drives state budget decisions.
McClure has yet to file legislation for the upcoming Session, but if last year is any indication, he's preparing to rack up some wins.
During the 2022 Session, McClure carried the controversial priority HB 741, which sets a timeline to end net metering in Florida. The bill received backlash from Democrats, who argued it would be devastating to the rooftop solar industry. But McClure held strong, and the GOP-led Legislature cleared the bill, saying it would protect non-solar customers. The Governor, however, ultimately vetoed the measure.
He also carried similarly contentious legislation (HB 569) allowing businesses to sue local governments over ordinances that result in sizable revenue loss, an effort he championed as the "Local Business Protection Act." The Senate version of the bill passed the Legislature, but was also vetoed. State Sen. Jay Trumbull has re-filed similar legislation in the Senate. 
While we're not sure how this lends to powering up in Florida politics, McClure is probably best known for sponsoring a piece of sweet legislation last year, which designated the strawberry shortcake (with a dollop of whipped cream, of course) as the state dessert. Chock full of puns, the measure was not without official merit though — it emphasized support for Florida farmers.
Those who work with McClure in The Process describe him as an outgoing, witty presence, even if he seems a little skittish at first. Do not be fooled, that initial demeanor is all about listening and learning, and certainly not cowering. 
"Representative McClure is one of Tampa Bay's best kept secrets. Don't mistake his absence in the headlines for a lack of influence in the Legislature," said RSA Consulting President and CEO Ron Pierce. "He sits at the center of policymaking in Florida and commands much respect among his peers. Representative McClure is an effective changemaker that stands by his values and is an incredible asset to the Tampa Bay community."
McClure is also a top notch policy wonk, showcasing his ability frequently to learn complicated issues and identify workable solutions, even if it means extending an olive branch across the aisle. 
While polarization is high among Florida politicians, McClure has managed to maintain relationships with colleagues across the aisle, taking care to seek different perspectives and, even when compromise doesn't work out, to operate with decorum and respect. 
"We have had the opportunity to know Chair McClure long before he was elected. He has had a wealth of experience, responsibility and success at a young age so it comes with little surprise that this path in government and politics is one that was paved for him," said Amanda Stewart of Johnston & Stewart.
Her partner, Jeff Johnston, added: "Between his ability to understand extremely complex issues, work closely with his legislative colleagues and expertly maneuver around obstacles, Chair McClure proves time and again that he is in rare company when it comes to navigating the political process."
What many outside The Process may not know, is that McClure is often a go-to behind-the-scenes guy. He worked with state Rep. Danny Perez to secure Perez's spot as House Speaker in the 2024-26 cycle and remains a Perez confidante, a friendship that will serve him well come Perez's tenure in the Speaker's Office, likely by way of chairing the Appropriations Committee. 
Think of McClure a little like Frank Underwood — all the skill, none of the skeevy tactics (of the character or the actor, to be clear.) 
"He just seems to be involved in a lot of important legislation, one way or another," said Pinellas REALTOR Organization Vice President of Public Affairs Joe Farrell. 
Methodology
We define the Tampa Bay region as Pinellas, Hillsborough and Pasco, but can also include Hernando, Polk or Sarasota — if the politicians from those counties impact either Pinellas or Hillsborough.
We define a politician as being in office or running for office.
Being first on a panelist's list earns the politician 25 points, second earns them 24 points and so on, to where being listed 25th earns a politician one point. Points are added and, voilà, we have a list.
Special thanks go to our experienced and knowledgeable panelists, who were essential to developing the 2023 list: Christina Barker of the Vinik Family Office, Ashley Bauman of Mercury, Ed Briggs of RSA Consulting, political consultant Maya Brown, Ricky Butler of the Pinellas Co. Sheriff's Office, Reggie Cardozo of The Public Square, Ronald Christaldi of Schumaker, Barry Edwards, Joe Farrell of Pinellas Realtors, pollster Matt Florell of Vicidial Group, Shawn Foster of Sunrise Consulting Group, Adam Giery of Strategos Group, political consultant Max Goodman, Mike Griffin of Savills, Todd Josko of Ballard Partners, Natalie King of RSA Consulting, political consultant Benjamin Kirby, Merritt Martin of Moffitt Cancer Center, Mike Moore of The Southern Group, Ron Pierce of RSA Consulting, J.C. Pritchett, pastor of St. Pete's Faith Church, Darren Richards of Tucker/Hall, Preston Rudie of Catalyst Communications Group, Amanda Stewart of Johnston and Stewart, Bemetra Simmons of the Tampa Bay Partnership, and Alan Suskey of Shumaker Advisors and communications consultant Janelle Irwin Taylor. With Michelle and Peter Schorsch.