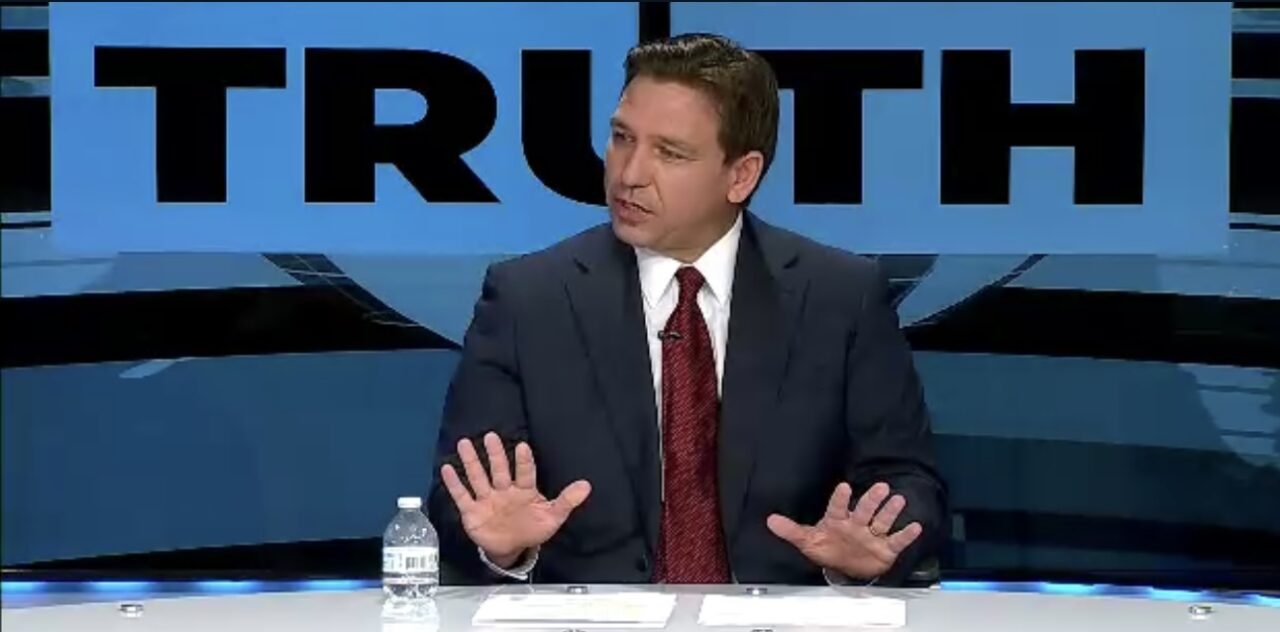 'It's blatantly unconstitutional, but could still wreak tremendous havoc if it passes.'
Recently filed anti-defamation legislation inspired by Gov. Ron DeSantis is being criticized as a "grave threat to journalism and free speech."
PEN America is issuing sharp criticisms of HB 991, "blatantly unconstitutional" legislation filed this week by Rep. Alex Andrade, a Republican from the Florida Panhandle.
"With this legislation, Florida politicians seek to insulate themselves from criticism and weaponize the courts to chill speech and attack journalists," said Kate Ruane, director of PEN America's US Free Expression Programs.
"It's blatantly unconstitutional, but could still wreak tremendous havoc if it passes. The United States has a long tradition of open and robust political debate, which has been underpinned by a strong and free press that need not fear a lawsuit for doing their jobs. This bill will hobble reporters as they investigate the impacts of the implementation of policies like the Stop W.O.K.E. Act and the "Don't Say Gay" Law," Ruane adds.
"It will chill civil society, including civil rights and civil liberties advocates, in their efforts to fight for better policies in Florida. It's a gift to the powerful at the expense of the Constitution. We condemn it."
Among the complaints the group identifies: the bill "would make it easier for policymakers and public figures to sue journalists, their political opponents, and their critics for defamation by lowering the legal standard courts would apply and singling out certain topics and sources for disfavored treatment" and "would make statements by anonymous sources presumptively false and allegations of discrimination on the basis of race, sex, sexual orientation, or gender identity defamatory per se."
Indeed, for those seeking to quash an unfettered media, the Andrade measure could be considered wish list legislation.
It lowers the threshold for defamation actions to any one "publication, exhibition or utterance" of a false claim, allowing plaintiffs to file an action in any Florida county where the questionable material was accessed.
It does not allow an "unverified anonymous report" to suffice as proof of a claim. And it contends any allegation of discrimination is de facto defamatory, setting up a statutory floor of $35,000 in damages for a prevailing plaintiff.
PEN America complains that under the proposed bill "public figures would no longer have to meet a heightened standard to prove defamation— as the Supreme Court ruled nearly 60 years ago— if the statement 'does not relate to his or her public status,' making it easier for politicians to sue when allegations of infidelity or even crimes committed prior to their assumption of office surface.
The Andrade bill was rooted in a panel discussion DeSantis hosted earlier this month with people who bemoaned the difficulty in pursuing defamation claims due to the 1964 New York Times v. Sullivan Supreme Court case. Though DeSantis couldn't speak to the specifics of the legislation this week, he related it to complaints about his own treatment from outlets like 60 Minutes and in matters like the "book ban hoax."
"Because of some of the background case law that developed 60 years ago, you have a situation where you've got a lot of drive-by media. So they will basically smear somebody, put it out there, and then you will debunk it like the next day or whatever. But it's kind of already gotten out there and there's no recourse effectively if you lie about somebody," DeSantis complained.
"Usually the people (who) get targeted are people that are right-of-center by some of the entrenched media entities, and they can kind of do it. And these folks don't necessarily have adequate recourse, it's a difficult thing to do that will stick in the courts. But I do think the courts have recognized, in the '60s when they did this, it was a much different time," DeSantis said.
"The media ecosystem was way, way different than it is now. And so it was not grounded in the text, history or structure of the Constitution," he continued, saying the currently strict guardrails against defamation claims weren't "mandated, really."
"It was a policy choice that the courts made, which they really don't have the authority to do that. But how does that policy hold up now in this fragmented media ecosystem? And so they're working on doing things."