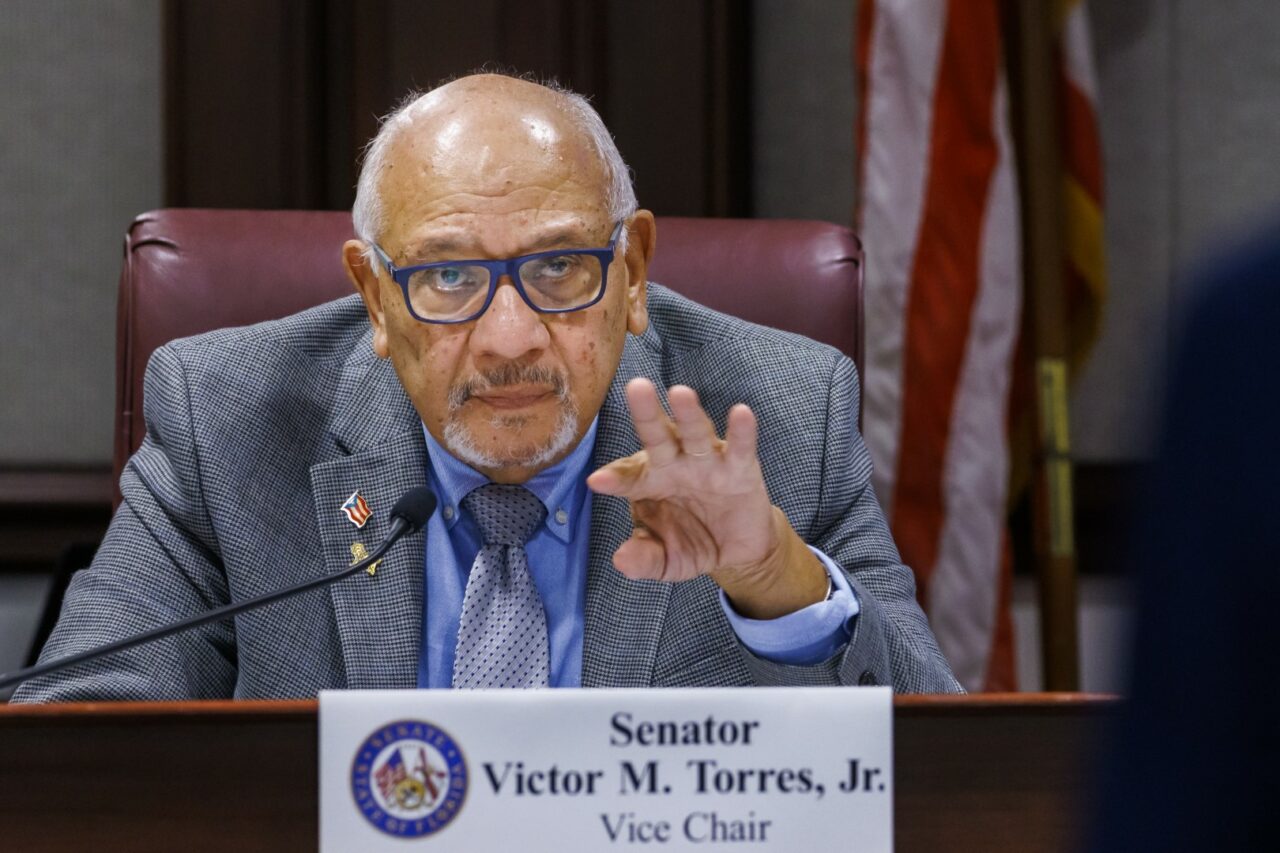 A caller said the Senator should "eat sh** and drop dead," and slung several racist expletives, following Torres' vote on guns.
Senate Democratic Leader Lauren Book is calling for colleagues on both sides of the aisle to condemn profanity-laced "threats of violence" on a voicemail message Sen. Victor Torres received at his office earlier this week.
The caller, identifying himself only as a Polk County resident, said Torres should "eat sh** and drop dead you son of a b**ch," in a 58-second recording that contained 13 words that would not be printed in a family publication, as he ranted against Torres' vote on gun legislation.
"What we don't need is a bald-headed, f***ing, sp*c freak like you f***ing trying to take our guns away, trying to track us down here," the caller said, after explaining he read about Torres' vote on Feb. 21.
Torres was one of the three Democrats in the Senate Committee on Banking and Insurance to vote against legislation (SB 214) that would prohibit Florida financial institutions from using a merchant code to track firearm and gun purchases. The majority of Republicans pushed the bill forward, however.
The caller assured Torres that AR-15s (assault-style weapons) are wanted by "normal people," in this state.
"They keep n***ers and spi*s the f**k away from our homes, our business, from raping our wives and children," the caller said.
Book said in a news release that such threats are going to be reported to law enforcement. She cited Torres' long history of public service, from his work as a New York City cop to his time as a Representative.
"Diversity of opinion should never lead to threats of violence — period, the end," Book said, characterizing the rant as "hateful, racist threats of violence."
In a news release asking for bipartisan condemnation of the call, Torres lamented the polarizing legislation Republicans are writing that trigger the wrong kind of voter engagement.
"Republicans are jeopardizing the public safety of all Floridians by empowering these racist zealots with their divisive Hate Agenda," Torres' prepared statement said.
"The divisive, partisan political agenda emboldens this disgusting behavior — pushed by the Republican majority. The laws they write are fueling potential violent acts in the future, and neither myself, my family or my constituents will stand by and be victims."
Senate President Kathleen Passidomo said that it's not just Democrats who get these sorts of messages. She herself has received "hateful, threatening messages," criticizing the way she represents her constituents.
"Unfortunately, disturbing, hateful, and sometimes violent messages like this have become all too common occurrences impacting Senators from both parties," she said in a prepared statement that also promised "consequences" for threats to safety.
"It is always troubling to hear that a Senator is being personally attacked for expressing their views. We should always be able to disagree without being disagreeable or threatening."
Book said Democrats will continue to speak out.
"As Democrats, we will not be intimidated or silenced by unlawful threats of violence," she said. "We have and will continue to voice our concerns on critical policy issues which shape the very soul of our state — from gun safety to women's rights and defending freedom of speech, Black history, equality and more."
Apparently, this person is not in favor of the migration to Florida that Gov. Ron DeSantis has pointed to as a sign of the state's success.
"You're a complete ass**le, should never have come down here — too many f***ing New York scumbag c**ksuckers like you f***ing moving to Florida and trying to take our rights away," the caller said to Torres.
The caller ended his message with a challenge to "be a f***ng man, stand up, give me a call and we'll discuss it, bye-bye."
The callback number was not part of the clip offered to the media.