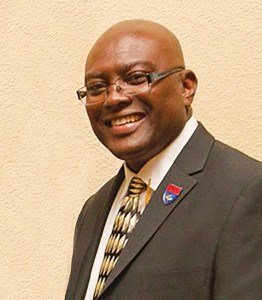 Gudes faced scandal last year, leaving his re-election prospects in trouble.
Tampa City Council member Orlando Gudes will leave his District 5 seat, after falling to challenger Gwendolyn Henderson in Tuesday's municipal election.
With all precincts reporting, Henderson secured more than 50% of the vote, while Gudes captured just shy of 49%. The rest of the votes went to a write-in candidate. 
The exact final margin, 50.31% to 48.86% is outside the margin of difference that would prompt an automatic recount.
"The citizens of District 5 deserve democracy and deserve a choice, and I got in that race to give them a choice," Henderson told the Tampa Bay Times. "And they made it tonight."
The loss is a huge blow to Gudes, who faced a damning controversy last year involving an employee complaint alleging he had made inappropriate comments and created a hostile work environment.
While Gudes did not resign and a sexual harassment lawsuit against him was dismissed, two colleagues — Joe Citro and Luis Viera — called on him to step down. A city probe into allegations against him found Gudes created a hostile work environment and made sexual and misogynistic comments toward an aide, the aide's daughter and Mayor Jane Castor. Following the report, Castor said she would fire him if she could.
Gudes is part of a three-member coalition on Tampa City Council that often votes against Castor's priorities, or in favor of measures that would erode her executive authority. 
Both of those members, Lynn Hurtak and Bill Carlson, were also on Tuesday's ballot. Hurtak is heading to a runoff against former state Sen. Janet Cruz, whose daughter is Castor's longtime partner. Carlson easily defeated his challenger, wealthy businessman Blake Casper.
Gudes was backed by stronger financials in his reelection bid, raising nearly $49,000 to Henderson's $22,000.