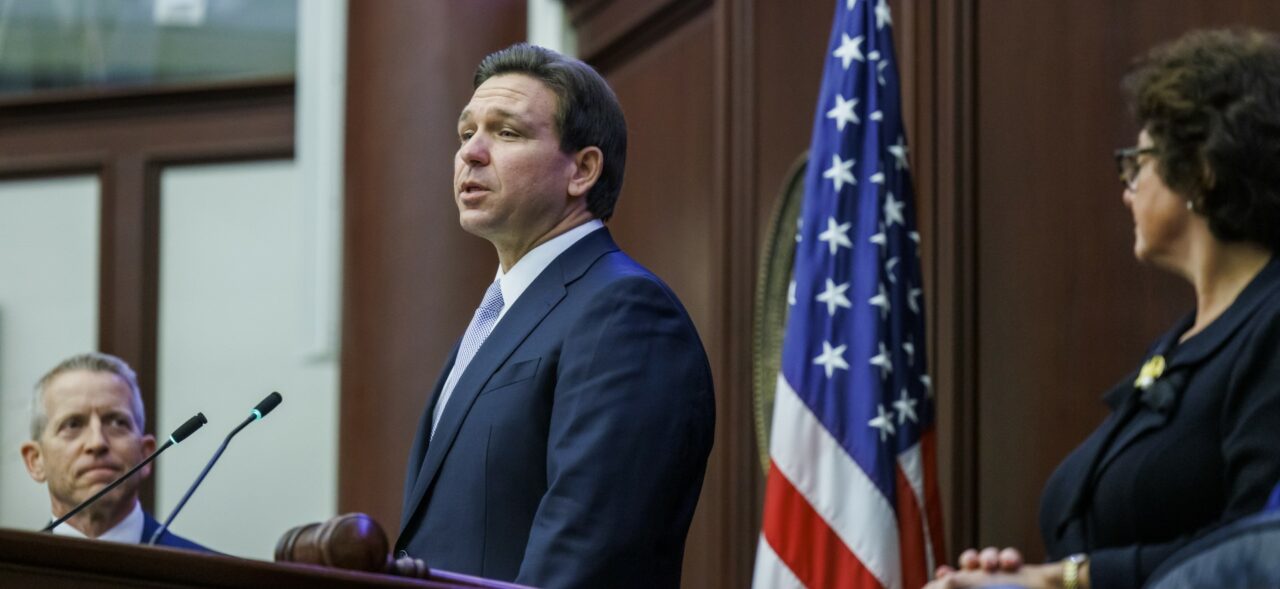 'They can't defend their positions on the merits. That's why you have this situation.'
Gov. Ron DeSantis is slamming a "false narrative" by some media outlets who reported on the effects of laws he championed that ban the teaching of critical race theory and the instruction on sexual orientation and gender identity in public schools, something he labeled a "book ban hoax."
"They can't defend their positions on the merits. That's why you have this situation," DeSantis told supporters in Tampa. "It's a false narrative in service of trying to use the schools for an inappropriate purpose."
Before the press conference, DeSantis' aides showed a six-minute video juxtaposing incorrect characterization of the laws' effects with what DeSantis said was the target of the laws: removing books with sexually explicit content and books that promote critical race theory from school libraries.
After the measures were signed, some school districts told media specialists in school libraries to review books for content banned by the new laws. That led to a viral video in Duval County showing rows of empty shelves. In some cases, teachers were also told they could be arrested for having illicit content in their classrooms or libraries.
DeSantis argued that some news outlets confused that instruction with the new law, but said it instead referenced an already-existing Florida law banning the issuance of pornographic material to minors.
The video shown before the press conference specifically showed books found in school libraries and the sexually explicit content they contained, including "Flamer" by Mike Curato; "Let's Talk About It" by Erika Moen and Matthew Nolan; and "Gender Queer" by Maia Kobabe. DeSantis noted some TV stations carrying the event had to blur the images and argued that showed the books shouldn't be allowed in school libraries.
DeSantis also took issue with the "narrative" that books on Roberto Clemente and Hank Aaron were banned. The video he showed included a local Jacksonville TV station reporting the books were pulled from school library shelves for review.
Education Commissioner Manny Diaz wrote to the Duval County School Board asking why the books were pulled and the books were returned to the libraries.
DeSantis also pushed back on references from some media outlets that he was restricting or banning the teaching of African American history in Florida. DeSantis and the Department of Education rejected a proposed AP African American History class because it included teaching on queer theory and critical race theory, but DeSantis pointed to state law requiring the teaching of African American history.
For Diaz and DeSantis, those episodes were proof their political enemies were trying to blur the effects of the laws and his administration's actions.
"The Florida Department of Education does not ban any books. That's a lie. It's never been true," Diaz said. "The Florida Department of Education has never instructed any district or school to empty or cover bookshelves."