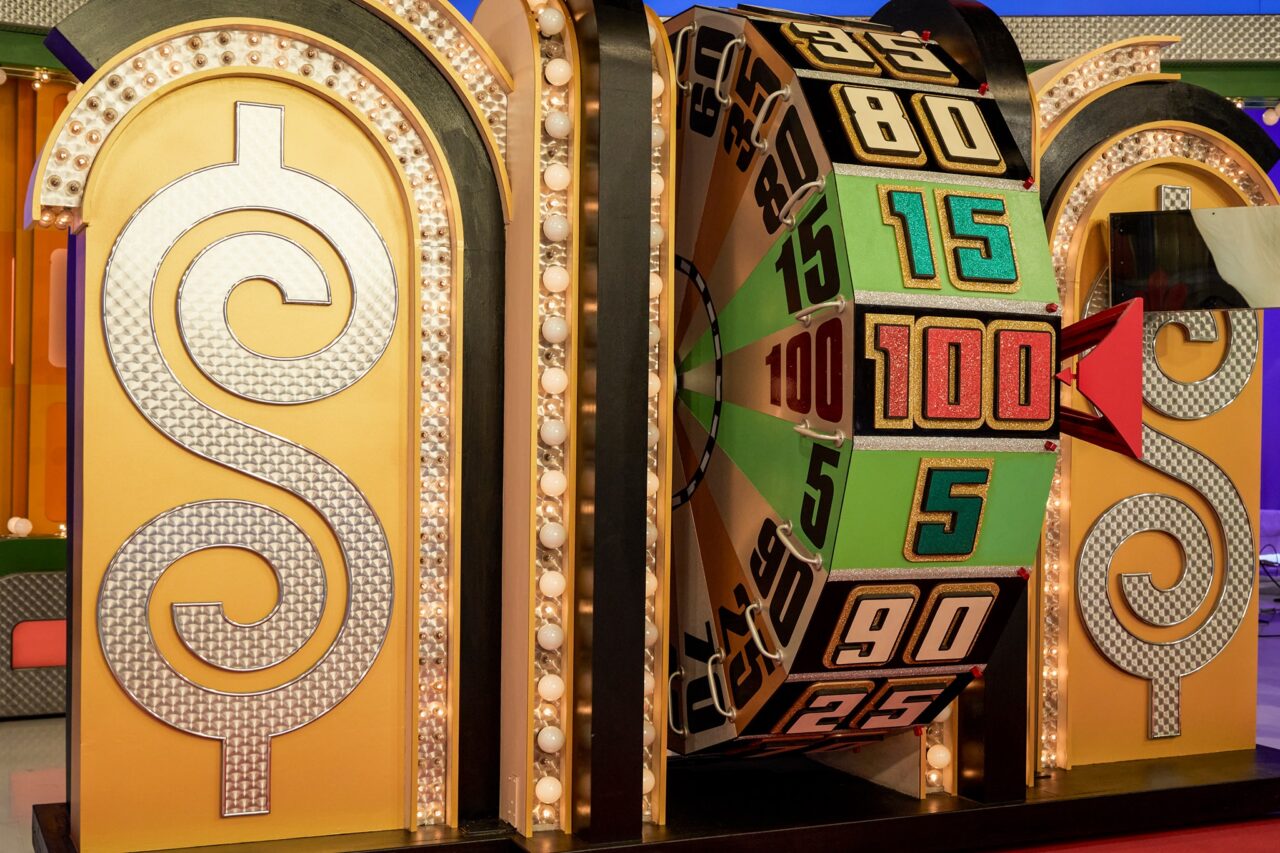 Jacksonville, basically, is the most expensive mayoral race in the country right now
ROI?
Jacksonville is a midsized media market, but the latest breakdown of spending on the 2023 mayoral race shows that it's a big-time battleground.
Here's a look at the most expensive upcoming elections around the country:

WI Supreme Court general (4/4): $9.0M
Jacksonville Mayor general (3/21): $7.3M
Philadelphia Mayor primary (5/16): $6.4M
KY Governor primary (5/16): $3.5M
Denver Mayor (4/4): $1.1M

— AdImpact Politics (@AdImpact_Pol) March 6, 2023
Basically, the most expensive mayoral race in the country right now, only trailing the statewide Supreme Court race in Wisconsin.
Are we getting what the campaigns paid for?
It's a question two campaigns will answer in 13 days when the First Election votes are counted. And one of the two biggest spenders will likely say no.
Most spending has come from Republicans Daniel Davis and LeAnna Gutierrez Cumber, and only one of them is likely to make the runoff against Democrat Donna Deegan.
Political committees JAX First (Cumber) and Building a Better Economy (Davis) have made cases against their opponents, with mail and digital and television buys amounting to millions of dollars. We're still waiting for February spending and fundraising from these committees, which report once a month, with the new numbers due Friday.
The goal is for one to get Deegan alone in the runoff, where they would consolidate Republicans to attack Deegan, who has run this race on a relatively shoestring budget.
It could work.
The 2015 mayoral race was the prior gold standard for spending, with Lenny Curry and Democratic incumbent Alvin Brown setting the pace. It's possible 2023's iteration will end up being the priciest, even with Deegan not likely even to hit seven-figure fundraising when all is said and done.
Whether the issues voters care about come up (or not) remains to be seen.
Thus far, that hasn't been the case, with the main storyline being a functional Republican primary including Davis, Cumber and the relatively cash-strapped Al Ferraro. Just like in Republican Primaries for legislative seats, character assassination has proved to be the strategy of choice over straightforward issue-centric debates. One suspects the May election will see more of the same.
Mail drive in 5
It's rare to go through a day in Jacksonville's District 5 in which political mail doesn't arrive. Joe Carlucci is regularly hitting the district's mailboxes lately, carrying the conservative-friendly themes of family and public safety.
One recent piece notes the endorsement of Carlucci by both the local firefighters and police unions, with a quote from a Jacksonville Sheriff's Office police officer.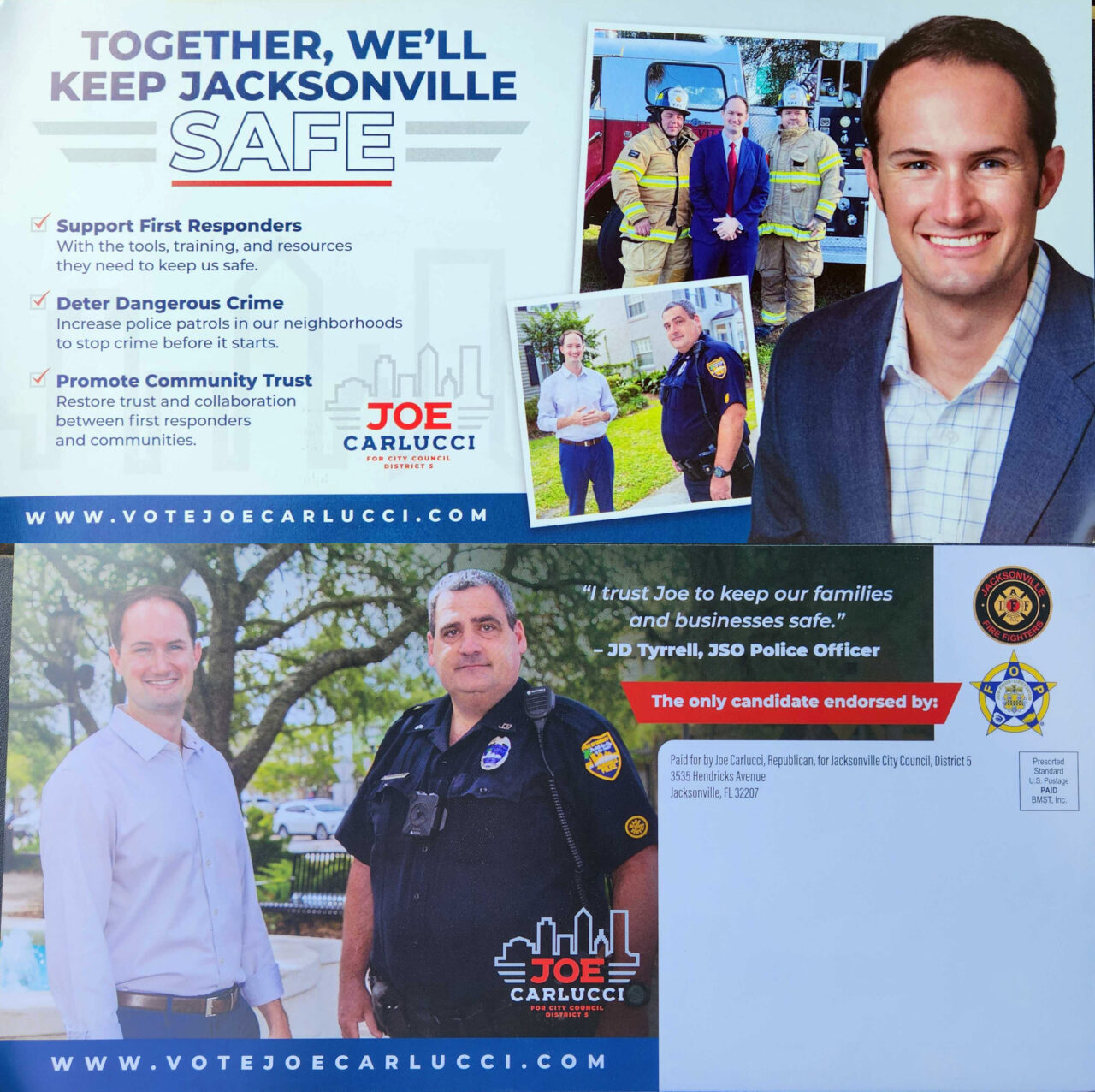 "I trust Joe to keep our families and our businesses safe," Officer J.D. Tyrell says in the piece.
It's a race against fellow Republican Morgan Roberts, but instead of fighting over who is the real conservative in the race, one of the salient issues appears to be Carlucci's status as a legacy.
In a different mail piece, he embraces it, as the piece states, "3rd Generation Leader: Joe is a Jacksonville native who grew up in District 5 and attended our local schools." The text runs next to an image of Carlucci with his wife and children.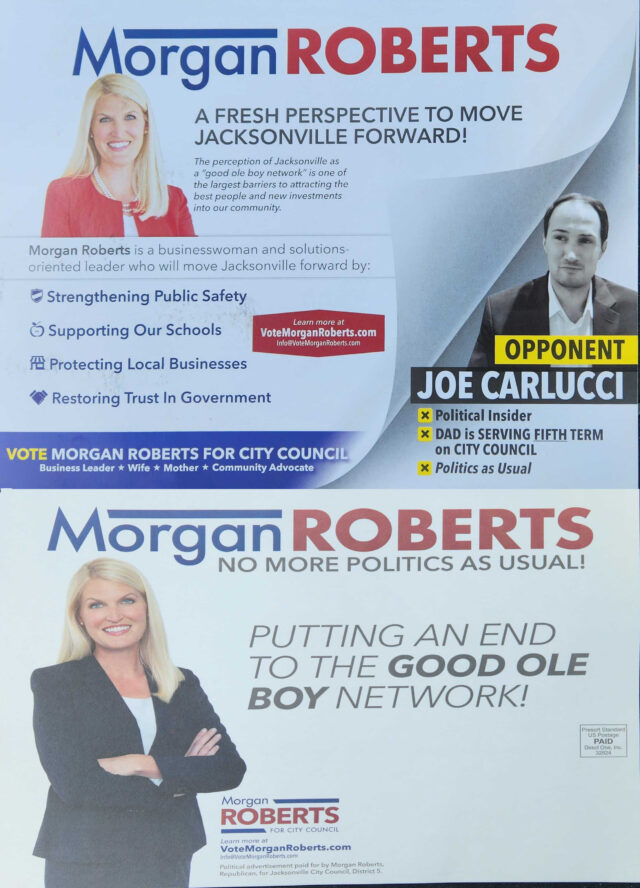 Another piece pushes the "man who gets things done" vibe through large text stating "Joe Means Results," though doesn't carry many specifics. The piece mentions Carlucci "built one of Jacksonville's fastest growing businesses" and "supported nearly $1 billion in new economic investment."
Disclosure reports show Carlucci spent more than $28,000 recently with his direct mail consultant.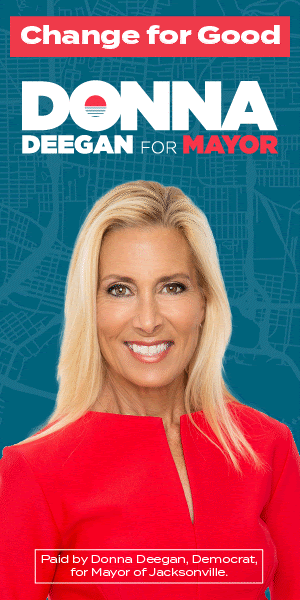 Ken's telling you
Republican Ken Amaro is well on his way to flipping an Arlington City Council seat from Democratic hands, as termed-out Joyce Morgan runs for property appraiser.
Amaro is running through the race despite marginal opposition, which will be decided in the March 21 First Election.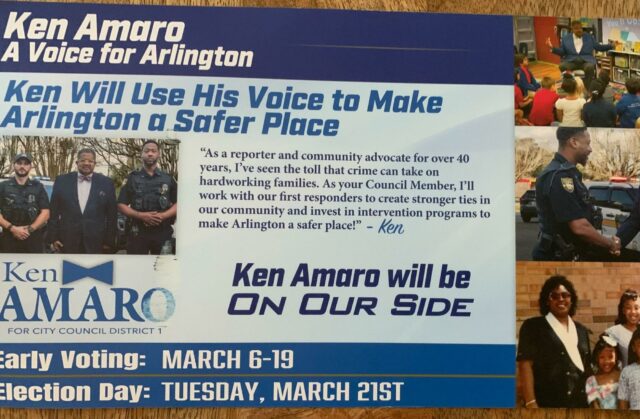 The longtime television reporter has enjoyed a 10 to 1 fundraising advantage over Democrat Alton McGriff, and he is putting it to use, with mail this week that downplays GOP connections, using variations of blue and Amaro's iconic bow tie to remind voters that he is "on their side."
However, Amaro is getting GOP backup.
Council member Nick Howland, who did not draw an opponent for re-election, has been knocking on doors with the First Coast News legend, presenting a united front and offering an indication of where Amaro's loyalties will be when on the Council.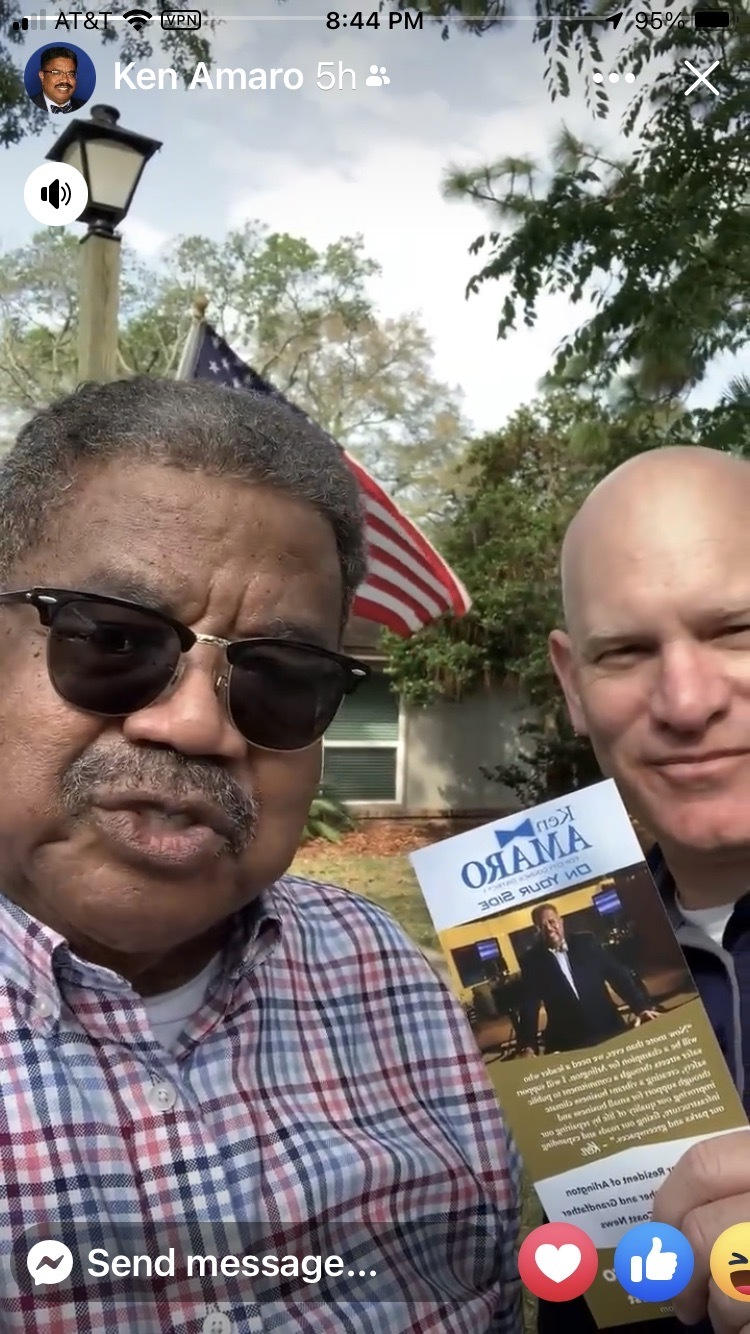 Get the lead out
Sen. Marco Rubio and Rep. John Rutherford are teaming up to refile legislation that would pressure the feds to crack down on lead.
The Keep Children and Families Safe from Lead Hazards Act "requires the U.S. Department of Housing and Urban Development (HUD) to annually assess the risks of lead-based hazards on housing properties receiving federal rental assistance. It directs HUD to develop an action plan that outlines necessary changes for properties at risk for lead exposure hazards."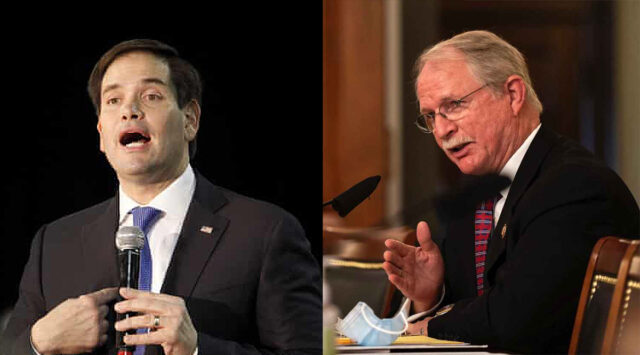 "I first witnessed child lead poisoning at Eureka Gardens Apartments by the nefarious Global Ministries Foundation in 2016. The dangerous conditions at several HUD properties throughout the state of Florida, and the rest of the country, are the result of routine negligence and lack of oversight by HUD," Rubio said. "Lead hazards pose a serious risk to tenants, especially young children and pregnant women. It is unacceptable for HUD to ignore this threat. My bipartisan bill would ensure that exposure risks are identified and mitigated so that no family in HUD-assisted housing has to suffer any devastating effects of lead poisoning."
"I am proud to join my colleagues in a bipartisan, bicameral effort to ensure that HUD is assessing Section 8 properties for lead-based hazards and is working on plans for remediation," said Rutherford. "It is unthinkable that families living in public housing have been exposed to toxins that threaten their health and safety without repercussion."
Democrats Raphael Warnock and Chuy Garcia are co-sponsoring the bills in the Senate and House, respectively.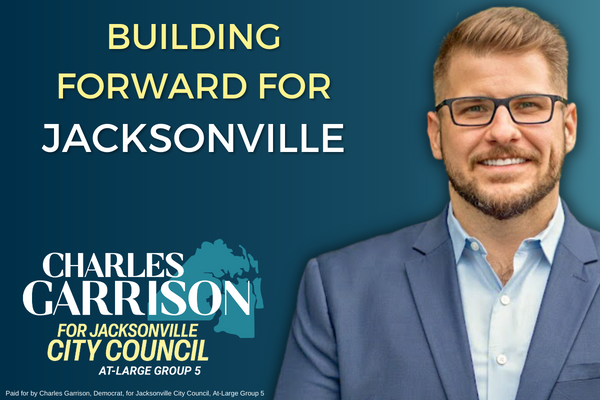 Jars of Clay
Jacksonville's newest Republican state Senator is carrying a slew of bills that advance social conservative priorities.
Sen. Clay Yarborough spent days leading up to the 2023 Legislative Session introducing proposals that hearken back to his days as the right flank of the Jacksonville City Council.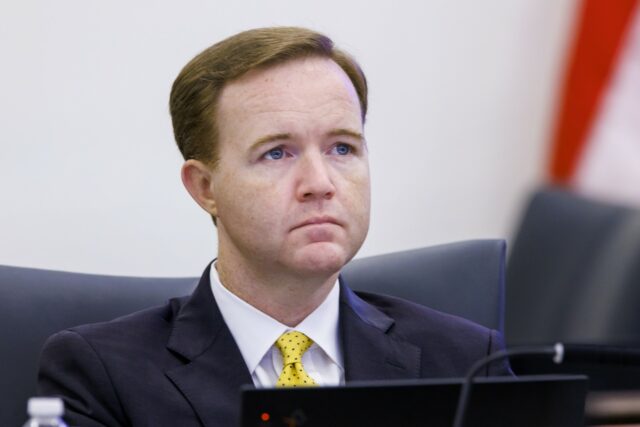 SB 1438, which appears to have been inspired by the annual tour of "A Drag Queen Christmas," a show where children were photographed during the holiday season.
This legislation would revoke the license of any public lodging that admits a child to an adult live performance. Republican Rep. Randy Fine filed equal legislation in the House.
SB 1320 would prohibit people from using preferred pronouns that do not correspond with the gender identity assigned at birth.
It would ban classroom instruction related to sexual orientation or gender identity until the ninth grade. Two related bills are moving in the House. HB 1069 defines "sex" and is moving through committees. HB 1223, concerning pronouns, sexual orientation and gender identity instruction, was filed Tuesday.
SB 254 would give the state temporary emergency authority over children if they are at risk or are getting what some call "gender-affirming care" and others call "sex-reassignment" prescriptions or procedures.
In addition, it would require health care providers to say they don't provide the treatment to children younger than 18 or face losing their license.
Fine and Republican Rep. Ralph Massullo filed similar legislation (HB 1421) in the House.
SB 1618 makes key changes to Section 381.00315 of the Florida Statutes, the section governing public health advisories and emergencies. Vaccinations would be impacted, as would the Governor's prerogatives to impose a public health emergency and a right to refuse treatment based on "conscience" and other subjective factors.
It's not all social conservatism, of course. Yarborough's SB 1458 (the "Roller Skating Rink Safety Act") would shift liability burdens in many cases to skaters and patrons rather than management and ownership.
But what's clear is that during a pivotal Session for DeSantis, the Jacksonville Republican is leading on issues that could give the Governor wins he can take into a 2024 GOP Primary fight.
Money changes everything
Do legislators deserve more money?
A Jacksonville Democrat's Senate bill would explore just that.
SB 1530 from Sen. Tracie Davis would compel the state's Office of Program Policy Analysis and Government Accountability (OPPAGA) to conduct research, analyze data, and prepare a report on the issue.
Davis says the time is right to examine the issue.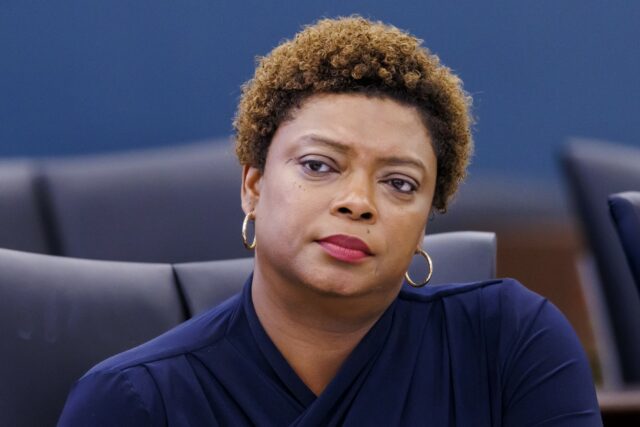 "With inflation, home prices, and other cost-of-living issues, the Legislature is not accessible to people of various income levels and that could be a deterrent if they want to run for office but have to prioritize putting food on the table. This bill is a request for a comparative study of legislative salaries to see if Florida is in a good place compared to the other 49 states," Davis told Florida Politics.
OPPAGA would "submit to the Governor, the President of the Senate, and the Speaker of the House of Representatives by Dec. 1, 2023, a report containing its findings and recommendations on whether the Legislature should be considered full-time, part-time or a hybrid thereof, and whether salary increases for the members of the Legislature are appropriate."
In her current role, Davis makes just under $30,000 per year, according to records from the Florida Senate. Her bill is a companion to House legislation filed by Rep. Bruce Antone.
It remains to be seen if this legislation will get traction on the right in a turbocharged 60 Days.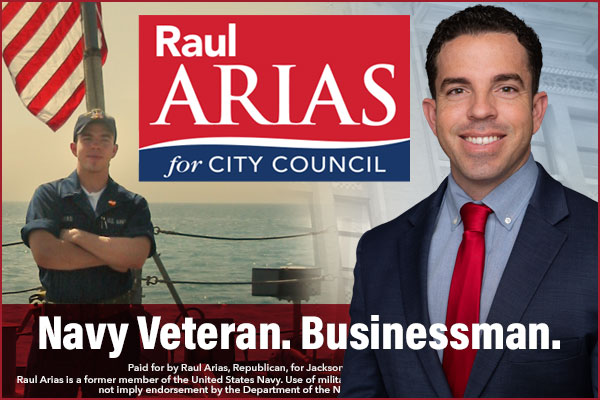 Baker bills
A first-term Republican and Assistant State Attorney is wading into the criminal justice debate, with legislation to enhance penalties against two particularly repellent classes of criminals.
Rep. Jessica Baker is carrying HB 1375. This bill would not only set up explicit penalties for strangulation but would make the penalty for the act a third-degree felony, which could lead to five years in state prison for those convicted.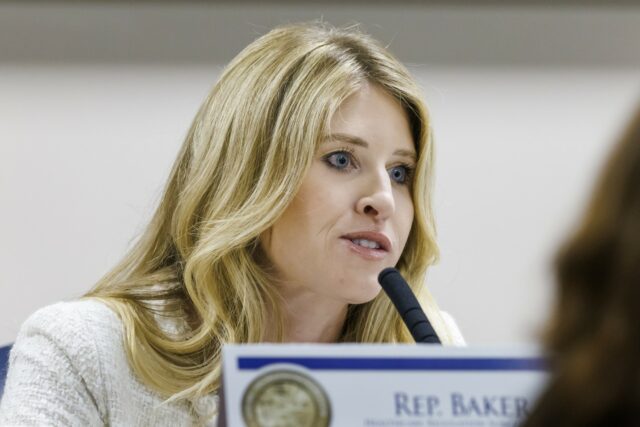 "A person commits battery by strangulation if he or she knowingly and intentionally, impedes the normal breathing or circulation of the blood of another person, against the will of that person, by applying pressure on the throat or neck of the other person or by blocking the nose or mouth of the other person," the language asserts.
HB 1297 would pave the way for executing adults who raped children with a supermajority jury verdict, meaning concurrence comes from at least eight of 12 jurors. Those laws could be challenged eventually in the state or federal Supreme Courts, each of which has ruled that capital sexual crimes perpetrated against children do not merit the death penalty.
Sen. Jonathan Martin is carrying the Senate versions of both bills, an indication that they are likely to advance through one chamber or another before Sine Die.
Union busting?
Another Jacksonville first-term legislator is taking aim at teachers' unions.
HB 1445 — described as a "Paycheck Protection Bill" — would give classroom instructors the right to opt out of bargaining units.
"Floridians should not be required to join a union to earn a living," said Rep. Dean Black. "The Florida Constitution and our state laws protect both the right to work and the right to collectively bargain. My legislation simultaneously upholds both of these principles and gives Florida workers a choice to opt out of joining and contributing to a union they do not support."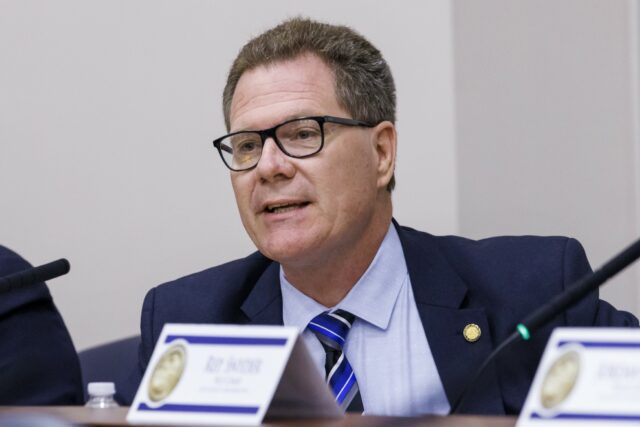 Black's bill has a Senate companion, via Blaise Ingoglia, a former Chair of the Republican Party of Florida. That bill is already moving through committees.
"Beginning July 1, 2023, a public employee who desires to be a member of an employee organization must sign and date a membership authorization form, as prescribed by the commission, with the bargaining agent," the bill compels. Prominent on that form: a 14-point statement that Florida is a "right to work" state."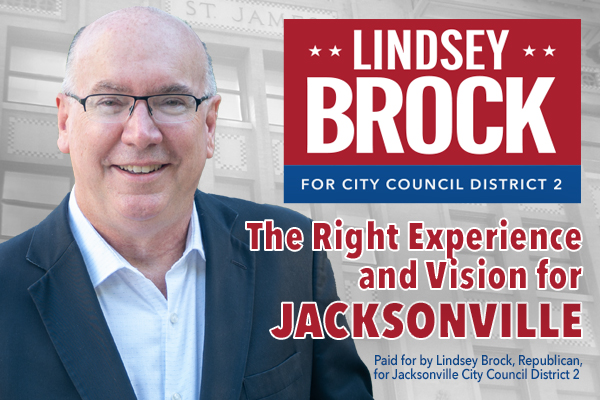 911 is no joke
The Jacksonville Sheriff's Office has 5,000 reasons to apply to be a 911 dispatcher or call taker.
Until June, JSO will offer a $5,000 signing bonus to those intrepid souls looking to give back to the community by helping to helm an emergency response.
Multitaskers with excellent customer service skills are especially sought.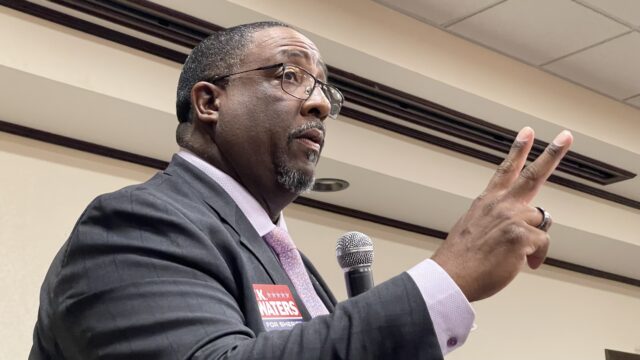 Those looking for "purpose and responsibility" in their career, per Sheriff T.K. Waters, are urged to "become a hero and answer the call today."
This is the second bonus offer this year to fill staff shortfalls. JSO offered $10,000 bonuses to correctional employees to work in the city's jail.
Little Tiger Island netted
Look out from Fernandina Beach's historic district, across the Amelia River, and you'll see a collection of wetlands known as Little Tiger Island. As part of a larger conservation effort, the state recently closed on 565 acres thanks to $965,000 from Florida Forever and $1 million from the North Florida Land Trust (NFLT).
"It is always great to be part of something like this that protects Florida's natural spaces because it is now or never," NFLT President Allison DeFoor said. "Our team helped with much of the due diligence to preserve this property. We worked long and hard for years to make sure this land would be protected and now it will be preserved for generations to come."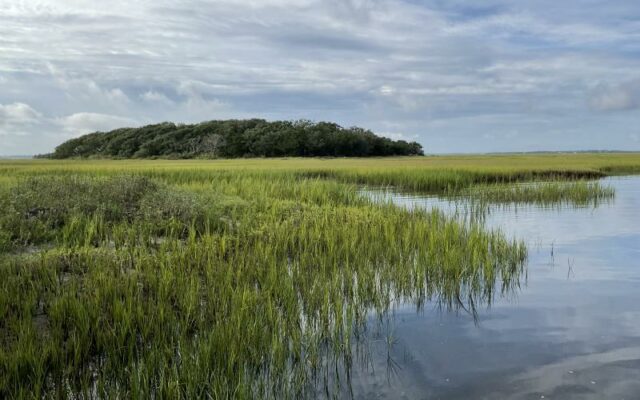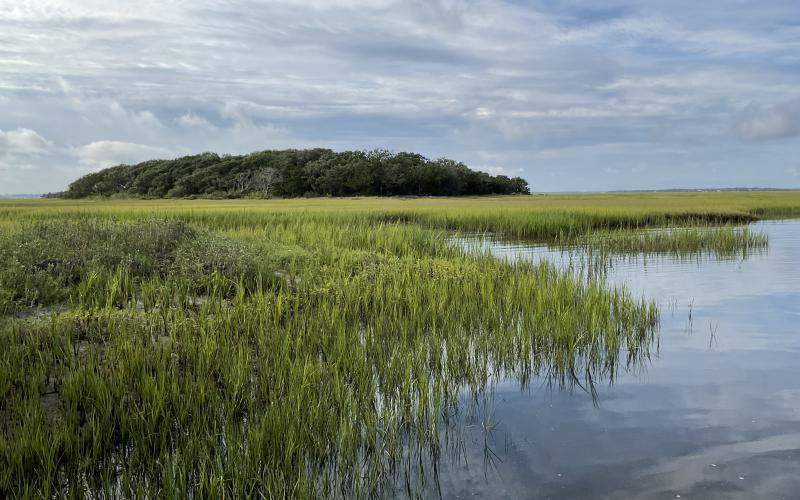 Little Tiger Island joined the state's priority list in 2001 as part of an effort to connect a network of national and state preserves and parks, stretching from St. Andrews Sound in Georgia to the St. Johns River in Florida. It's meant to project tidal marsh along the St. Marys and Amelia rivers, along with the network of wetlands and waterbodies around them.
"The project area is known to have one of the highest nesting concentrations of Worthington's marsh wren and MacGillivray's seaside sparrow along the Florida coast and provides critical habitat for wintering populations of the piping plover," according to the Department of Environmental Protection.
"The project will protect important cultural resources that document pottery-making aboriginal populations inhabited the coastal islands as early as the second millennium B.C."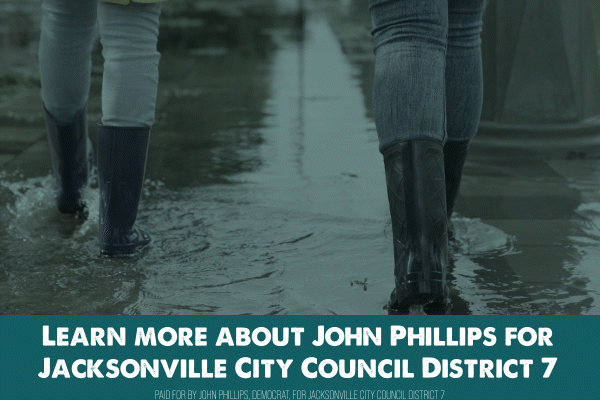 Boeing lands at Cecil Airport
On Thursday, Boeing and the Jacksonville Aviation Authority are hosting a groundbreaking ceremony for the expanded Boeing Component Operations Facility at Cecil Airport.
When completed, Boeing teams at the almost 150,000-square-foot site will inspect, evaluate, and repair composite and structural parts for military aircraft. The site also manages warehousing and distribution and delivers more than 175 ready-for-issue avionics parts every year.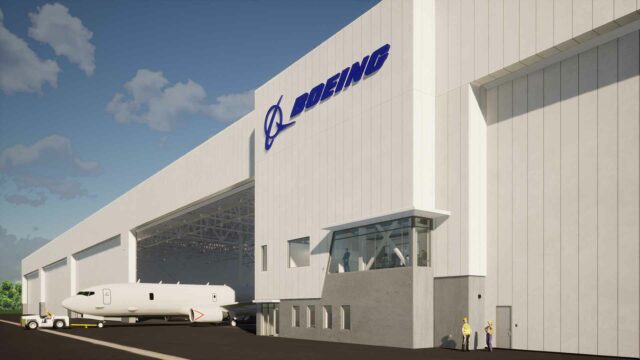 The leading global aerospace company has operated at Cecil Airport officially since August 1999 and provides military customers fast, affordable modifications and upgrades for a range of aircraft, including the F/A-18 A-D Hornet, F/A-18 E/F Super Hornet, EA-18G Growler, P-8 and KC-46.
Boeing Cecil Field is also home to a Flight Control Repair Center that provides structural repairs to F/A-18-G flight control surfaces.
The groundbreaking ceremony is Thursday, March 9, 10 a.m., at 5869 Approach Road, Jacksonville.
Cuppa Jax returns
After a brief hiatus, Cuppa Jax returns March 15 with Dr. Allison DeFoor, president and CEO of the North Florida Land Trust.
Dr. DeFoor has been a key figure in the state's conservation efforts, as a trustee of the Florida Audubon Society, the Florida Land Trust Association, and 1000 Friends of Florida. The seventh-generation Floridian served as Florida's Everglades czar, and in 2014, he co-chaired the passage of Amendment 1, authorizing the most significant land protection efforts in world history; the proposal passed with 70% of the vote.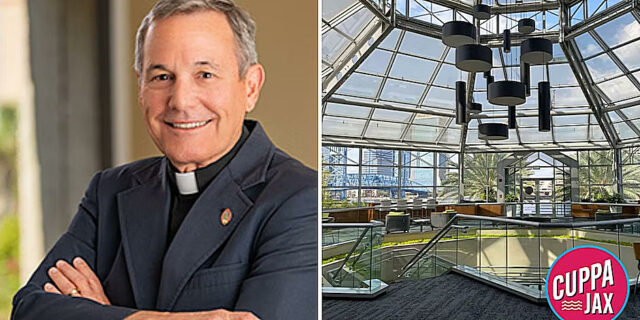 DeFoor is also an Episcopal priest who has served as Canon to the Ordinary to the Bishop of the Diocese of Florida. With degrees in law, criminology and theology, and serving parishes in four prisons around Tallahassee, DeFoor was an assistant at Grace Mission, an inner-city mission. His background in criminal justice includes having been a prosecutor, public defender, judge, and the elected Sheriff of Monroe County.
Cuppa Jax begins 8 a.m., Wednesday, March 15, in the Riverplace Tower Skyline Room. Tickets are $15 and are available here.