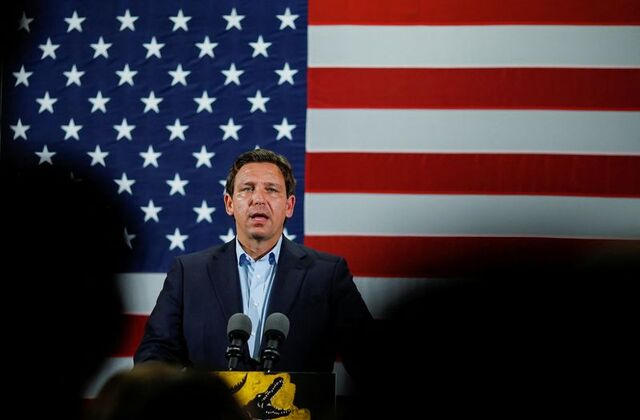 Florida's Governor rocked the crowd in his first Hawkeye State stop.
Gov. Ron DeSantis spoke in Davenport, alongside Iowa's Governor Kim Reynolds, whom he called "America's Governor" amid mutually admiring remarks.
"This guy is a man on a mission," Reynolds said, revealing a definite lean as the 2024 presidential field emerges.
DeSantis noted Iowans who come to Florida are "happy," before contrasting Florida with more left-leaning states, from which people are "uprooting."
"We start seeing all these California license plates, and a lot of our voters were spooked," DeSantis said, describing Florida as "the promised land" because of "leadership, vision and standing up for what's right."
DeSantis noted his close victory in 2018 by "half a percentage point margin" and how he was advised to "be a little passive."
"I rejected that advice. My view was I may have received 50% of the vote, but I earned 100% of the executive power, and I intend to use that," DeSantis said, citing Alexander Hamilton's "energy in the executive" as his model.
Contending he didn't consider polls and the "static analysis of opinion," DeSantis said a leader establishes "vision" to drive public opinion.
Staying with familiar talking points, DeSantis noted people in his administration aren't "leaking," and that there's no "drama" or "palace intrigue," which allows his team to "beat the Left, day after day, week after week, month after month, year after year." That's a contrast to "defensive" Republicans "sitting back" and "trying to work their way out of a wet paper bag."
"We said we're going to go on offense. We're going to find issues. I'm not going to wait for them to come to me," DeSantis said, saying he took the "meat off the bone" and has led "by conviction." This led to his 1.5 million-vote win last year, he contended, "almost twice the previous record in a Governor's race."
DeSantis offered remarks on familiar-to-Floridian subjects, including how Florida was the "citadel of freedom" and the antithesis of a "Faucian dystopia," noting Governors like Reynolds and him "got a lot of heat."
"The elites were wrong," DeSantis said, about various COVID-19 mitigation strategies, calling for Fauci and the Chinese Communist Party to be "held accountable," and noting the travel ban keeping tennis star Novak Djokovic from flying to Miami is an example of "COVID theater."
"If Djokovic wants to meet us in the Bahamas, we will get him over here by boat," DeSantis said to cheers.
He then urged Iowa to get rid of its state income tax, leading to more cheers still.
"Our anti-rioting legislation was actually condemned by the United Nations, which I view as a badge of honor. We must be doing something right," DeSantis said, popping the crowd once more.
DeSantis also got cheers when discussing how he "removed (Andrew Warren) from his post," describing the elected State Attorney as a product of George Soros' fundraising machine.
Migrant flights to Martha's Vineyard also got a crowd reaction, with DeSantis getting more applause when he contended "they said they were a sanctuary" jurisdiction.
Describing hurricane recovery and the quick rebuilding of a key bridge last year, DeSantis also offered to send Florida workers "to the Southern Border to do the wall."
"Just put me in, coach. C'mon Joe (Biden)," DeSantis said. "We'll do it."
The theme of "educating our kids, not indoctrinating our kids" also got applause, including "higher ed reforms" to universities "trying to impose ideology." These reforms include the weakening of historic tenure protections and the conservative makeover of the New College, and the "elimination of (diversity, equity and inclusion) bureaucracies."
Additionally, "critical race theory" has been purged from K-12 schools, he noted, in favor of a "new emphasis on American civics."
"Obscene subsidies" for recent corporate foil Disney were also discussed, with DeSantis promising a "new era of accountability and fairness" for the company. Along those lines, the Governor discussed "protecting women's sports" and stopping children from being "guinea pigs" in gender reassignment treatments.
"The woke mind virus is warping people," the Governor said. "Our state is where woke goes to die."
DeSantis' Iowa visit comes as fresh polling from the Des Moines Register shows the Governor essentially in a dead heat with Donald Trump. The crowd reaction in Davenport seems to validate the public survey, the first major poll of the early caucus state.