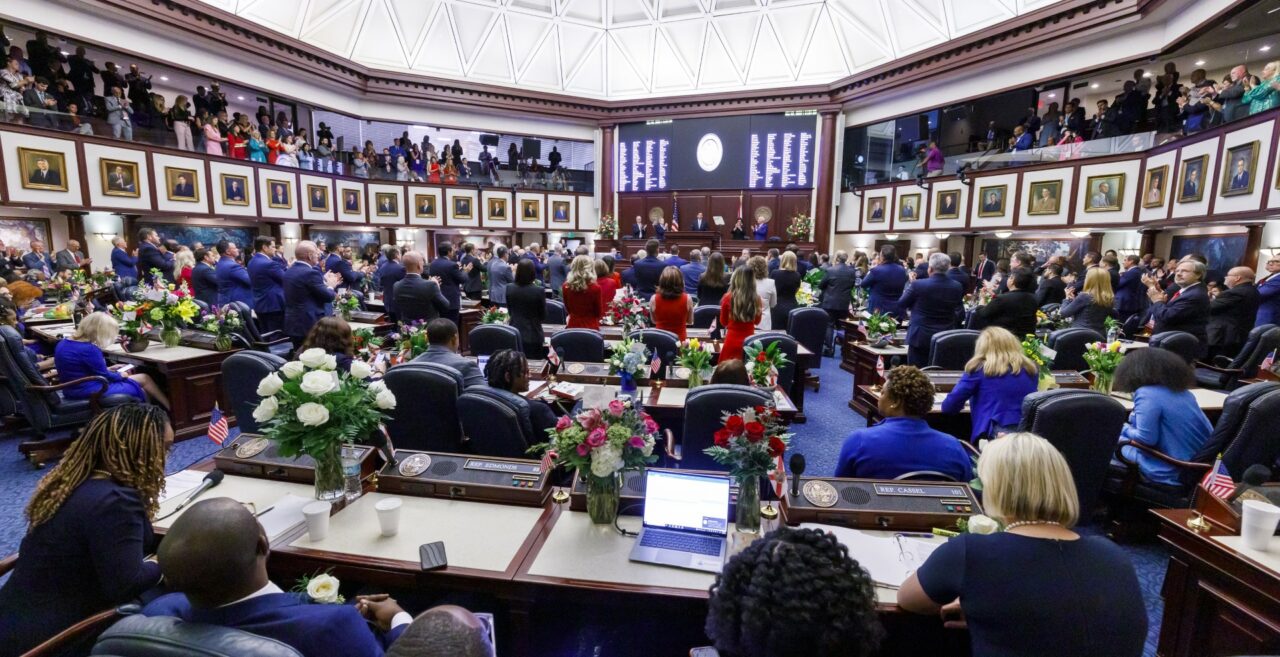 Republican agenda meant to 'divide and dictate,' House Democrats argue.
House Democrats are painting a bleak picture of the state's future if Republicans' legislative agenda is allowed to pass unchecked — as it's largely expected to.
Democratic leaders held a wide-ranging news conference largely criticizing the GOP's efforts to ban abortion (HB 7) before most know they are pregnant, ending all diversity, equity and inclusion programs at the state's higher education institutions (HB 999), and allowing people to carry concealed weapons without a license (HB 543).
Culture wars are becoming a distraction, said House Democratic Leader Fentrice Driskell. Democrats alluded to Gov. Ron DeSantis' presidential aspirations, arguing much of the legislation is designed to help the term-limited Governor as he hits the presidential campaign trail.
The group is facing an uphill battle, as Republicans control a supermajority in both legislative chambers. Democrats put out a call for Floridians to contact their Republicans lawmakers to let them know their feelings on these topics.
"Floridians are concerned about the cost of rent, utilities, property and auto insurance, and health care," Driskell said, noting a recent poll showed people believe in requiring gun permits and the right to an abortion, in opposition to the proposed legislation. "Instead, what we have are 10 anti-LGBTQ-plus bills and counting. They want everyone to focus on what's not there."
They also blasted the Republican plan to make private school vouchers universally available to everyone regardless of income or whether a student attends a brick-and-mortar school. Currently, eligibility for receiving an $8,000-per-student voucher is limited to people on the lower end of the income scale and students with disabilities, and does not include homeschoolers. But the bill (HB 1) would change that.
"What these vouchers are is a coupon for millionaires," said Rep. Robin Bartleman of Weston, who also served on the Broward County School Board.
Democrats argued the bill's fiscal analysis conducted by Republicans is incorrect, and the amount it will siphon from public schools is much greater, as shown in Arizona's experience. Democrats also say the legislation will reduce accountability for what kids are learning. This is happening after lawmakers have put more and more requirements on public schools.
"Recently a homeschool network in Ohio had a Nazi curriculum — a Nazi curriculum," Bartleman said. "We have 120,000 homeschoolers in this state who are now going to get $8,000 with no accountability. It's just hypocrisy at the greatest level."
The Speaker's Office did not immediately return a request for comment on any of these issues Monday morning.
On HB 999, which would clamp down on tenure and the topics allowed in the state's higher education institutions, Democrats said lawmakers would be putting accreditation at risk, along with the futures of students currently studying topics, like women's studies, that would become verboten under the bill.
The American Association of University Professors is calling it a bill that would "destroy higher education as we know it." And Democrats agree. The bill doesn't contemplate what will happen to federal student aid once the state's higher education institutions stop complying with federal education guidelines, as it appears this legislation would dictate, they noted.
"This is very hastily drawn legislation again meant to divide and dictate in order to help an individual with some election campaigning," said Rep. Kelly Skidmore of Palm Beach County, the House Democrats' Chair of policy.
The Legislature's traditional check on executive power is lost, she said.
"We are no longer three branches of government and it should frighten everyone."
Rep. Dan Daley of Sunrise called the bill that would allow permitless gun carry in the state "the political carry bill," because it's designed to advance Republican politicians' careers, particularly DeSantis'.
"The evidence shows that this is bad for Florida because it's been bad in other states," Daley said. "States that have passed it have seen something like a 22% increase in the homicide rate. That should scare everyone."
Rep. Christine Hunschofsky of Parkland, the House Whip, argued permitless carry would represent a step backward in gun safety, after the progress that followed the state's worst school shooting in her city.
She noted more than 7,000 people were denied a permit to carry a concealed weapon between 2021 to 2022. And it's not exactly a high bar to clear.
"Some of the disqualifying factors are, for example, felonies, someone having a domestic violence injunction," she said. "This is just one more tool in the public safety toolbox to make sure that people who would harm themselves or others are not able to walk around with a firearm."