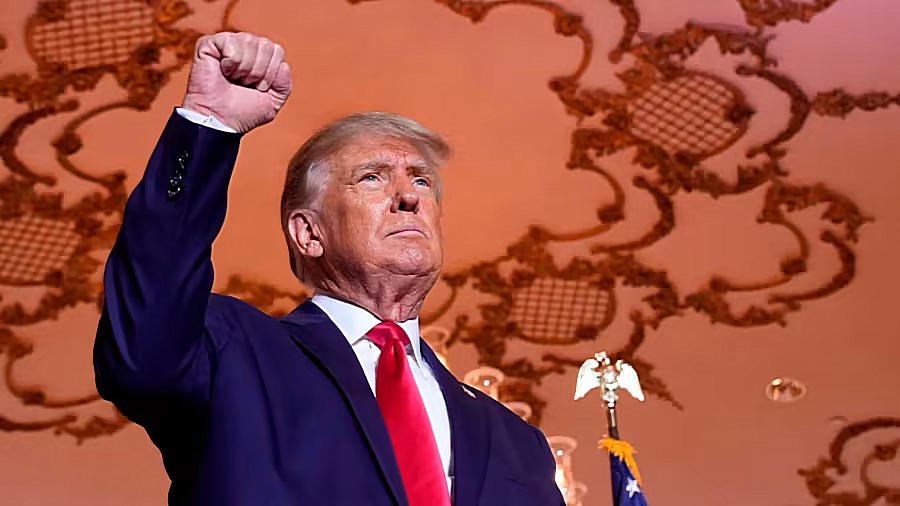 The former President cited media reports questioning whether charges are appropriate.
Donald Trump now says he may not be arrested. At least not anytime soon.
After the former President lashed out in a Truth Social post over reports he would be indicted on March 21, the day went by with no news. In a series of Truth Social posts Wednesday, Trump suggested legal revelations are complicating the case.
Trump cited a report in The New York Times and an op-ed in Fox News that both raised questions whether a New York District Attorney could bring charges stemming from an alleged campaign finance allegation.
The potential indictment appears connected to District Attorney Alvin Bragg's ongoing investigation of allegations Trump paid hush money to porn star Stormy Daniels to cover up a sexual encounter a year after Trump's marriage to Melania Trump. Trump has denied the affair.
"Every article I read, every show I watch, even the so-called Haters say that 'President Trump did nothing wrong, there IS NO CRIME HERE!'" Trump posted. "As (Joe) Biden would say, 'No, I mean it, I'm not kidding.' The Crime would be if I get charged!!!
"The Rogue prosecutor, who is having a hard time with the Grand Jury, especially after the powerful testimony against him by Felon Cohen's highly respected former lawyer, is attempting to build a case that has NEVER BEEN BROUGHT BEFORE AND ACTUALLY, CAN'T BE BROUGHT. If he spent this time, effort, and money on fighting VIOLENT CRIME, which is destroying NYC, our once beautiful and safe Manhattan, which has become an absolute HELLHOLE, would be a much better place to live!"
That echoed talking points adopted by many Republican leaders, most notably House Speaker Kevin McCarthy, alleging Bragg was targeting Trump for political purposes and should be investigated by Congress.
Even political adversaries like Florida Gov. Ron DeSantis have questioned whether a crime could be charged, even as he reminded voters of the lurid details of the investigation.
The Times reported the case offers its own allure to prosecutors.
"It is the kind of case that emboldens prosecutors and mesmerizes juries: a celebrity defendant authorizing a secret payoff to cover up a tryst with a porn star," the Times reported.
"But salacious details alone do not make a case. Prosecutors must also work within the law. And the district attorney, Alvin L. Bragg, may have to pull off a difficult maneuver, connecting the hush-money cover-up — a potential violation of state law — to a federal election."
Fox News' Gregg Jarrett was more dismissive. "The DA invented his case against Trump by taking an alleged misdemeanor business records violation and supercharging it into a felony by citing an imagined second crime arising out of a supposed campaign finance violation. The novelty of such a charge is exceeded only by its absurdity."
Fox News later reported grand jury activity on the case was canceled for Wednesday because of disagreement within Bragg's office on how to proceed. Bragg's office has not publicly announced any plans for charges.
But witnesses including former Trump attorney Michael Cohen, who claims he made the hush money payments on Trump's behalf, continue to assert Trump should be held accountable.
"As the grand jury in the DANY Trump hush money case return this morning, today could be the day accountability is had!" he tweeted.