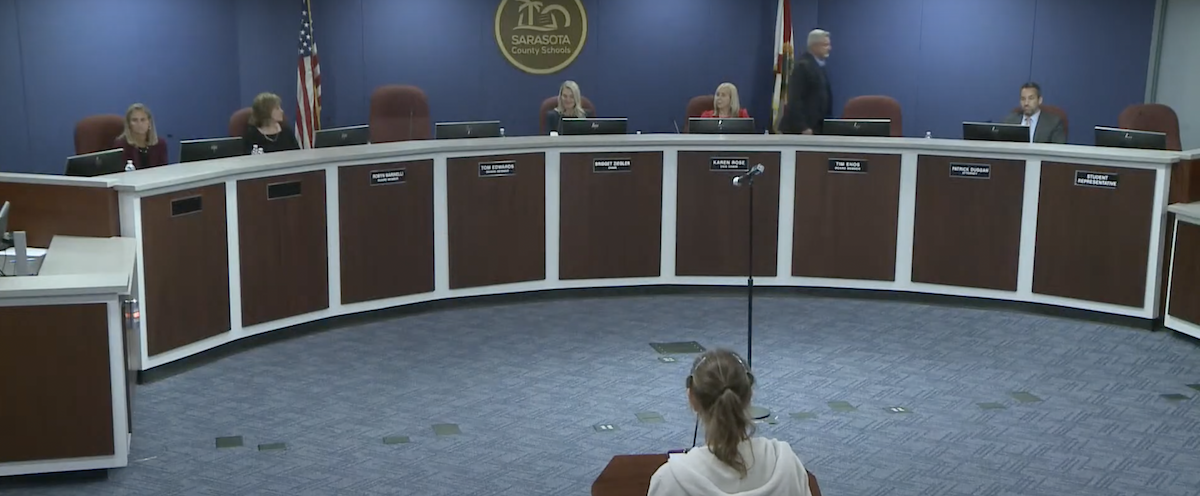 Tom Edwards left when someone said he wanted to harm children. Christian Ziegler labeled him 'Tommy Drama.'
A Sarasota County School Board member walked out of a meeting after he was the subject of homophobic slurs. Now, Tom Edwards says he fears for the mental health of LGBTQ students and safety of the community as a whole.
"I'm not fearful for me," he said. "I'm fearful we're going to be the county in the news that we don't want to be, because there could be somebody sitting at home, hearing all of this, and wanting to react. We see it all the time."
The incident has furthered a fissure with Sarasota School Board Chair Bridget Ziegler, and fueled a public feud with her husband, Republican Party of Florida Chair Christian Ziegler.
Conflict blew up during Tuesday's regular School Board meeting. Sally Nista, a regular school district critic with an association to the Proud Boys, went after Edwards personally during public comments. She specifically asserted he posed a danger to students.
"What Tom stands for and what he wants to do to our children isn't what a majority of Sarasota parents, voters and the community support," Nista said.
The incident came two weeks after another regular commenter, Melissa Bakondy, called Edwards an "LGBTQ groomer" and a "threat to the innocence of our children" at a prior meeting. Nista also referenced those comments in her remarks, following testimony from other speakers.
"It's interesting that up until 45 minutes ago, no one had stated that what Melissa Bakondy said at the last Board meeting was a lie or false," Nista said. "Tom Edwards is who he is."
A crowd booed during her comments. Bridget Ziegler spoke up when the comments incited disruption but it was to quell the crowd.
"There have been multiple comments about lots of different people," she said. "If we just allow the people to speak and move forward."
That's when Edwards left.
Edwards said he asked Bridget Ziegler to shut such remarks down from the Chair's seat. When she would not, Edwards departed the meeting and did not return.
"I am being accused of harming children when in fact the cabal of rhetoric allowed to exist by her (Ziegler) and fellow School Board members and the hateful people coming into the room is harming our students' mental health," Edwards said.
"I mean, our LGBTQ+ students when they hear that they could be a groomer, or a pedophile, and they are too young to understand what that all means — and that it's all political theater."
The incident with Bakondy earlier this month prompted Bridget Ziegler to condemn the comments at the meeting.
"That was wildly uncomfortable and inappropriate, and I apologize to Mr. Edwards," she told the Sarasota Herald-Tribune then. "Just as much as I do not believe anyone's sexual orientation should be discussed in a classroom or in an office, I do not believe it's relevant or should be discussed at this dais or in these chambers."
Edwards took Ziegler at her word then, and thought all members were caught off guard by the hateful rhetoric. But he felt differently after the Tuesday meeting. He said Ziegler ignored his calls to stop the personal attacks but had a "glaze" in her eyes.
"She is complicit," he said. "She is one of them."
Ziegler said it was disingenuous for Edwards to complain about name-calling when he has called Donald Trump supporters "Nazis" and leveled attacks from the dais.
"We have had people call people racists, Nazis, groomers," she said. "I think they are all awful, counterproductive, intended to fuel emotion, and we don't get anywhere. What's frustrating is those calling for civility participate in the same type of name-calling."
As for her role as Chair, she said the right to petition public officials is something she doesn't want to disrupt even when it's ugly, and will do so only when citizens threaten violence or use vulgarity.
But the matter amped up online attacks from Christian Ziegler. A former Sarasota County Commissioner, Ziegler called Edwards "Tommy Drama" after video of his exit was posted on Twitter. "If he can't take public criticism, he shouldn't be a public official," Ziegler tweeted.
Ziegler earlier this year worked directly with Gov. Ron DeSantis on a list of incumbent School Board members, primarily Democrats, that the state party intends to target in 2024. Edwards made the list.
"You tell me why the Chair of the Republican Party of Florida, why he is so monopolized and consumed by me and my lone, ineffectual seat," Edwards said. "You tell me why I'm consuming so much of his brain cells."
Ziegler said his beef with Edwards extends beyond politics, and said Edwards in a video to support Democratic outreach two years ago included unfair attacks on his family.
"In addition to mocking my young daughter on video at a local Democrat Party meeting, Tom Edwards is a phony, radical and self-admitted WOKE Liberal Activist School Board who brags that he is operating from (and I quote) 'the most strategic spot, from the inside,'" Ziegler said.
"As a father, it's scary to know that he has access to our schools and students, let alone has input on policy. Additionally, I have very clearly and publicly stated that as Chairman of the (Florida GOP), my focus is rooting out every Democrat at every level of government, especially on our School Boards."
He said the local School Board race will be a personal priority.
"With Tom Edwards being one of the most dangerous School Board Members in Florida, he would be 100% correct to state that I am focused on making sure voters in Sarasota County know who he really is and then fire him on School Board Election Day," Ziegler said. "He may not like the public being informed and being held accountable, but both are on the way."
Edwards said he remains dismayed about the tenor of public input the last few years on the Board. But his chief fear, he said, isn't the personal rhetoric, but that such culture war rhetoric distracts from other issues. He noted at the same School Board meeting, he raised alarms about introduction of a Hillsdale College-connected proposal that has garnered less attention.
"My concern is that the public is not paying attention," he said.
"Last year, while the governor was carrying on with 'don't say gay' and Stop WOKE and book banning and all that, and everybody's hair was on fire, everyone was focused in on the culture wars," Edwards added. "They passed a bill that School Board members no longer approve or deny charter school applications. It was quiet, very subtle and no one knew it happened. That whole culture war is a beneficial tool for the Republican Party in Florida."