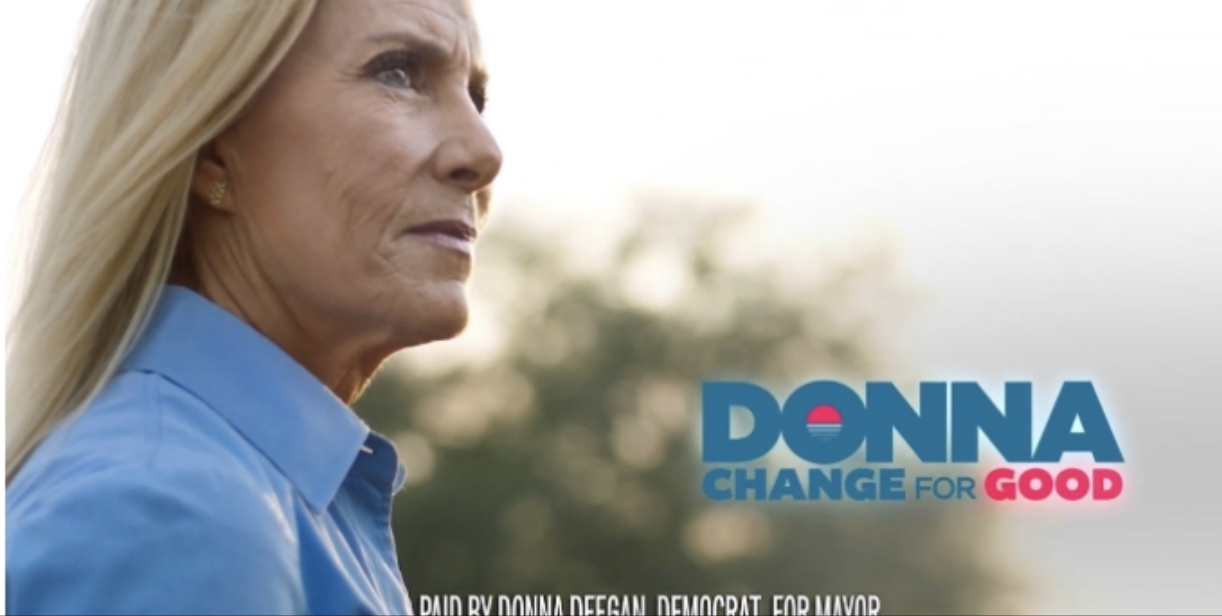 The Democrat is beginning the second phase of the campaign with a positive spot.
Jacksonville mayoral candidate Donna Deegan isn't slowing down after her first-place finish in the First Election.
The Democratic candidate, who took nearly 40% of the vote Tuesday, is rolling out a new ad encompassing a central theme of her campaign: "Unity."
"I love this city with all my heart. And I want it to work for all of us. I've been to every neighborhood, listening. You're tired of broken promises and ugly politics," Deegan asserts in the spot.
The former newscaster moves on to outline some of her policy priorities.
"You want change. Better streets and sidewalks. Safe and healthy neighborhoods. An inclusive economy," the narration continues. "I'm Donna Deegan. I'll work to bring Jacksonville together, and get things done."
The aspirational message of the ad is counterpointed with introductory images of Deegan greeting supporters, reminding viewers of the grassroots support she enjoyed in the First Election, a function of her decades on Jacksonville television, as the head of the DONNA Foundation, and as a native of the city with a deep family history.
The quick shots of the people in the ad's first nine seconds likewise represent a cross-section of Jacksonville, a multiethnic and multigenerational tableau, which gives way to a shot of Deegan delivering the message, then quickly cuts to images of the "change" the narration promises, before offering more interactions between Deegan and her supporters.
Deegan has messaged around the "change for good" theme, setting up a deliberate contrast to her Republican opponent in the runoff, Jacksonville Chamber of Commerce CEO Daniel Davis.
Deegan finished in a strong first place with 39% of the vote, though not with the majority support needed to win outright. Deegan carried the early vote, vote by mail, and Election Day turnout, despite Republicans dominating Tuesday turnout. The other Democrat running, former Sen. Audrey Gibson, secured 9% of the vote.
Davis had 25% of the vote, far behind Deegan but good enough to set up the second election in eight weeks. The other Republicans in the field, City Council members LeAnna Cumber and Al Ferraro, combined for 25% support.
The General Election is May 16, but clearly the messaging has already begun. See the new Deegan spot below.