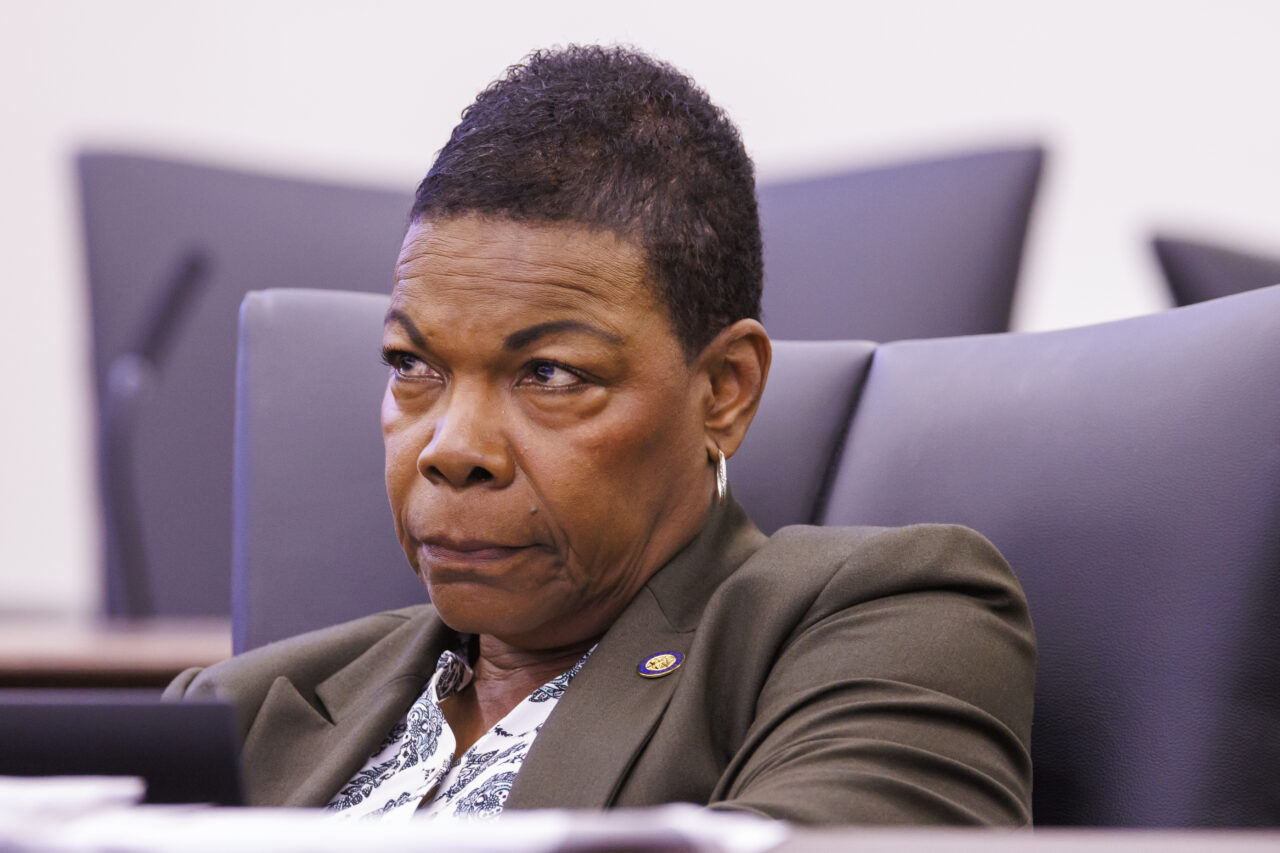 'I want to make sure my disgust with this race is out there.'
Democratic unity will not be achieved in the General Election for Jacksonville Mayor.
In an exclusive interview with Florida Politics, former Senate Democratic Leader Audrey Gibson, who was eliminated in the First Election, emphatically stated that she would not endorse Donna Deegan in the runoff election.
Gibson, who spent roughly two decades in Tallahassee, has no plans to endorse Republican Daniel Davis either.
"I'm not endorsing anyone," she said.
Gibson made it very clear Thursday that the narrative of the mayoral race —  which saw Deegan supporters say that she was not a legitimate candidate — was "disgusting" and disrespectful to her career in public service.
"I want to make sure my disgust with this race is out there," Gibson said. She noted her name and her family name was "denigrated," as was her "legacy of service," by persistent "attacks and lies" claiming she was a "Republican plant" in the race to keep Deegan from winning outright Tuesday.
"I'm a public servant … a registered Democrat," Gibson said. "I've worked across the aisle. But I've never had to sell my soul."
Gibson said she was "disgusted" by an "unfathomable" narrative put out that she was "getting money from Tim Baker," the general consultant on the Davis campaign. She asserted that the lies were perpetuated because she entered the race, ultimately becoming the second Democrat in the field.
She explained her decision to run for Mayor, instead of for Congress, saying it was a decision to "stay home" as she'd been "up and down the road for years." Her delayed entry into the race was necessary given the succession of Special Sessions held after last year's regular Legislative Session ended.
"I can run for any office I want," Gibson noted, describing people as calling her and attempting to "put their fingers on the scale" to pressure her from running.
Gibson noted that Deegan reached out to her after the votes were counted Tuesday, and her response was brief: "Thank you for calling. I hope you get some rest."
She said that the idea that she would run to get a job in a potential Davis administration was ridiculous, noting the Republican "doesn't have to give me a job. I don't need a job. Everything I need, I have."
Gibson also saw "racial undertones" to calls from Deegan supporters to get out of the race, disrespectful given that she "know(s) how budgets work" considering her decades in government. She also contends opponents were more than willing to take advantage of that experience by ripping off her ideas.
"Everything I said at forums, I heard back from someone else," Gibson noted.
The former Senator noted Deegan approached her when she launched her campaign.
"She came to me to ask 'What should I be saying?'" Gibson recounted, leading her to respond, "Don't you have any ideas of your own?"
From there, Deegan's campaign "allowed these people to paint me as something else … not qualified or I have to take something from someone to run."
Deegan had "every opportunity to stop it" but her team "perpetuated it."
Gibson summed it up as a belief that "she's the Black woman and she shouldn't run."
"I heard it all, saw it all, as if I bring nothing. I bring everything to the office."
Florida Democratic Party Chair Nikki Fried, who endorsed Deegan in 2022, called Gibson yesterday morning to try to get her on board with Deegan's General Election campaign. It's unknown what Fried said, however.
"I didn't listen to her message," Gibson noted.
Gibson noted she had been "through the fire" in Tallahassee, mentioning highly publicized confrontations with former Sen. Frank Artiles, who used racist and sexist slurs in a heated conversation with her in 2017, and Sen. Ileana Garcia, who confronted Gibson in the Senate for no apparent reason in 2022.
Now that the mayoral campaign is over for her, she's not especially confident that Deegan's campaign understands the importance of the Black vote.
"Without African American voters, where would our party be?"
She seeks a Mayor who "cares about the entire community," and said she didn't know if Deegan actually did.
"I wish the mayoral candidates well, and that includes Daniel Davis," Gibson said.