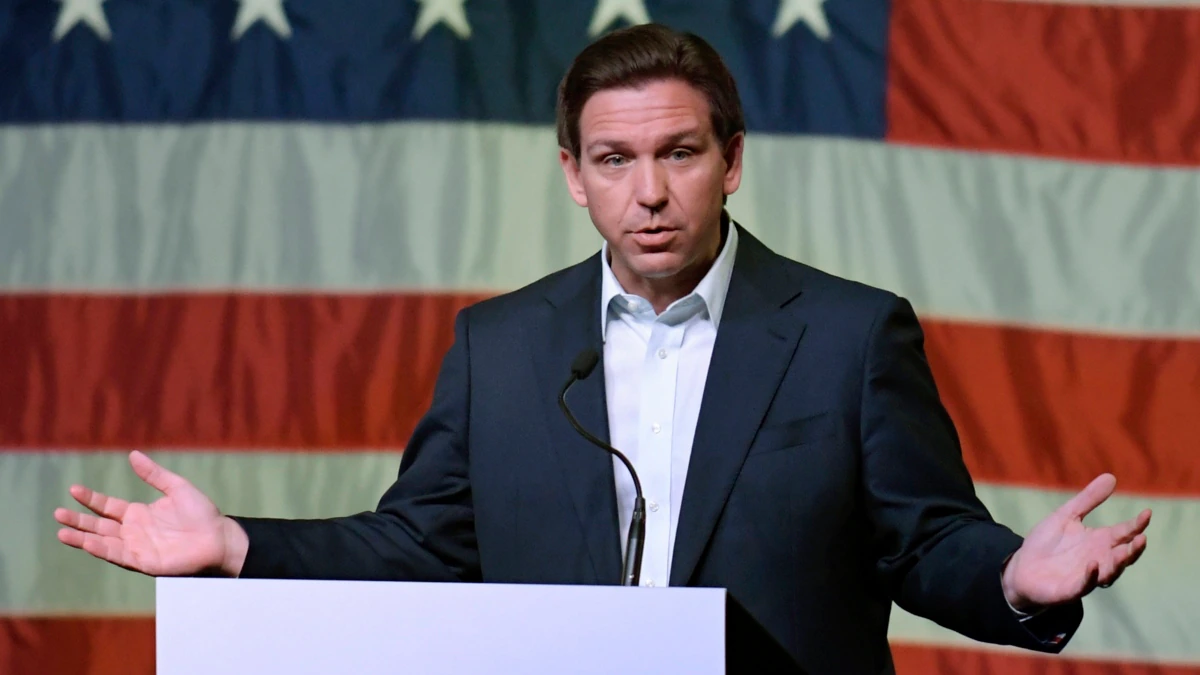 The Governor continues to re-frame his foreign policy take.
The Florida Governor continues to explain his position on the war in Ukraine.
In yet another friendly interview, Ron DeSantis attempted to clarify to Eric Bolling of Newsmax what his position actually is on the conflict.
"So I never changed anything," DeSantis said.
He contended critics are "talking about when President Donald Trump was in. Weapons were sent when I was in Congress and I supported it. But that was to deter Russia from invading and, you know what, they didn't invade for many years."
"And that only broke down when Joe Biden got in. And I think there's a variety of reasons for that. But I think part of the reason was the failure in Afghanistan. I think Vladimir Putin believed he could get away with more because he saw how weak Biden was," DeSantis affirmed.
"That's a much different situation to now being in a situation where you have Ukraine and Russia fighting over kind of the border lands there in the far eastern part of Ukraine and over places like Crimea. And my position on that is, you know, I care more about securing our own border in the United States than I do about the Russia-Ukraine border."
"And it seems like the establishment … they ignore the problems that we have here at home as Americans," DeSantis said, citing the Mexican border as a situation "costing American lives" and allowing "suspected terrorists" to enter the United States.
"You also have to ask if they're constantly talking about this being something that we have to have an open-ended blank check policy for." DeSantis said, suggesting that more gas pipelines and drilling for more oil domestically would "weaken Putin."
The Governor also noted the proxy war in Ukraine, "essentially a stalemate," is depleting "our current weapons stockpiles here in the United States."
"And the fact of the matter is they're declining and so that impacts our ability to respond to threats in other places in the world," DeSantis noted.
"So I think some of those folks are not really supporting a stronger America, they're weakening us here at home and they're making it more difficult for us to be able to do things like check the influence of China abroad."
The Newsmax interview is the second time this week DeSantis tried to add more context to his position on the Russian invasion of Ukraine, which he originally deemed a "territorial dispute" and not one of America's "vital national interests" in a statement provided to Tucker Carlson.
"Well, I think it's been mischaracterized. Obviously, Russia invaded (last year) — that was wrong. They invaded Crimea and took that in 2014 — that was wrong." DeSantis told Piers Morgan, before seeming to contextualize Russia's claim to Ukrainian territory.
"What I'm referring to is where the fighting is going on now, which is that eastern border region Donbas, and then Crimea, and you have a situation where Russia has had that. I don't think legitimately, but they had. There's a lot of ethnic Russians there. So, that's some difficult fighting and that's what I was referring to and so it wasn't that I thought Russia had a right to that, and so if I should have made that more clear, I could have done it," DeSantis added.
Despite conceding his most recent position was muddled, if only by bad interpretation, the Governor reiterated his stance that conflict essentially is not worth a more active American military presence.
"I just don't think that's a sufficient interest for us to escalate more involvement. I would not want to see American troops involved there. But the idea that I think somehow Russia was justified (in invading) — that's nonsense.
"I think they have the right to that territory," he added, referring to Ukraine. "If I could snap my fingers, I'd give it back to Ukraine 100%. But the reality is what is America's involvement in terms of escalating with more weapons, and certainly ground troops I think would be a mistake. So, that was the point I was trying to make, but Russia was wrong to invade. They were wrong to take Crimea."