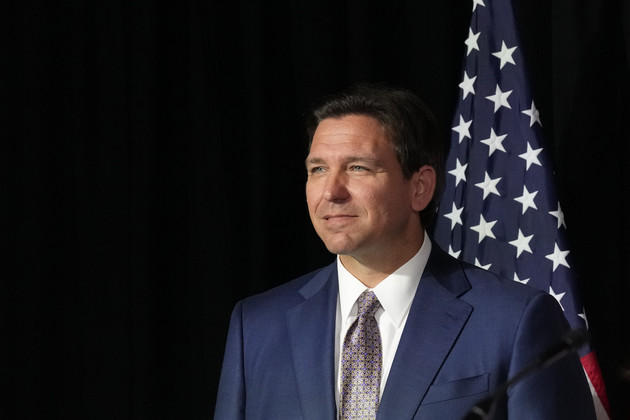 He told Piers Morgan what he really meant to say to Tucker Carlson.
Ron DeSantis is again reframing his stance on the Russian invasion of Ukraine.
After drawing controversy for calling it a "territorial dispute" and claiming it was not one of America's "vital national interests," the Florida Governor took a tougher stance in an interview with Piers Morgan.
Writing in the New York Post, Morgan quotes DeSantis as calling Russian President Vladimir Putin a "war criminal" who should be "held accountable," a seemingly tougher stance than the statement the Governor thrilled Tucker Carlson with last week.
DeSantis claimed his "territorial dispute" framing, which was provided in an essay-length written statement, was somehow misunderstood.
"Well, I think it's been mischaracterized. Obviously, Russia invaded (last year) — that was wrong. They invaded Crimea and took that in 2014 — that was wrong." DeSantis told Morgan, before seeming to contextualizie Russia's claim to Ukrainian territory.
"What I'm referring to is where the fighting is going on now, which is that eastern border region Donbas, and then Crimea, and you have a situation where Russia has had that. I don't think legitimately, but they had. There's a lot of ethnic Russians there. So, that's some difficult fighting and that's what I was referring to and so it wasn't that I thought Russia had a right to that, and so if I should have made that more clear, I could have done it," DeSantis added.
Despite conceding his most recent position was muddled, if only by bad interpretation, the Governor reiterated his stance that conflict essentially is not worth a more active American military presence.
"I just don't think that's a sufficient interest for us to escalate more involvement. I would not want to see American troops involved there. But the idea that I think somehow Russia was justified (in invading) — that's nonsense.
"I think they have the right to that territory," he added, referring to Ukraine. "If I could snap my fingers, I'd give it back to Ukraine 100%. But the reality is what is America's involvement in terms of escalating with more weapons, and certainly ground troops I think would be a mistake. So, that was the point I was trying to make, but Russia was wrong to invade. They were wrong to take Crimea."
Asked about Putin, he recycled a previous depiction of the despot as an "authoritarian gas station attendant."
"I think he's hostile to the United States, but I think the thing that we've seen is he doesn't have the conventional capability to realize his ambitions. And so, he's basically a gas station with a bunch of nuclear weapons and one of the things we could be doing better is utilizing our own energy resources in the U.S."
Polling from Morning Consult revealed DeSantis' Ukraine position resonated with GOP Primary voters, but was a loser with the general population, suggesting one practical reason for reconsidering the comments he gave to Carlson, who like Morgan is a Fox News employee.