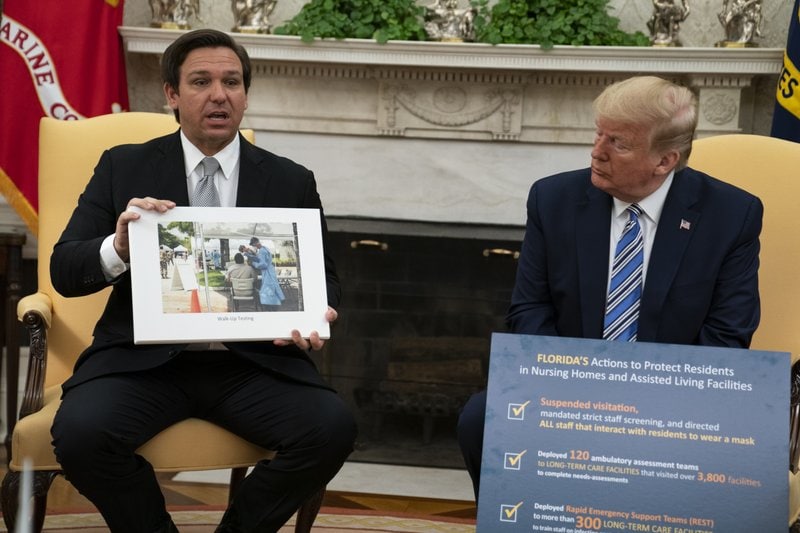 'So much for Ron and anti-vax.'
The COVID-19 wars continue to take center stage in the GOP 2024 presidential fight.
The latest shot came from Donald Trump aimed at Ron DeSantis, with the former President asserting without evidence on Truth Social that the Florida Governor lied about his coronavirus vaccination status.
The former President said "he got the vaccine and booster, just doesn't talk about it. He also closed up Florida and its beaches."
This runs contrary to DeSantis' denying he got a booster shot at all in December 2021.
"I've done whatever I did, the normal shot, and that at the end of the day is people's individual decisions about what they want to do," DeSantis said when he was asked if he had received a booster shot by host Maria Bartiromo.
Seeking clarity, Florida Politics asked DeSantis' Press Secretary Christina Pushaw about DeSantis' comments back then. She responded she is "not able to speak to his private medical decisions."
The Associated Press reported in April 2021 that DeSantis had received the single-dose vaccine. The information was confirmed belatedly by the Governor's Office.
DeSantis had praised the J&J "one shot" variation since before its national launch.
The Governor actually beefed with the Joe Biden administration, trying to get second shots for senior citizens, which were the priority population for his administration's vaccination efforts when shots were first made available.
"So much for Ron and anti-vax," Trump noted in his Truth Social post, which was a re-Truth of a post from another user claiming "Ron DeSoros (SIC) used a 100 year old WW2 veteran as a vaccine guinea pig on live TV. But sure, DeSantis would have fired (Anthony) Fauci."

DeSantis claimed in an interview with Piers Morgan that he would indeed have fired the longtime director of the National Institute of Allergy and Infectious Diseases.
Regarding the "vaccine guinea pig" claim, that's a reference to former state Sen. Henry Sayler, who got the shot on Fox News as the purported millionth senior to receive it.
"He's going to keep living and obviously this vaccine will help him even do more," the Governor said at the time, roughly four months before his passing.
The Sunshine State has been so efficient, DeSantis said, at vaccinating the elderly that people had tried coming to Florida to get a shot.
Reports that non-Floridians and even non-Americans were traveling to the state and successfully getting shots had plagued the DeSantis administration. The Governor said those are one-off instances that were handled.
To stymie the narrative of "vaccine tourism," then-Surgeon General Scott Rivkees issued a public health advisory outlining that only residents, seasonal residents and health care workers should get a shot.
"If you have a home, you pay taxes, you live here over the winter, that's different," DeSantis said. "A lot of them have doctors here. There's no vaccine tourism. Hospitals are not permitted to engage in vaccine tourism."
He also said at the time he wanted more shots than Washington would provide.
"The federal government, when they get them, they send them," DeSantis said, "but I think we thought we'd be getting a little bit more by now."